'Family Karma': Nicholas Kouchoukos Shares His Parent's Surprising Reaction to His Engagement (Exclusive Clip)
In an upcoming episode of Bravo's Family Karma, Nicholas Kouchoukos was pleasantly surprised with his parent's reaction to his engagement to Amrit Kapai. While Kapai's family has welcomed Kouchoukos with open arms and they are thrilled about the engagement, Kouchoukos was unsure how his parents would respond.
Nicholas Kouchoukos and Amrit Kapai break the news to Kouchoukos's parents
In an upcoming episode, Kapai and Kouchoukos celebrate the engagement with Kapai's family and they present the couple with gold for good luck. "You're Indian now," Kapai jokes as Kouchoukos seems emotional and touched by the family's gesture. "We called his parents."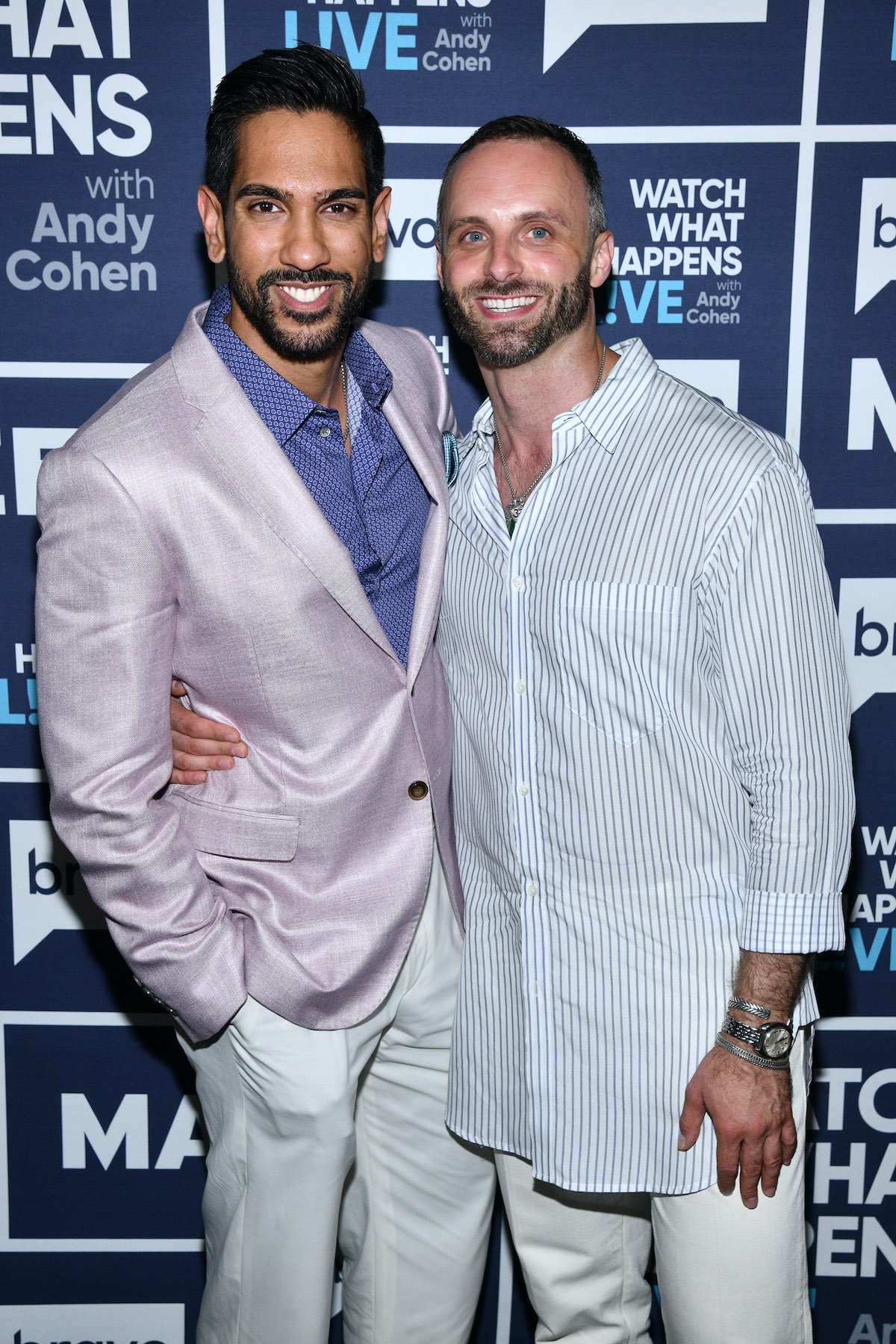 "We did, they had a really good reaction," Kouchoukos says. Kapai and Kouchoukos are seen telling Kouchoukos's family from the yacht where the emotional proposal was filmed. The couple tells Kouchoukos's parents about "some news" they had to share. "Amrit's just proposed," Kouchoukos says showing his parents his ring via FaceTime.
"I just wanna say, I'm gonna make your son happy," Kapai assures Kouchoukos's parents. "I promise you. He won't be alone. He'll always have a companion. He'll always have someone to be with him. I promise that to you. I really do."
Nicholas Kouchoukos says his parents are happy for him
"The fact that I'm gay is not easy for my parents," Kouchoukos admits in a confessional. "My parents live in a town of 1,500 people. There are not many out gay guys in Schoolcraft, Michigan."
Back at the engagement celebration, Kouchoukos shares that his mother got a little emotional when he told her he was engaged. "That was the best," Kouchoukos says.
"It's such a relief," he admits in a confessional. "That my parents, they're happy for me. We may take three steps forward and a step back. But that needle continues to move. Overall." Meanwhile, the couple and their friends and family sit down to dinner and toast the happy occasion.
The 'Family Karma' cast and family celebrate the engagement
Kapai wants Kouchoukos to give the toast, joking that he is always the one who does all the talking. Kouchoukos seems a little flustered unsure of what exactly to say. "I have always felt so welcomed by Lavina Auntie and Uncle Suresh," he begins by acknowledging the love from Kapai's parents.
"You guys are absolutely wonderful I always felt like you opened your hearts," he said. "You opened your home to me. I felt nothing but love from each of you."
The family toasts the couple and Lavina adds, "Nicholas, welcome to the family."
Has Amrit Kapai started wedding planning?
A producer asks the Kapai family if they've started planning the wedding. Kapai's mother already found a priest who will officiate a gay marriage. And while the family said they haven't started planning Kapai outlined the numerous celebrations involved in an Indian wedding.
RELATED: Bravo's 'Family Karma' Season 1 Catch Up: What Happened Before Season 2?
"It kinda sounds like the planning's already done?" a producer is heard asking the family.
"You know the community wants something to talk about," Kapai said. "And the Kapai's will give them something to talk about!"
Family Karma is on Wednesday at 9/8c on Bravo.