'Family Karma' Returns to Bravo and the Cast Has Another Engagement to Celebrate
Bravo's 'Family Karma' will return in 2021 but what has the cast been up to over the past year? One cast member recently celebrated an engagement.
Bravo's Family Karma will soon make a sophomore return and the network teased that the new season is forthcoming.
The series left off with Vishal Parvani and Richa Sadana's lavish engagement party. But fractured friendships still plagued this group so where is the cast today? And who just celebrated an engagement?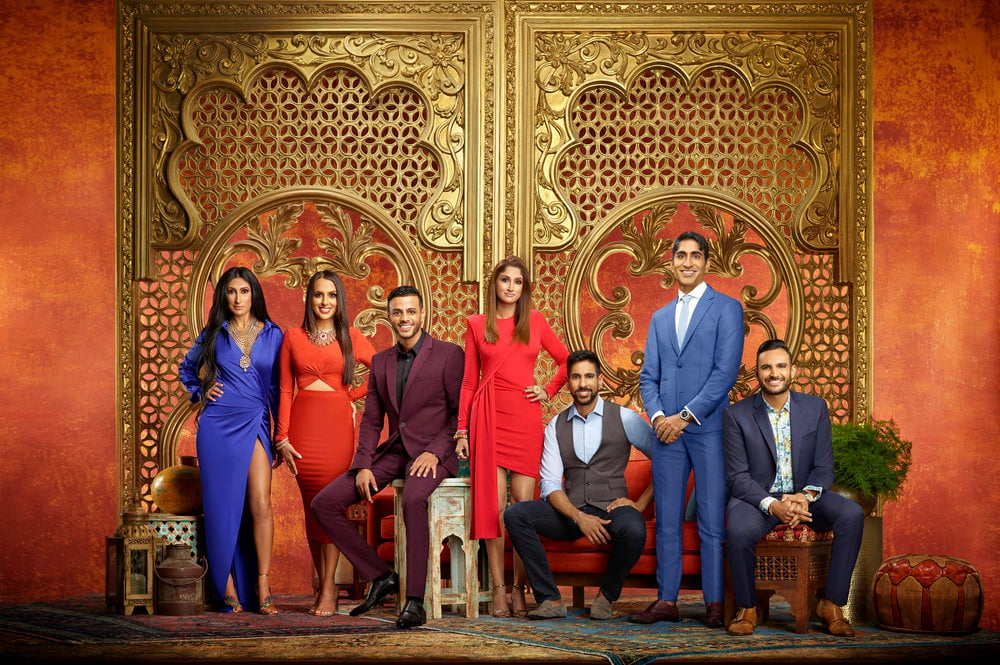 Shaan Patel has an Indian engagement party
Shaan Patel, who is the youngest Family Karma cast member, officially celebrated his engagement to girlfriend Pooja with a magnificent Indian engagement celebration. He shared photos on Instagram of the affair, which the couple held in March 2021.
"It's all about the #details," Patel wrote in a post. "For us, the engagement ceremony was bringing our families together and strengthening the promise we made to each other. Can't wait to take the next step and continue our journey together."
Patel was one of the boldest cast members, pushing back on the Indian tradition of living with his parents. Plus, he and Pooja have been living together too. "We don't keep it a secret," he told Showbiz Cheat Sheet in 2020. "Which is what we wanted to do from the start. A big Indian thing is brushing things under the rug, but we didn't want that specifically."
Bali Chainani and O'Malley are still going strong
Bali Chainani, one of the resident pot stirrers, has kept love alive with her boyfriend O'Malley. After initially being separated by the pandemic, Chainani and O'Malley are stronger than ever, spending as much time together as possible. The couple celebrated the Indian holiday Diwali together in Nov. with friends and family.
Chainani's daughter, Anushka was taking her college classes from home due to the pandemic. "I wish I could give you back your first-year college experience, but I have loved every moment of this year with you. You make me so proud," Chainani shared in a New Year's Instagram.
Anisha Ramakrishna says she struggled while filming season 1
Anisha Ramakrishna was on the verge of launching a new fashion line when the pandemic struck. She hoped to get her new business off the ground and then hopefully leave the nest. But, Covid-19 threw a wrench in those plans. During the early days of the pandemic, Ramakrishna would often take Instagram followers along for one of her walks in an open-air area in Miami.
She also seems to still be tight with her Family Karma friends, despite the spat she had with Vishal Parvani and Amrit Kapai. And while she seems to still share a bond with them, she felt as though her friends abandoned her during filming.
"I [felt] extremely depressed," she shared on her on a  Dear Media podcast, Currently Cringing. "When we filmed Family Karma, I gained 20 pounds and I feel like my friends were not there for me. And I couldn't even go run to my parents and complain about the show, because then they'd say like I told you so. Like who told you to be on this show?"
Did Brian Benni finally move out on his own?
Brian Benni was on the verge of signing a contract to move into his own place during season 1. "My parents are really cool but it is time for me to move out," he told Showbiz Cheat Sheet during the Family Karma Season 1 red carpet event in 2020. "I'm 28 and it's time to spread my wings."
He planned to move but the pandemic hit. While he may have still made the move, Benni continued to post videos and photos from his parent's house in South Florida. He reconnected with friends in June and some fans wondered where was Monica Vaswani.
Monica Vaswani punked her dad with a call from Andy Cohen
While it is unclear if Monica Vaswani and Benni were in touch over the last year, she pulled a hilarious prank on her father, Raj Vaswani in June. She told him she was FaceTiming with Bravo producer Andy Cohen and had a photo of Cohen on her phone. Her dad thought the video feed of Cohen was frozen on the phone as she's heard laughing in the background. "Andy, we have Bravo TV on in my room always," Raj tells the phone.
Vaswani has leveraged her Instagram to model outfits and fashion over the past year too.
Amrit Kapai is still with boyfriend Nicholas
Amrit Kapai returned to Miami from Chicago to launch a law office. Unfortunately, that meant a long-distance relationship with boyfriend Nicholas Kouchoukos. And while they dealt with living apart, they seemed to find ways to spend plenty of time together over the past year.
The couple spent summer holidays together, plus they did some traveling throughout the Midwest. He's still close friends with Vishal Parvani and seems to still be living in Miami. Will the couple finally decide on a home base?
Richa Sadana and Vishal Parvani are still waiting for a dream wedding
After the couple's massive engagement party, they still appear to be waiting for the right time to wed. The twosome still seem to be living long distance and took a trip to Colorado over the summer. "Breckenridge," Parvani wrote on his Instagram along with photos. "We tried to hike a #14er, "Quandary Peak" and failed. Nature humbled us, as well as my lack of cardio, since it's not as it was Pre-quarantine. Have to start getting more creative with the home workouts. Will get back."
Parvani revealed in March 2020 he contracted Covid-19 and was especially concerned because he has Crohn's disease. "The results just came back today and I tested positive for the coronavirus," he said on Instagram. "I was quarantining myself for the past two weeks with my family and as soon as I found out I was exposed I further isolated myself."