'Family Matters' Wouldn't Exist Without Harriette Winslow Actor Jo Marie Payton
'Family Matters' wouldn't have existed without this star's performance in another series.
Spinoffs are an odd category in tv. They often tweak a small part of their success formula to keep drawing in more viewers. On a few occasions, some spinoffs go extremely left-field and become their own shows. One of such shows is Family Matters.
The show was so successful that it ran for nine consecutive seasons. However, what most people don't know is that Family Matters was a spawn of Perfect Strangers. Family Matters became so popular that it outlived its parent series.
'Family Matters' had a Black cast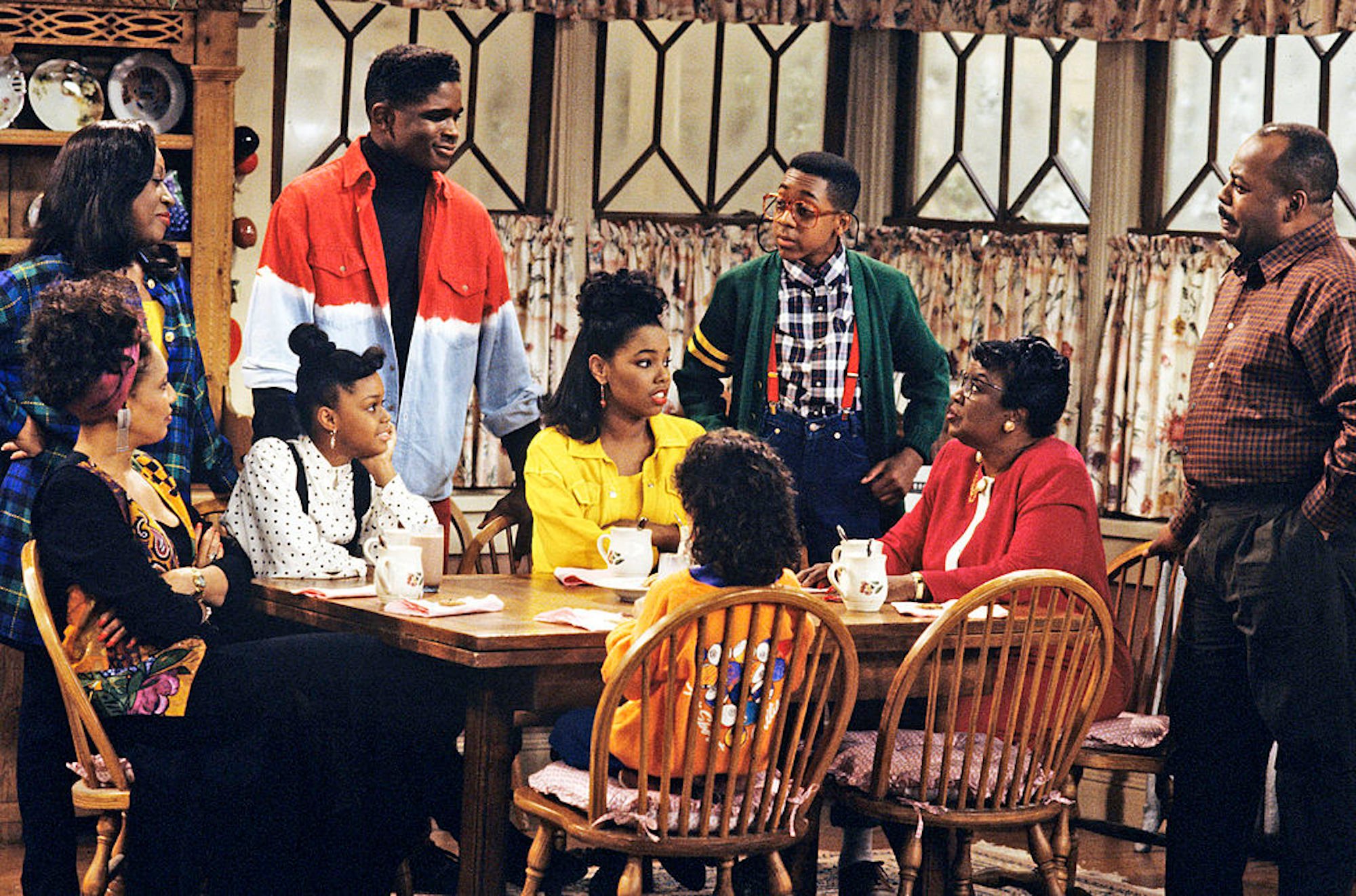 Family Matters revolved around Carl and Harriette, a police officer and an elevator attendant at the Chicago Tribune. The show focused on how the couple parented their three children Eddie, Judy, and Laura, while navigating everyday life.
The show also included Rachel, Harriette's sister, who decided to move in with the Winslows with her infant son after her husband's death. Carl's street-smart mother Estelle also joins the show in the pilot episode called 'A Mama Comes to Dinner.'
Family Matters producers created the show to showcase a family that will always choose to do the right thing even when faced with tough decisions. As the show progressed, the storylines grew to involve other people outside the Winslow family.
One of the introduced cast members was Steve Urkel. Urkel was brought in towards the last episodes of the show's premiere season. Although Urkel was brought in as a one-time character, the audience loved his antics so much that he became a series regular.
His high-pitched nasally-grating voice, suspenders, high-waisted pants that rode high up, and his catchphrase 'Did I do that?' soon became a hit with audiences everywhere. Urkel's popularity grew outside Family Matters, and brands took advantage of his image to produce clothes, lunchboxes, and cereal with his face on them.
The show's producers even made him the show's centerpiece, with his crush and obsession for the Winslows' eldest daughter becoming part of the show's storyline.
'Family Matters' wouldn't have existed without Harriette Winslow
Family Matters began as a spinoff of another hit show called Perfect Strangers. Jo Marie Payton, who played Harriette in Family Matters, also appeared on Perfect Strangers as an elevator operator at a newspaper factory where her relatives Balki and Larry worked. She made her debut in season 3 of Perfect Strangers.
After appearing in 33 episodes of Perfect Strangers, throughout season 3 and 4, the show introduced her police officer husband Carl (Reginald VelJohnson) in season 4 episode 12. He would also come to visit her sometimes while at work.
The producers loved Harriette because she always had well-timed humor and had a quick wit. They, therefore, decided to create a show based on her character.
According to Decider: "After Carl's debut, a spinoff was a no-brainer. Family Matters, a show initially focused on Harriette and Carl's family, debuted 8 months after this episode aired. Balki and Larry were originally supposed to appear in the pilot, but their involvement was cut early. Neither character ever appeared on Family Matters, which is probably why no one thinks of the show as a spinoff. And if you know Family Matters, you know the show didn't focus on Harriette and Carl for very long."
Simply put, without Payton's popularity, the character of Carl wouldn't have been introduced and a spin-off wouldn't have existed.
'Family Matters' outran 'Perfect Strangers' significantly
Towards the end of the show's premiere season, Family Matters became a massive hit for ABC in its TGIF time slot. Audiences loved the Winslows for their relatability and down-to-earth demeanor. The show often got compared to The Cosby Show, which was also a hit on its merit.
The Huxtables were a working-class couple who both had white-collar jobs. However, the Winslows had blue-collar jobs and had a large family, which audiences related to. The introduction of Steve Urkel served to heighten the show's popularity even further.
Sometimes we see spinoffs that are a complete money grab that only want audiences to keep watching not for their storylines but because of their parent series. However, other times, some spinoffs manage to stand on their own to become even more popular than their parent shows.
Family Matters might have started as a backdoor of Perfect Strangers, but it outlived the hit sitcom. According to Mental Floss, by the time Family Matters was wrapping up its storyline, the show had run for nine seasons which was an entire season longer than its original series.