'Family Ties': Michael J. Fox and Courteney Cox Were Accused of Dating Off-Screen
Some of the most successful celebrity relationships today resulted from on-screen pairings. A good example is actor Denzel Washington and his wife, Pauletta. The two met on the set of Wilma in 1975 and have stayed together since then.
At the height of Family Ties' popularity, Michael J Fox was a public figure whose life was scrutinized continuously by the public. Although he was in a loving relationship with his then-girlfriend, now-wife Tracy Pollan, rumors of an affair with co-star Courtney Cox began swirling. Read on to find out what the stars had to say about their alleged fling.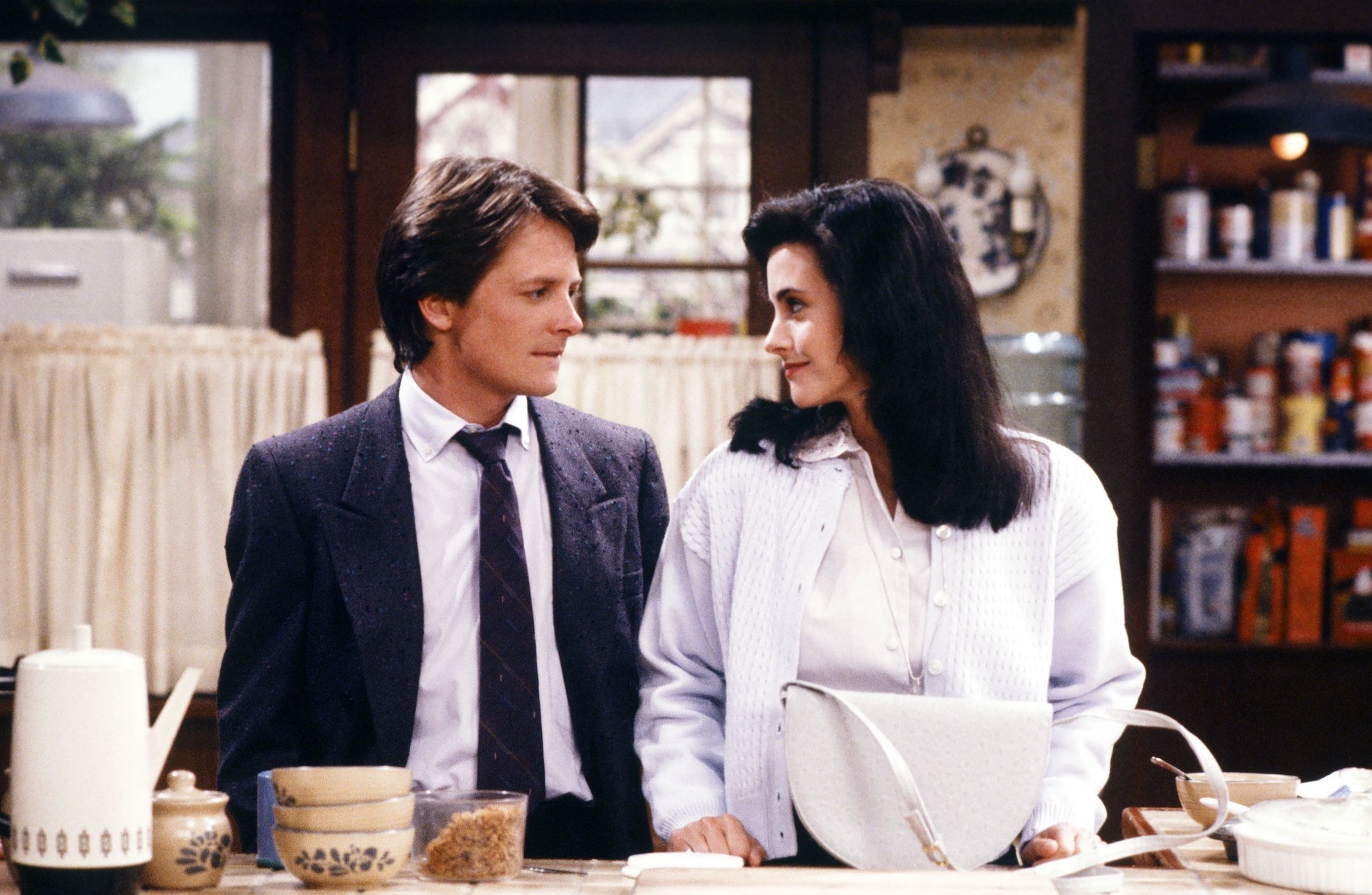 'Family Ties' aired during the Reagan administration
Family Ties is a sitcom that aired from September 22, 1982, until May 14, 1989. The show features the Keaton family based in suburban Columbus, Ohio. The Keaton family's patriarch and matriarch, Steven and Elyse Keaton, are liberals and former hippies who're raising their children in Ohio during the Reagan administration.
The Keaton children included Alex, an ambitious republican and entrepreneur, their fashion-forward Mallory, and tomboy Jennifer. Elyse is an independent architect, while Steven works at the WKS, a local television station, as the station manager. The series' humor is based on the cultural divide happening during the '80s.
At the time, younger generations had opposed the '60s counterculture and began embracing materialism which was synonymous with the '80s. Alex embraces Reaganomics and displays conservative attitudes. Mallory is a stark contrast to her feminist mother as she is materialistic. Jennifer is an athletic tomboy who shares most of her parent's values. Later in the series, Steven and Elyse have a fourth child Andrew who Alex molds in his conservative image.
Fox met his wife Pollan met on family ties set
Fox played the Reagan-loving conservative Alex. He and Pollan met while filming for the 1985-1986 season of the hit show. Pollan played a feminist college student Ellen Reed who briefly dated Alex. Although the pair dated on-screen, they took some time before fostering a good relationship amongst themselves. Fox was at the time involved with Nancy McKeon while Pollan was dating Kevin Bacon.
Pollan also didn't like Fox when they first met. Pollan once said that her first impression of Fox wasn't favorable. Pollan explained that she thought he was too full of himself. However, once she got to know him, her perception of him changed for the better. Pollan said that they started working together and realized that Fox was a funny and smart man.
The pair never pursued a romantic relationship after filming wrapped up, but Fox didn't want to let Pollan go when they met again. Fox had heard from a colleague that Pollan had broken up with her boyfriend Bacon, and while he acknowledged that it was a sad affair, he still saw his chance and took it. The pair began dating, and after seven months of hot romance, Fox popped the question. The couple got married in 1988, and 32 years later, their romance is still flaming hot.
Rumors swirled that Fox and Cox had a fling
During the last two seasons of Family Ties, Cox was cast as Lauren Miller, Alex's girlfriend. The two began spending some time together off-screen, and soon rumors began swirling that Fox had called things off with Pollan to be with Cox. According to Mental Floss, Fox and Cox denied claims about their alleged fling. Fox said that he had a great relationship with Pollan and loved working with Cox. Cox also cleared the air saying that she'd never been to a nightclub with Fox as the tabloids had reported.