Fans Are Furious Prince William Spoke Out Against Racism in Soccer but Didn't Defend Meghan Markle
Prince William is using his voice to speak out against racism that soccer players in the U.K. have endured for years. Though some fans are praising the prince for tackling this social issue, others aren't so impressed. Despite the continued racism that Meghan, Duchess of Sussex, endured and continues to deal with, no one in the royal family aside from Prince Harry has spoken up for her.
Now, furious fans are wondering why the future Crowned King didn't use his voice when his sister-in-law needed it most.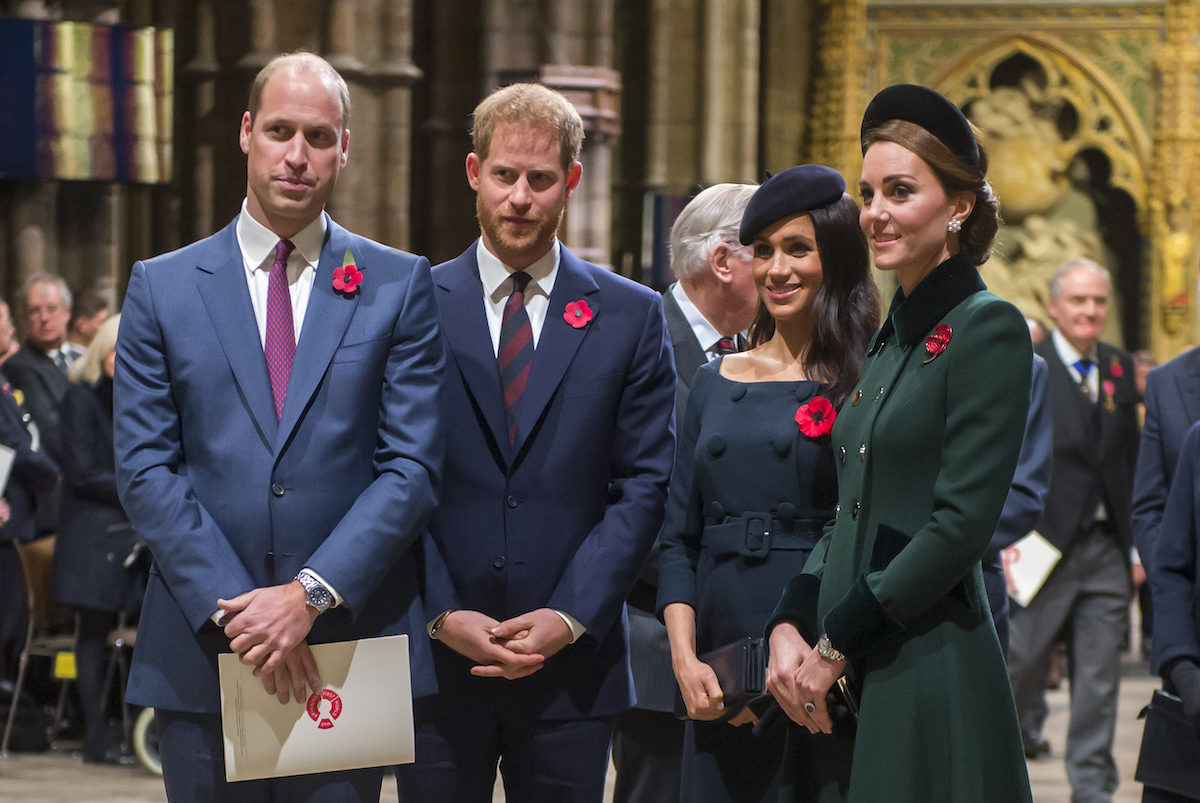 Meghan Markle endured a ton of racism as a senior member of the British royal family
When Meghan and Prince Harry met in the summer of 2016, they fell for each other fast and hard. The pair came from vastly different worlds. However, the ambitious actor and philanthropist thought she would have no issue tackling the demands of royal life. Unfortunately, she was wholly unprepared for the scrutiny and the sheer racism that she faced daily.
As a mixed-race woman with a Black mother and a white father, the British tabloids and royal fans treated the duchess horrifically. Though the royal family witnessed what Meghan was enduring, they remained publically silent until the Sussexes decided to leave royal life. An insider explained to Daily Mail,
Meghan said Harry made it crystal clear that they could not function in good faith under the current system…and that if it wasn't revised and updated to their liking, they would have no other choice than to break from the royal family. [Meghan] said no one took [Harry's] pleas seriously, so they had to take the issue into their own hands. This was about protecting the family and doing right by Princess Diana. She said the British tabloids have haunted Harry since childhood and should have been kicked out of the media pool long ago. The system is broken and Harry wanted to fix it. She said he needed to take a stand and now they are doing it together.
Prince William just spoke out against racism in soccer
Since then, the Sussexes have spoken out against racism and anti-Blackness. Meghan has also advocated for the Black Lives Matter movement. Now, it looks like Prince William is ready to speak up as well, but not in the way anyone expected.
At present, there are several pending investigations into racist comments directed toward a number of Manchester United players online. Prince William is the President of the FA (Football Association) and in a rare personal tweet, he has condemned racism in all forms.
"Racist abuse – whether on the pitch, in the stands, or on social media – is despicable, and it must stop now," he tweeted. "We all have a responsibility to create an environment where such abuse is not tolerated, and those who choose to spread hate and division are held accountable for their actions. That responsibility extends to the platforms where so much of this activity now takes place."
Fans are furious Prince William is defending soccer players but he remained silent about Meghan Markle
While it is great the prince is using his platform to speak out against horrendous racism, fans are furious that he remained silent when Meghan endured so much.
"I do wish you and your family were this vocally antiracist when the target of the racism was the Duchess of Sussex," author Kristen Meinzer replied. British boxer Ashley Theophane commented, "Shame you didn't have the same energy when Meghan was getting abuse."
Many more fans commented in a fury regarding Prince William and the royal family's continued silence about racism against Meghan, especially during her pregnancy.
"[Harry] feels that there were so many occasions when the institution and his family could have helped them, stood up for them, backed them up, and never did," Omid Scobie and Carolyn Durand wrote in their book, Finding Freedom.