Fans Are Praising Waka Flocka's Wife Tammy For Punishing Their Daughter – Fans Are Calling Him Out
Waka Flocka's wife Tammy Rivera was first introduced when they starred on Love & Hip Hop Atlanta. Since then, the two have appeared on Marriage Bootcamp to combat their issues after surviving infidelity in the marriage – and are now showcasing their marital comeback on their own WeTV reality series, Waka & Tammy: What The Flocka.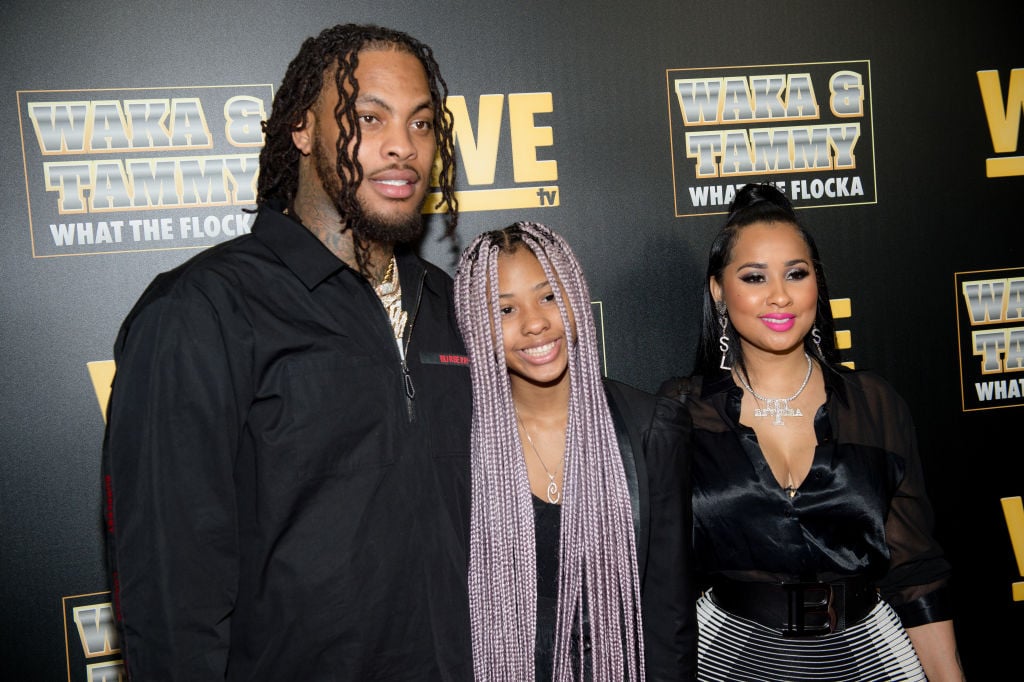 The two co-parent Rivera's daughter, Charlie, from her previous relationship and constantly battle over their parenting differences. A recent episode has fans on Rivera's side after she punished Charlie for going against her wishes. Fans are also calling out Flocka for not showcasing discipline. 
Why Tammy Rivera punished her daughter
Though Flocka is not Charlie's biological father, he had been instrumental in raising her since he began his relationship with Rivera. The problem is that Rivera and Flocka have two different parenting styles. Rivera believes in boundaries in discipline while Flocka is a lot more lax. He often goes against Rivera's wished in terms of consequences for Charlie.
While Rivera was out of town, Flocka was in charge of monitoring Charlie, who was already grounded. Instead of being on daddy duty 100%, he allowed Charlie to go to a friends house to attend a football game so that he could spend time with his friends. Charlie agreed to keep their agreement a secret between the two of them only if Flaka brought her a new iPhone.
Charlie returned home with a new bold, hairstyle: long blond braids. Knowing Tammy would not approve, she and Flocka once again derived a plan to lie and say that Flocka allowed her to get her hair done. When Riveria return and discovered the truth, all hell broke loose.
Tammy added on another week of punishment for Charlie, and also demanded that she remove the braids from her hair since she didn't authorize it. Charlie didn't take Tammy request seriously and chased her around with scissors, cutting the braids directly from her hair when she caught up to her. Charlie then had no choice but to remove the braids completely. 
Fans say Tami Rivera did the right thing and encourages her and Waka Flaka to be united in parenting
Fans agreed with the punishment measure Rivera used due to Charlie's disobedience. For starters, they were not happy with Flocka going against Rivera in the first place. They also accused Flaka of being more interested in taking the friend approach with Charlie than disciplining her when needed.
"Does Waka not see the problem? Not saying Tammy is blameless, but when she has an issue he just laughs and then says she's crazy," wrote a Twitter user. "It looks like Tammy is being a little harsh but he doesn't discipline Charlie, which will create resentment."
"Waka is saying he wants Tammy and him to make a decision together about Charlie's punishment! But still he should not undermind Tammy's decision when she already made it..talk to her about it to get an understanding going forth," wrote another.
"Tammy did right! Charlie has to learn to respect and listen," another commented.
"Waka is supposed to have Tammy's back. Charlie is spoiled. You don't make punishment deals. I hate he's basically saying it's ok to lie, be slick, & get rewarded for it. Smh Maybe the therapist can teach u how 2 say no," another wrote.
Regardless of their differences in parenting, it's beautiful to see the bond between Flocka and Charlie.