Fans Are Protesting Dave Chappelle's New Standup Special Due to Past Controversies
Dave Chappelle's latest standup, 8:46, has been a huge hit among viewers. Upon its June 12 release, the special shot up to over 16 million views and drew widespread praise for its brave and perceptive social commentary. However, some fans have opted not to tune in in protest of past comments by the Half Baked comedian.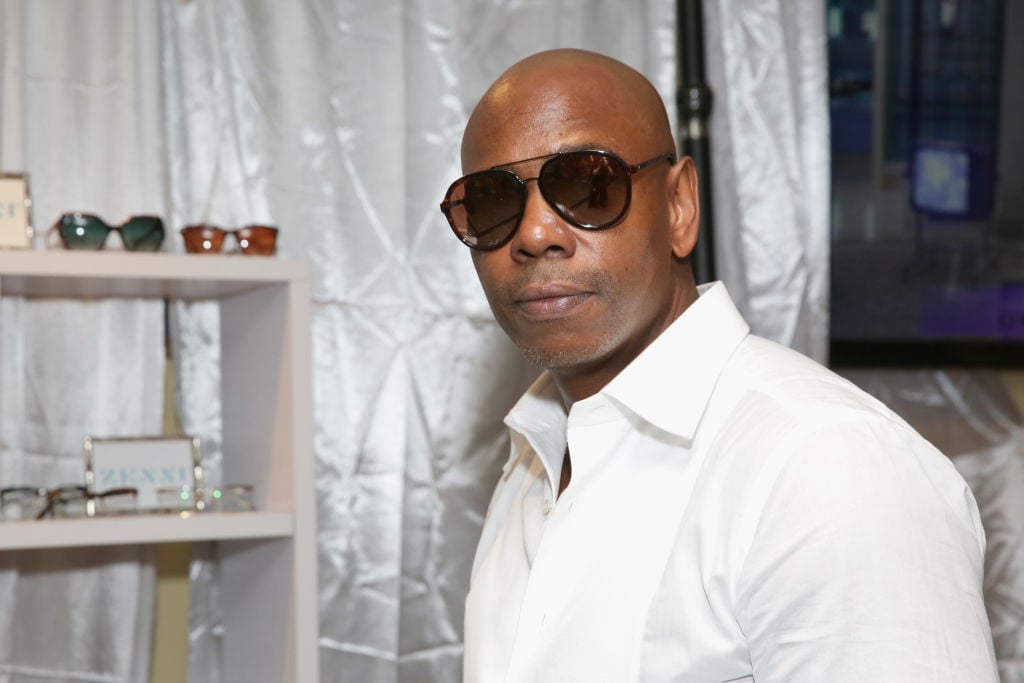 Why fans are upset with Dave Chappelle
The outrage stems from Chappelle's history of making comments that fans say are misogynistic, transphobic, homophobic, and downright disrespectful.
Critics have been pointing to his 2019 standup, Sticks & Stones, in particular, where Chappelle made gags about the #MeToo movement, LGBTQ community, and more.
Upon its August 2019 release, Sticks & Stones attracted huge amounts of criticism from fans for its commentary on said topics. BuzzFeed News reporter Tomi Obaro described the program as a "low, low bar" for the former Chappelle's Show star, while Vice told readers to skip it completely.
But despite such backlash, Sticks & Stones received a 99 percent rating from viewers on Rotten Tomatoes. Chappelle even won a Grammy Award for his performance.
The comedian has never commented on the criticism he received from Sticks & Stones, but he admitted he saw it coming the special.
"That's why I don't be coming out doing comedy all the time," he explained (via The Guardian). "I'm goddamn sick of it. This is the worst time ever to be a celebrity. You're gonna be finished. Everyone's doomed."
Fans won't watch '8:46' because of this
Although 8:46 has received a more positive reception, fans just can't bring themselves to watch the program due to his past remarks.
"A lot of male comedians are praising Dave Chappelle today, while I watch a lot of Black women and trans folks talk about his anti trans and rape apology jokes… so… I'm gonna go with a solid pass on watching that new whatever of his," read one tweet.
Echoing that, Crissle West of the popular podcast The Read tweeted in part, "I'm not watching a damn thing that n*gga puts out til he makes amends for his sh*t."
Someone else went as far as saying, "I enjoyed Dave Chappelle's standup and Chappelle Show, but it's time to leave him in the 2000s."
There were others, however, who defended the Robin Hood: Men in Tights actor.
"He owes no one an apology," said one fan.
Another person urged fans to watch 8:46 anyway. "I know he's said hurtful things, and I'm not sure he's offered a meaningful apology to the trans community. Keep that in mind, as you see a man pouring out emotion, vulnerability, and raw anguish on stage. Come to your own conclusions," read the tweet.
What has Dave Chappelle said about the backlash?
So far, Chappelle has not weighed in on the criticism — and there's a good chance he doesn't even know about it. He famously said in a 2017 interview with HOT 97 that he rarely ever hears about his controversies. Unless he's out promoting something or doing a show, Chappelle usually keeps to himself at his home in Yellow Springs, Ohio.
"I'm not on Twitter. I'm not on Facebook. I'm not on Instagram. I don't do any of that stuff," he explained to host Ebro Darden.
"The only way I know about stuff is because everyone else tells me about it. My wife, if it gets real bad, she'll let me know, like, 'Oh, you should look into this.' But for the most part, I try not to pay attention to it because you don't want to be careful as a comedian. I try to keep my business small enough so it can still be authentic enough," he continued.
With that, only time will tell if his wife has alerted him to this drama. Stay tuned.