Fans Are Slamming Nicki Minaj Over Rumored New Song With Tekashi 6ix9ine
Tekashi 6ix9ine returned to music almost immediately after being released from prison back in April. The platinum-selling, rainbow-haired rapper released "GOOBA" in May after serving over a year behind bars on multiple charges and remains hard at work on new tunes.
Rumors has it that he is actually working on a collaboration with Nicki Minaj, but not everyone is here for it. Below, find more on their rumored new song and why people are taking aim at Nicki Minaj.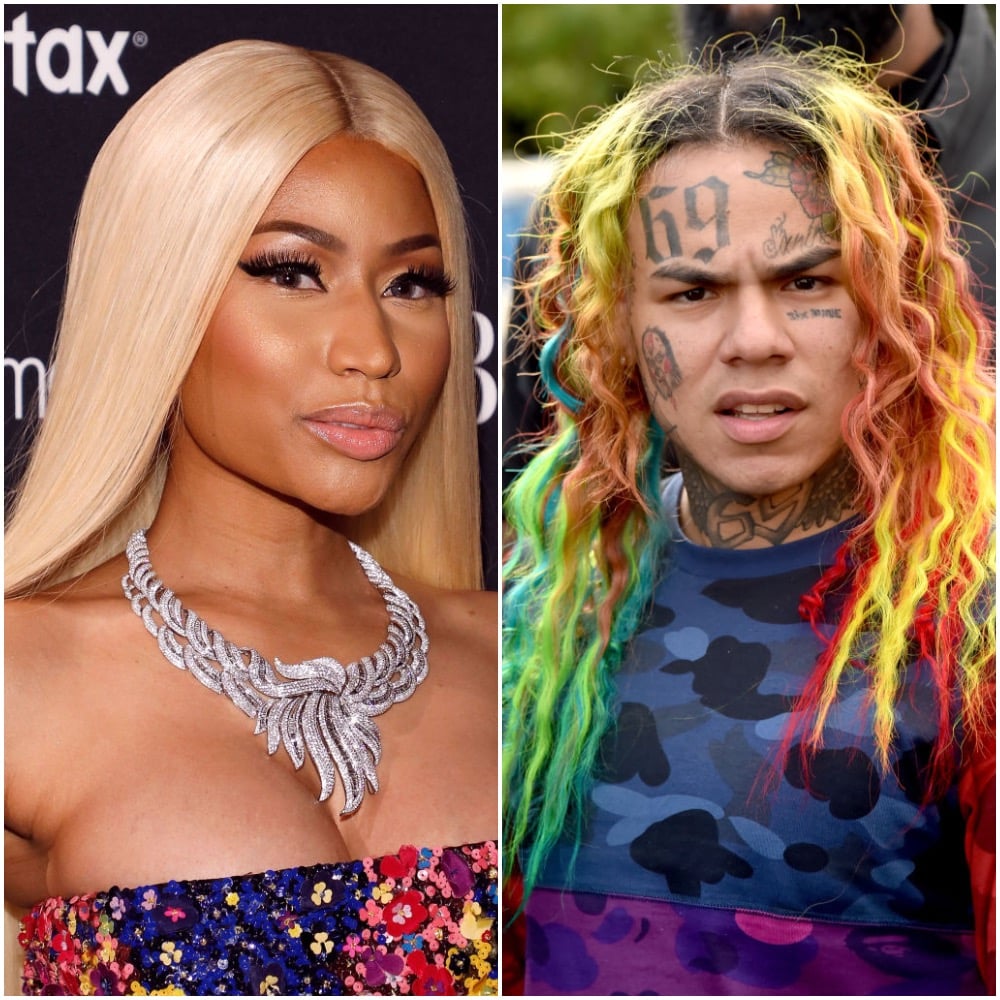 Tekashi 6ix9ine's alleged song with Nicki Minaj
6ix9ine has not directly said anything about a new song with the "MEGATRON" star. But he sparked the rumors in mid-May after teasing an upcoming project that would "break the internet," per Ace Showbiz. 
The speculation only grew when he failed to acknowledge a report from MTO News alleging that Nicki Minaj had recorded a verse and would be traveling to New York later in May to shoot a video with him.
Nicki Minaj herself has yet to comment on the matter, but fans think she dropped a clue on Twitter on May 18 when she tweeted an emoji of a taco, which they believe might be the name of the song.
RELATED: Nicki Minaj Gets Dragged Into Feud Between Ex Meek Mill and Tekashi 6ix9ine
Only time will tell what the "GUMMO" rapper has in store for his fans. But whatever it is, 6ix9ine has repeatedly said on Instagram that it will drop on May 29.
Why fans are criticizing Nicki Minaj
Fans are upset with how she seems to be overlooking 6ix9ine's criminal history, specifically his guilty plea for a 2015 incident that involved the "sexual performance" of a 13-year-old girl. This was something that came up in 2018 when she worked with 6ix9ine, 24, on their hit song "FEFE," but she seemingly did not address the backlash.
RELATED: Nicki Minaj Disappoints Fans After Supporting a Convicted Rapist
Critics expressed their concern over the rumored collaboration on social media while noting that she also married Kenneth Petty in October 2019, who was convicted of attempted rape back in the '90s.
The rapper addressed the criticism back in 2019, clarifying that he was in a relationship with the victim. But that didn't necessarily help the situation, as it kind of implied that the situation was OK simply because they were together.
In addition to that, Nicki Minaj has been accused of supporting her brother Jelani Maraj, who was convicted of raping an 11-year-old back in 2017. Reports have alleged that she asked his judge for leniency and visited him in prison. However, sources told TMZ she only went to the prison to support their mother.
See the tweets about the rumored song
Overall, a lot of fans just aren't here for this rumored collaboration. One fan took to Twitter and called Nicki Minaj "trash" for allegedly working with 6ix9ine while another claimed the rapper is on the verge of being canceled.
"Yet again supporting sex offenders," read a third tweet.
Even her diehard fans expressed their concerns over the news, including someone who wrote: "I don't have the energy to defend this woman if she does make a song with that man. I really don't."
There are some, however, who are really looking forward to the rumored song. One fan guessed that it would be a "bop" while another dropped a string of heart-eye emojis.
"Omg another 6ix9ine and nicki hit on the way look at God," added another fan.
We'll see if it really comes to fruition.