Fans Are Standing Up for Rachel Lindsay After She Was Attacked on Social Media
Rachel Lindsay recently appeared on the Everything Iconic with Danny Pellegrino podcast. The episode was posted on July 29, and during the episode Lindsay called Becca Kufrin's fiancé, Garrett Yrigoyen, a "piece of sh*t."
After the comment spread online, some fans attacked Lindsay on social media, and she posted the hateful DMs she received on her Instagram story. Now, fans of The Bachelorette are stepping up to defend Lindsay.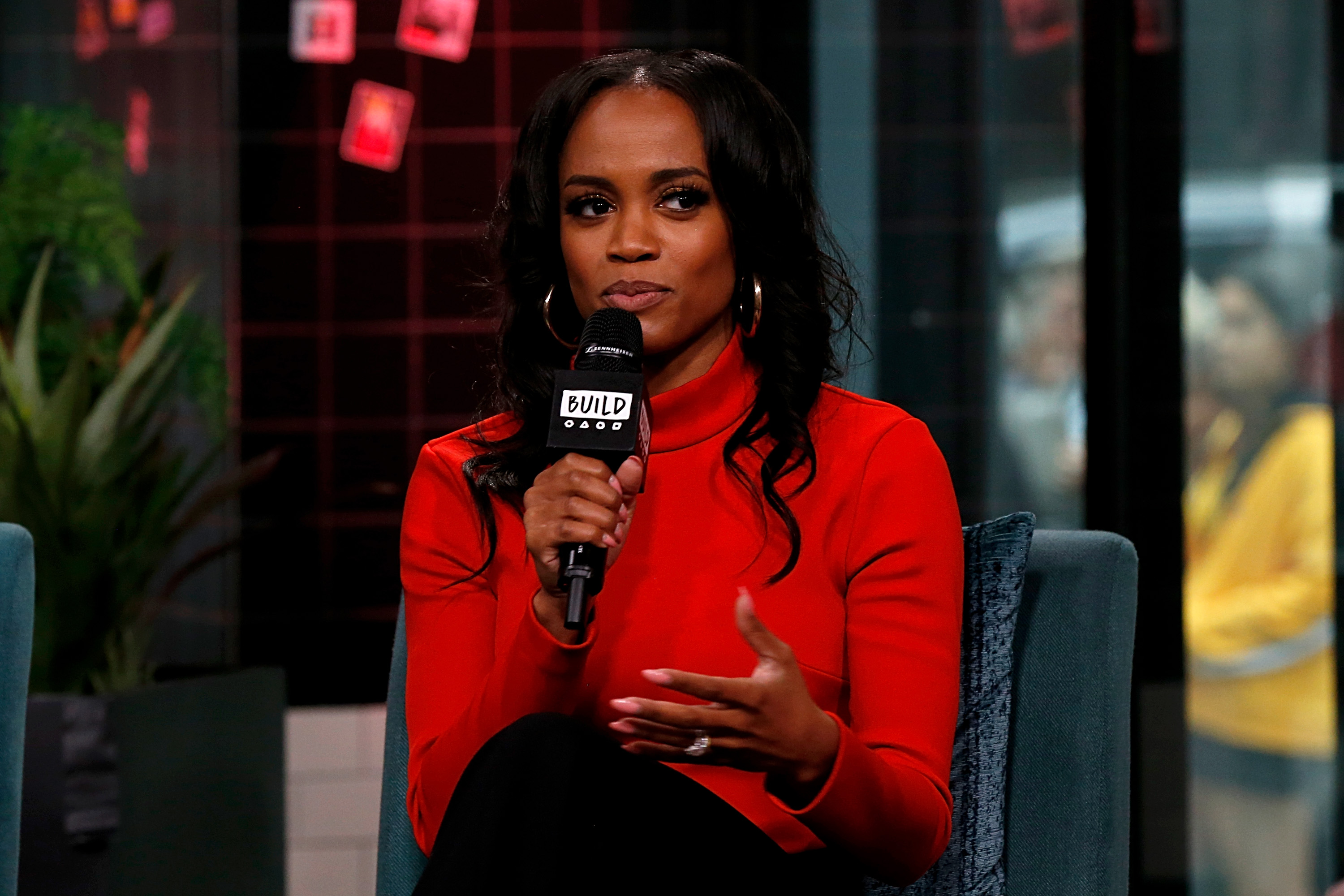 Rachel Lindsay called Garrett Yrigoyen a 'piece of sh*t'
This is not the first time Lindsay has been critical of Yrigoyen. On the Bachelor Happy Hour podcast, Lindsay has discussed how she disagrees with Yrigoyen but supports Kufrin as a friend. She took her criticism of Yrigoyen a step further on Everything Iconic with Danny Pellegrino.
"We had a podcast about diversity and what was going on in the country and her fiancé posted a Blue Lives Matter picture. And with his whole chest gave his long explanation as to why he felt that way," she said.
Lindsay continued, "So I got on the podcast saying it was problematic, what he meant to me, we both got emotional. I was just like, 'I'm tired that everyone woke up in 2020 and realized that racism f**king exists. It's been happening.' And it was great for us and our friendship."
She made a point to say that she would not comment on the nature of Kufrin and Yrigoyen's relationship out of respect for Kufrin. However, Lindsay made her feelings about Yrigoyen clear.
"I think he's a piece of sh*t… He has doubled down on his beliefs. This isn't the first time he's had problematic behavior. When he was on the season, he had a history of 'liking' things that were racist, sexist, homophobic, calling the Parkland students child actors, it was a lot, so this is who this man is. And he's a piece of sh*t to me," she said.
She received negative comments after the podcast
After she appeared on the podcast episode, some people flooded Lindsay's Instagram with negative comments. Instagram users commented harsh things on Lindsay's recent post, while others sent Lindsay DMs on the app.
"I'm a fan but really disappointed in you Rachel. Whatever your feelings towards Garret, you could have expressed it in private, or better yet, not at all, considering it's your friend's fiancè. Becca doesn't deserve this," one fan commented on Lindsay's recent post.
Another fan commented, "Rachel shouldn't have said that about Garrett… that is not respecting her friend at all… not her relationship… not her business."
RELATED: Fans Think Rachel Lindsay's Comments Are a Sign That Becca Kufrin and Garrett Yrigoyen Broke Up
Fans are defending Rachel Lindsay
While some have taken an issue with Lindsay's opinion of Yrigoyen, other fans of the Bachelor franchise are stepping in to defend Lindsay.
"Rachel thank you for continuing to use your voice for good I'm so sorry there are people sending you such terrible messages right now. Keep doing you," a fan commented on Lindsay's post.
"I can't even look at the comments underneath the post if they post about Rachel… She's an amazing woman who brings so much attention to social justice issues and struggles in the Black community and all the comments about her are just thinly veiled racism," wrote a Reddit user.
Based on positive comments fans have left, it is clear that some fans will not tolerate Lindsay being blamed for anything going on in Kufrin and Yrigoyen's relationship.