Why Fans Aren't Allowed Phones or Cameras Inside Paul McCartney's Childhood Home
Paul McCartney's childhood home is located at 20 Forthlin Road, Liverpool, England. When the National Trust bought it, they stripped it down and replaced everything to look exactly how it had the last time Paul lived there.
Traveling to the ordinary suburban home is like a pilgrimage for some fans. They want to walk through the house that the ex-Beatle lived in, even if nothing apart from the walls is original. It's not the Vatican, although some fans treat it as if it were. That means there's absolutely no photography. They have to keep a sense of mystery and awe somehow.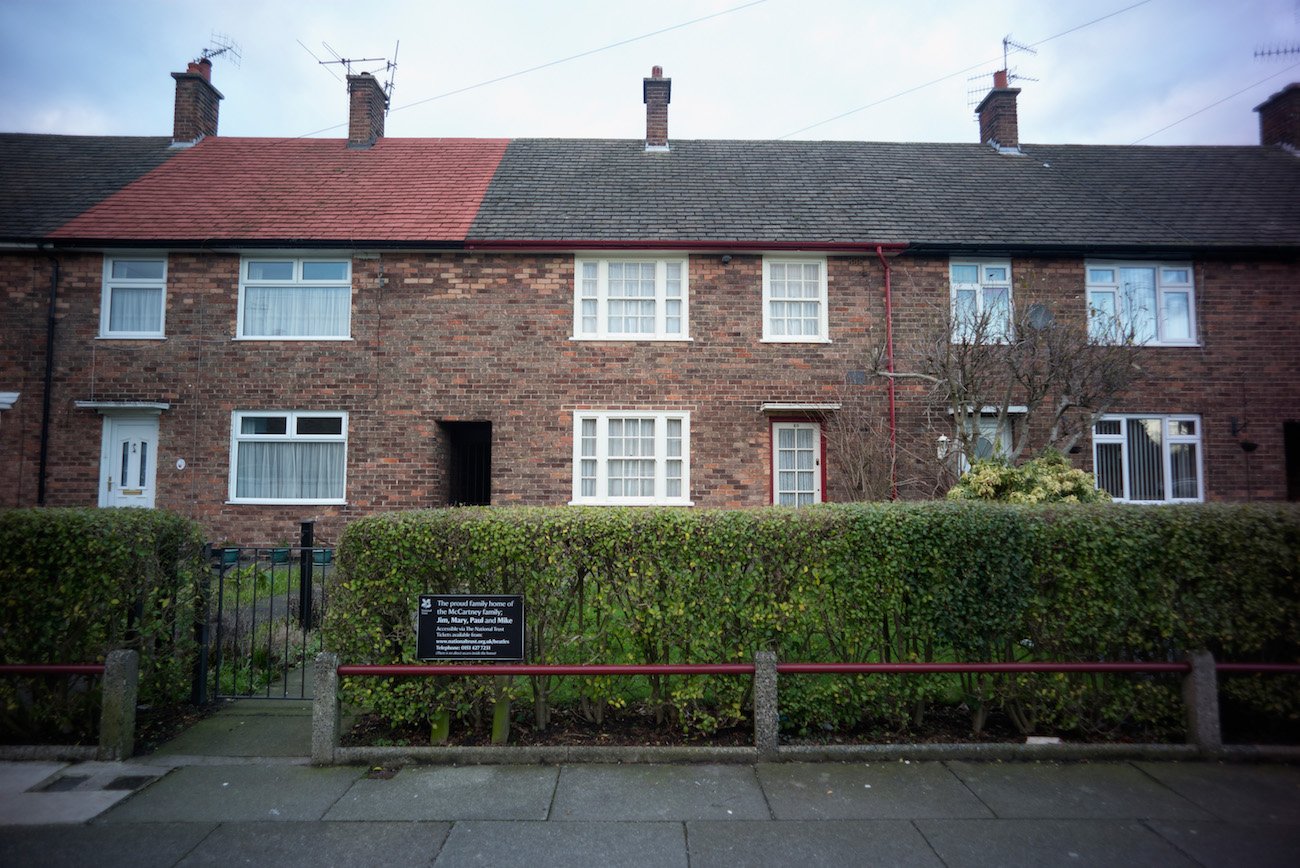 The National Trust bought Paul McCartney's childhood home in 1995
In Britain, the National Trust for Places of Historic Interest or Natural Beauty is a charity and membership organization for heritage conservation in England, Wales, and Northern Ireland. Basically, they buy buildings and other places of historical importance and protect them for people to visit.
So, naturally, The Beatles' childhood homes have that historical value.
The National Trust bought Paul's childhood home in 1995. In 150 Glimpses of The Beatles, Craig Brown wrote that the purchase came after the then director-general of the BBC, a Liverpudlian named John Birt, suggested the organization buy the property. They bought John Lennon's childhood home in "Mendips" Menlove Avenue seven years later.
Tim Knox, the National Trust's then curator, was furious by the purchase because the "usual criterion for taking on property—that the building should have intrinsic artistic merit—had, he felt, been abandoned in pursuit of shabby populism," Brown wrote. Others agreed that the homes had no unique value.
The homes had changed since the famous musicians lived there too. So, they staged them to look as they would have done in the 1960s. They looked at old photos. For Paul's childhood home, they wanted the original windows. A house across the street still had them, and they arranged a swap. In the end, everything looked as authentic as possible, but it wasn't.
There are no phones or cameras allowed inside Paul's childhood home
The National Trust breathed some fresh air into John and Paul's childhood homes. They made Menlove Avenue and Forthlin Road look as they had when the ex-Beatles lived there. Because of that, some fans feel like they're making a pilgrimage. The homes have become a shrine.
Brown took a tour of 20 Forthlin Road with a group and wrote there were strict regulations against photography and audio recording.
"Our National Trust guide introduced herself as Sylvia," Brown writes. "She conducts 12,000 people a year around Paul's childhood home, twenty at a go, four times a day… This, she said, was where Paul lived for eight years… 'By the time Paul left here, it was right at the end of 1963…'"
Sylvia started to tell the group more about Paul's time in the home until she approached someone she thought was recording her. Brown froze because he had been recording, but Sylvia suspected someone else in the group.
Brown continued to record, but it put him on edge. The only place that the group could photograph was the front of the house.
"Sylvia warned us that we were not allowed to take photographs in the house or the back garden," Brown continued. "'There's a special reason here. You'll see inside we've got Mike McCartney, Paul's younger brother's, copyright photographs all around the house. It's lovely to have them. And you'll enjoy them. But he'd take them away if people had photographs of them.'
"'So if when you come in you could hand me your bags and cameras, and if you've got a mobile phone can you switch it off and hand it in, so we don't want to see mobile phones in your pockets.' With that, Sylvia ushered us inside.
"Everyone lined up to give her their phones and cameras, as though crossing the border of a particularly nervy country. She then locked them all in a cupboard under the stairs."
There's just as much strictness on tours of Menlove Avenue
Brown switched from recording to taking notes, but even that caught the attention of Sylvia. She told him she didn't like him writing things down. "Well, it's just that a lot of what I say has been told to me by Mike, and it's private information," she said. Brown didn't understand because she guides 12,000 people a year.
They agreed that Brown wouldn't write down anything Sylvia thought was private. However, after Sylvia had shared something personal, Brown saw the same story in the guidebook.
20 Forthlin Road isn't the only childhood home of a Beatle that's kept under strict rules, though. John's childhood home has just as many restrictions.
Brown writes, "Pilgrims to Mendips face rules and regulations stricter than those for the Sistine Chapel. 'Any photography inside Mendips or duplications of audio tour material is strictly prohibited. You will be asked to deposit all handbags, cameras and recording equipment at the entrance to the house.'"
Maybe the strictness on photography etc., comes down to preserving the fantasy of these shrines. It's as if fans are stepping into a sacred space. They can walk on the same floor that Paul McCartney stepped on. Or, as Brown would say, the replica floor.