Fans Can't Get Over This Video of Pink and Her Daughter Willow Singing a Duet on 'The Disney Holiday Singalong'
ABC's The Disney Family Singalong and The Disney Family Singalong Vol. II were Disney's musical answer to the COVID-19 crisis, the difficulties of filming amid a pandemic, and the stress of quarantine. The singalongs feature family-friendly musical performances from well-known artists that parents and kids can enjoy together.
The holiday edition of the singalong series, The Disney Holiday Singalong, premiered on ABC on Nov. 30, 2020. Hosted by Ryan Seacrest, the Christmas-themed musical extravaganza featured plenty of standout performances. But one duet in particular – a rendition of Nat King Cole's holiday standard "The Christmas Song" by Pink and her nine-year-old daughter, Willow Sage Hart – led fans to notice a potential rising star.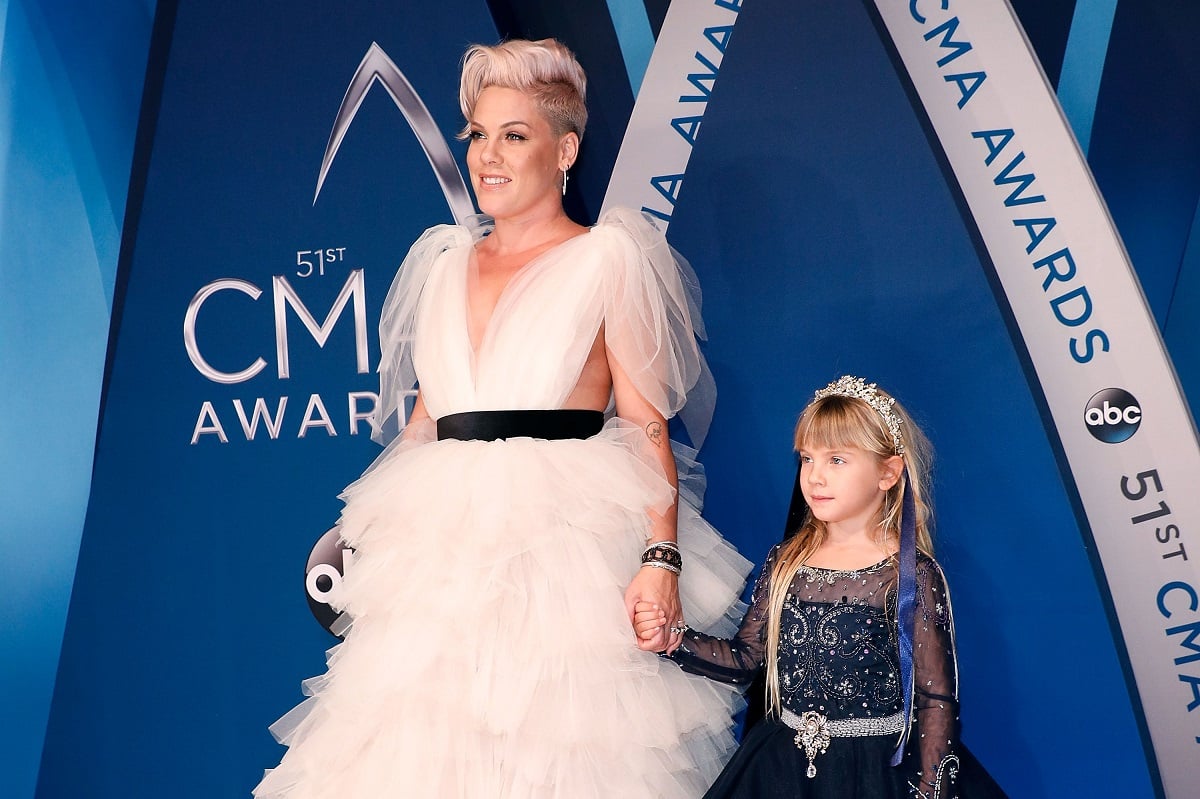 Pink and Willow performed 'The Christmas Song' as a duet
The Disney Holiday Singalong showcased dance and vocal covers of Christmas classics – accompanied by tried-and-true holiday Disney cartoons in the background, of course – by the likes of Andrea Bocelli, BTS, Katy Perry, Chloe x Halle, and many others.
Pink, now 41, donned a silky red dress for her rendition of "The Christmas Song (Chestnuts Roasting on an Open Fire)" with Willow, who is the older of her two children with her husband, motocross racer Carey Hart.
The pop star sang the first part of the holiday classic in her usual rasp-laced belt. Willow – sporting a buzz cut and clad in a sparkling, snowflake-covered gown – joined in on the lines "They know that Santa's on his way/He's loaded lots of toys and goodies on his sleigh."
With her mom's arm around her, the nine-year-old showed off her distinct voice, which had a surprisingly rich timbre and mature lilt for a singer so young.
RELATED: How Many Christmas Songs Has Ariana Grande Released?
Fans couldn't help but notice Willow's incredible vocals
Fans immediately took to social media to express their shock at Willow's vocal skill. Many commented on the fact that Pink's daughter seemed to be developing her own unique style – not merely mimicking her mom's rock-edged tone. Several fans compared Willow's sound to Halsey, whose style is at once gritty and plaintive.
"I like that Willow's style isn't a carbon copy of her mother's," one supporter wrote on YouTube.
"Hot damn, Willow can sing," another fan exclaimed. "Gets it from her mama."
Several fans predicted a record deal for Pink's young daughter in the future, declaring her to be the next big potential star.
Others admired Pink's obvious pride in her daughter's talent, commenting on how close and connected the pair seemed to be as they sang.
RELATED: What Is Pink's Real Name and What Is She Doing Now?
The mom and daughter duo previously worked together on the 'The Greatest Showman: Reimagined' soundtrack
This wasn't the first time Pink's daughter impressed fans with her vocal talent beyond her years. In 2018, when Willow was just seven years old, she was featured on the celebrity-studded soundtrack for The Greatest Showman: Reimagined.
Pink added a pop twist to "A Million Dreams," and Willow sang part of the reprise with her mom's guidance. A video of the pair recording in the studio together went viral (Billboard), with many fans gushing over Willow's precocious singing talent and her mother's more-than-obvious adoration for her daughter.