Fans Can't Stop Talking About Ariana Grande's 'Disney Family Singalong' Performance
Celebrities pulled out all of the stops during ABC's The Disney Family Singalong!
The special, hosted by Ryan Seacrest, was full of pure magic, and Ariana Grande definitely made dreams come true with her performance of "I Won't Say I'm In Love" from the movie Hercules.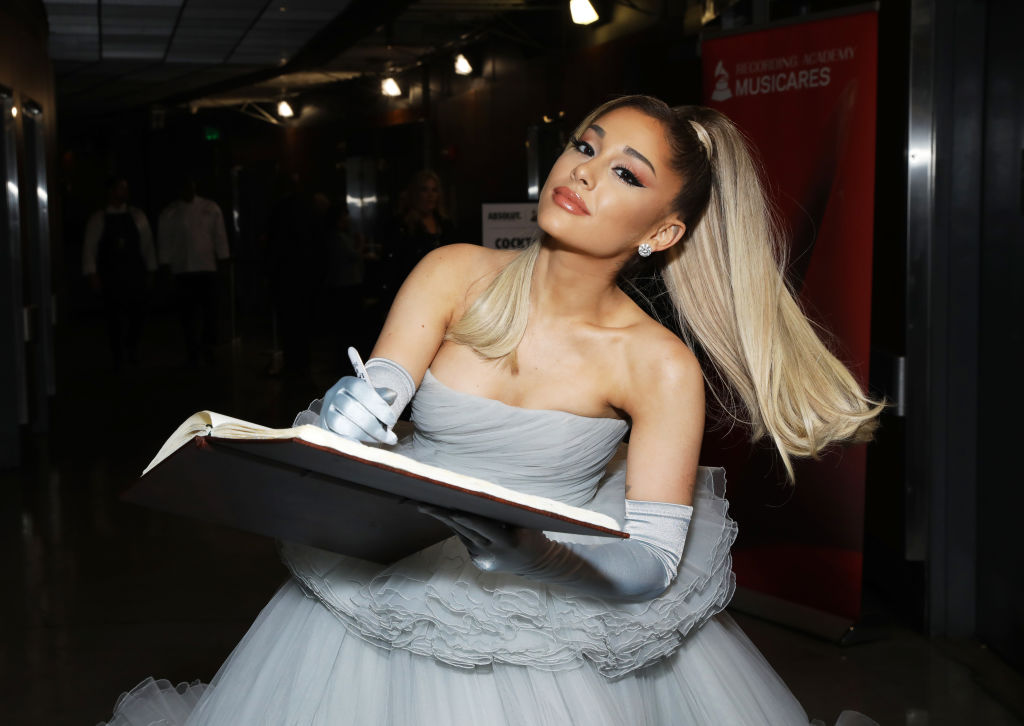 In true Ari fashion, the singer gave this performance her all by embodying the presence of Hercules' sassy lover, Meg, as well as handling the backup vocals from all five of the Muses — giving viewers the ultimate one-woman show.
And since Grande's rendition was hands-down AMAZING, fans had a lot to say it on social media.
Grande effortlessly sang multiple parts
Grande's talent goes far beyond her flawless whistle tones.
The pop star gave fans the ultimate show while virtually performing "one of her favorite songs," during The Disney Family Singalong, which aired on ABC on Apr. 16.
Filmed on what looked like to be her phone, Grande belted out the familiar lyrics to "I Won't Say I'm In Love" from the comfort of her home.
While she did channel her inner Meg by wearing purple and styling her hair in a high ponytail, the singer also mixed in a little bit of her effervescent energy, making the rendition the perfect Disney-Ari blend.
But the most exciting part of her performance by far was when Grande sang each section of the song separately and edited them together — creating the most epic one-woman show we've ever seen.
The "Thank U, Next" singer was one of the many talented artists who performed during The Disney Family Singalong to help spread messages of love and positivity as well raised money for coronavirus relief efforts like Feeding America.
Fans couldn't get over Grande's mind-blowing performance
After Grande effortlessly belted out all six parts of the beloved Hercules tune on the floor of her closet, fans flooded Twitter with their reactions to her fantastic cover.
While some called this performance the best one of the night, others think that Grande's rendition solidified her reputation as a talented songstress.
"ARIANA SINGING I WON'T SAY IM IN LOVE IS THE BEST THING TO EVER HAPPEN IN MY LIFE. She literally sounded amazing wtf also that's one of my fav Disney songs LOLL but omfg why is she so talented," one fan tweeted.
"MS.ARIANA GRANDE SANG ALL HER PARTS FOR "I WON'T SAY I'M IN LOVE" FOR THE DISNEY SING-A-LONG TONIGHT AND HONESTLY, WHAT A QUEEEEEENNNNNN! GOD IS A WOMAN! SHE DON'T NEED NO HERCULES!!!!!!" someone else expressed.
Some fans are even calling for Grande to be cast as Meg in a live-action remake of Hercules since it's clear she was born to play the sarcastic damsel.
"I'm officially convinced. If Disney does a live remake of Hercules – Miss. Ariana Grande should be Meg," one fan wrote.
"Ariana Grande needs to be cast in a Disney movie asap," penned.
While there are currently no plans for a live-action Hercules film, after Grande's performance, we wouldn't be surprised if Disney is working on a script as we speak.
Whether Grande makes her Disney film debut in a live-action remake or not, there's no denying that she made dreams come true by delivering pure magic in her rendition of "I Won't Say I'm in Love."