Fans Can't Tell If Kim Kardashian Edited Her Latest Throwback Photo Before Posting It
Kim Kardashian West often posts old throwback photos of herself and her family on Instagram. They're really the highlight of her feed. 
The young Kardashian sisters were adorable. But what fans really love about these pictures is comparing them to the present day Kardashian sisters. They look very different, and fans always speculate it's because of surgery. Some fans think they may actually be hiding a lot of changes by editing their photos. 
Fans think Kim Kardashian edits her throwbacks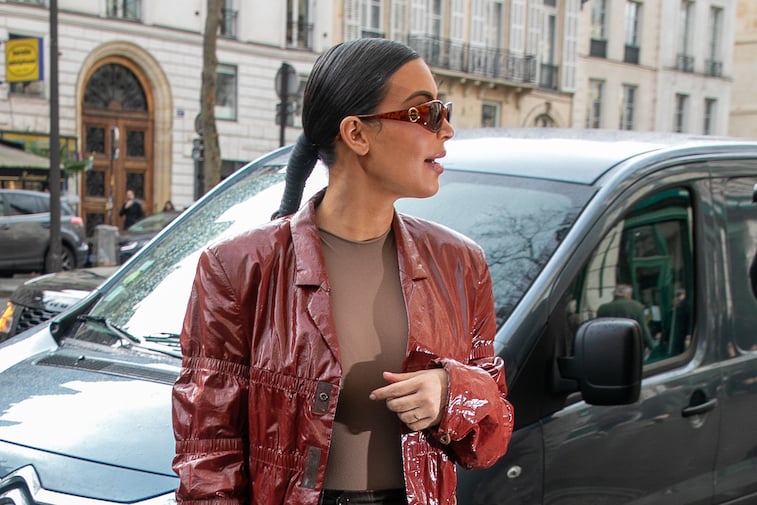 After her most recent throwback showed up on Instagram, fans immediately took to Reddit to discuss the photo.
In the pic, a young Kim is in the back of a car with a crocheted blanket hanging from the window, presumably in an attempt to provide some shade. Kim has thick glossy lips, shiny bangles, and a sweet smile. Fans think she looks "whimsical." A sandy, rocky landscape rolls by in the window behind her.
Of course, many jumped in to analyze the pic. A few fans were actually able to recognize the type of car. Apparently, it is likely a BMW. One fan who works for the brand believes it to be an E32 7 series.
That's pretty impressive detective work, considering the only part of the car that's visible is a small slice of the back seat. 
Other fans were doing a different type of detective work. They started comparing Kim's present-day face with how she looked as a teenager. One fan pointed out that her lips have always been big. Kim is constantly under fire for supposedly getting lip injections, but this photo may dispel those rumors.
Another fan pointed out that it looks like the injections may have been in her upper lip, since it looks thinner in the throwback pic. 
More than one person thinks that Kim in fact edits the pictures so that they look more like what she looks like now. They speculate that this is mostly to hide a nose job. 
Kim Kardashian has always denied plastic surgery 
All of the Kardashian Jenner sisters have been accused of having various types of plastic surgery.
They've all denied it to some extent. There have been a few admissions here or there, especially when it seemed impossible not to admit to procedures. Kim herself has gone to great lengths to dispel plastic surgery rumors. She's long been accused of getting butt implants.
When she got tired of denying the rumors, she went ahead and got an x-ray of her backside to prove there were no implants in there. 
As far as a nose job, Kim denies that too. There's no denying that Kim's nose looks different, and she has an interesting explanation for why that is.
According to Kim, a small bump in the middle of her nose went away after she had children. She claims that pregnancy allows one's "true features" to reveal themselves. In her case, her true features happen to be more commercially appealing. It's pretty lucky. 
Is it possible to doctor an old photo?
Fans point out that since there's no way to get access to the original photos, celebrities can doctor their throwback pics all they want. No one will be able to call them on it.
However, the photo of Kim in the back of the car is clearly an old scanned photograph. It's grainy and low quality, as pics were back then. That gives it a certain charm, but does that also may make harder to Photoshop?
While it's not clear how difficult it would be for Kim to Photoshop an old scanned photo compared to modern digital images, it is possible to recreate that grainy look in photo editing programs.
That means if Kim, or whoever allegedly edits her throwback pics, needs to smooth things out and reapply the pre-digital look, it's totally possible.