Fans Celebrate Final 'Supernatural' Day Ahead of Season 15 Return
Happy Supernatural Day! The end of the road is near, and we know it's going to be an emotional ride. In April 2019, Jared Padalecki, Jensen Ackles, and Misha Collins revealed Supernatural Season 15 would be the show's last. But that doesn't mean the CW series will go out without a bang.
Every Sept. 13, fans come together to celebrate the show's anniversary with Supernatural Day. And coincidentally, this year's Winchester-themed festivities — the last before the final season — fell on Friday the 13th. It also happens to be the same day as a full moon. So you best believe fans got excited.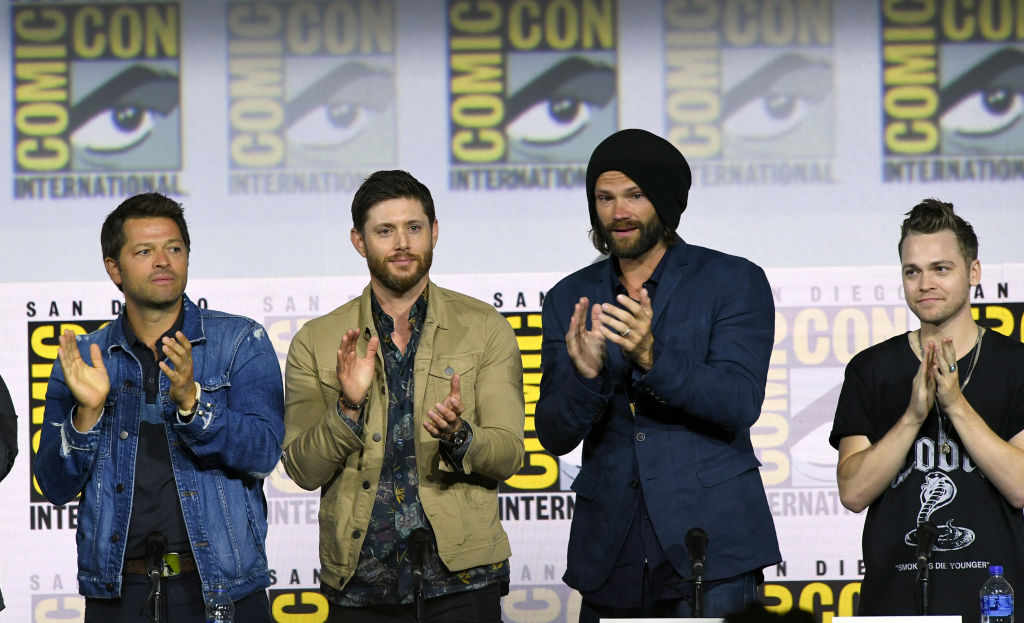 Fans trend their last 'Supernatural' Day on Twitter
The hit CW series is one of the longest-running scripted fantasy shows of all time. It's only natural most viewers took Supernatural Day to thank the drama's creative team, cast, and characters.
"Happy #SupernaturalDay. On this day in 2005 [Eric Kripke]'s vision was revealed to the world," one fan wrote on Twitter. "Who knew that it would have such an impact on so many people's lives, my own included. Thank you Supernatural. Thank you SPNFamily. Thank you Kripke."
"Today is #SupernaturalDay. It's been 14 years. 14 years of tears, laughter, love and everything in between," another fan tweeted. "We watched these two young brothers grow up and turn into two incredible heroes. They deserve happiness and peace. I can only hope they will get them."
Meanwhile, other fans honored the day with their favorite memories and moments they gained from becoming part of the Supernatural family.
"Supernatural has changed my view on loving myself," one viewer shared. "In my past I had a hard time loving who I was and how I looked like, I always wanted to be like others and be different. When I started watching Supernatural, I saw how the brothers treated each other nicely and loved themselves."
When does 'Supernatural' return for season 15 premiere?
Given the celebrations for Supernatural's birthday on Sept. 13, fans might be wondering when The CW series returns with its final 20 episodes. As it turns out, there's still a bit of time before the beginning of the end starts, as Supernatural Season 15 will be released on Thursday, Oct. 10, at 8 p.m. ET.
Fans haven't heard much about the new season following the news of Supernatural's cancellation. However, Padalecki and Ackles recently shared what's to come in the premiere with Entertainment Weekly. And it looks like the show will dive right into the action.
"We start right back up in season 15, and it is a bit of a triage situation," Ackles told the publication. "They gotta get out of there, they gotta find some shelter, and they gotta figure out what to do."
Ackles also teased a few familiar faces would return for the final season. "There's specific characters that we've dealt with in the past that will reprise their role," he said. However, they may or may not make it out alive.
"That doesn't necessarily mean that everybody's walking out though. Even though the doors are unlocked and people are walking out of hell, not everybody is quite as eager to jump ship," Ackles explained. "That begs a question of 'why' and it begs a question of 'when will they?'"
The nonstop love pouring from Supernatural Day shows the fans behind the CW series are a passionate bunch. And although the show's final season is on the horizon, it seems the cast and crew are doing what they can to make Supernatural's final farewell the best season yet.
Check out Showbiz Cheat Sheet on Facebook!