Fans Are Concerned For Priyanka Chopra's Health
Fans have questioned whether Priyanka Chopra is healthy after spotting her out recently.
Priyanka Chopra has taken the world by storm over the past year. From being the best friend of a royal to having her own elaborate wedding last December, Chopra has made the news frequently. But she also has a career of her own, and her work with charities has led her to have millions of fans. However, fans have recently become concerned about Chopra's health. Here's why.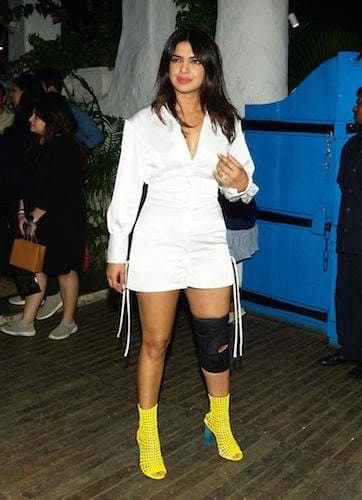 Chopra has had a whirlwind year
Since last May, Chopra has been all over the place. More specifically, she started a fast-paced romance with pop-rock star Nick Jonas of The Jonas Brothers. The two's romance was newsworthy for the rest of the year, mostly because of how quickly it moved. By August, they were engaged, and by December, they were married. But Chopra's year held another important wedding, too. Her best friend, Meghan Markle, tied the knot with Prince Harry in what was arguably the world's biggest event in 2018. Chopra's modeling career has taken off in recent years as well, and she seems to be on top of the world right now.
She and Jonas have taken some heat for their age difference
When she and Jonas began dating, people were quick to criticize the age gap between the two. Chopra is 10 years older than her husband, but when the genders are reversed, nobody seems to mind, so it can be frustrating for her to deal with the haters. However, Jonas and Chopra seem incredibly happy together, and none of their friends or family even appear to notice that she is a decade his senior. The two have a lighthearted romance and appear to genuinely have fun together.
Chopra was recently spotted wearing a knee brace, which sparked concern
Fans became concerned over Chopra's health when they saw her attend several events this past week wearing a knee brace. Chopra hasn't discussed why she has the brace on, but people are worried it could be a plethora of things, since she has now been wearing it for more than a week. Though Chopra might never say why she's wearing it, people are hoping it isn't anything as serious as arthritis or a torn ligament. However, she posted a video dancing with Ava Jonas, her niece, and didn't seem to have any issues, which fans were happy to see.
Chopra and Jonas have said they're taking their time with a family
Chopra was also spotted wearing the brace while out on the town with Jonas in New York earlier this week, and though the couple seem to love their time together, they aren't rushing into having a family. Jonas told Extra that the two are taking their time when it comes to having kids; they don't seem to be taking any issue with Chopra's age. Though she is 36, and fertility begins to decline after 35, she is still very much in the window to start a family and doesn't seem to care that the two are taking things slow. For now, it's important that her knee better and she's fully healthy again.
Check out Showbiz Cheat Sheet on Facebook!