Fans Are Dying to Know: Is Bobby Flay Dating the Woman He Refers to in His Instagram Videos?
Chef Bobby Flay has a lot of fans. Some recently noticed one name Flay refers to in his Instagram videos. Who is the woman he speaks of and are they dating?
Ever since Bobby Flay alluded to the fact that his former girlfriend, Helen Yorke, "kicked him to the curb," women everywhere have kept tabs on the celebrity chef. Recently, Flay posted a video where he referred to a new woman. The mention left fans wondering who she is and if Flay is now off the market. Here's what we know.
Many thought Bobby Flay and Helen Yorke would marry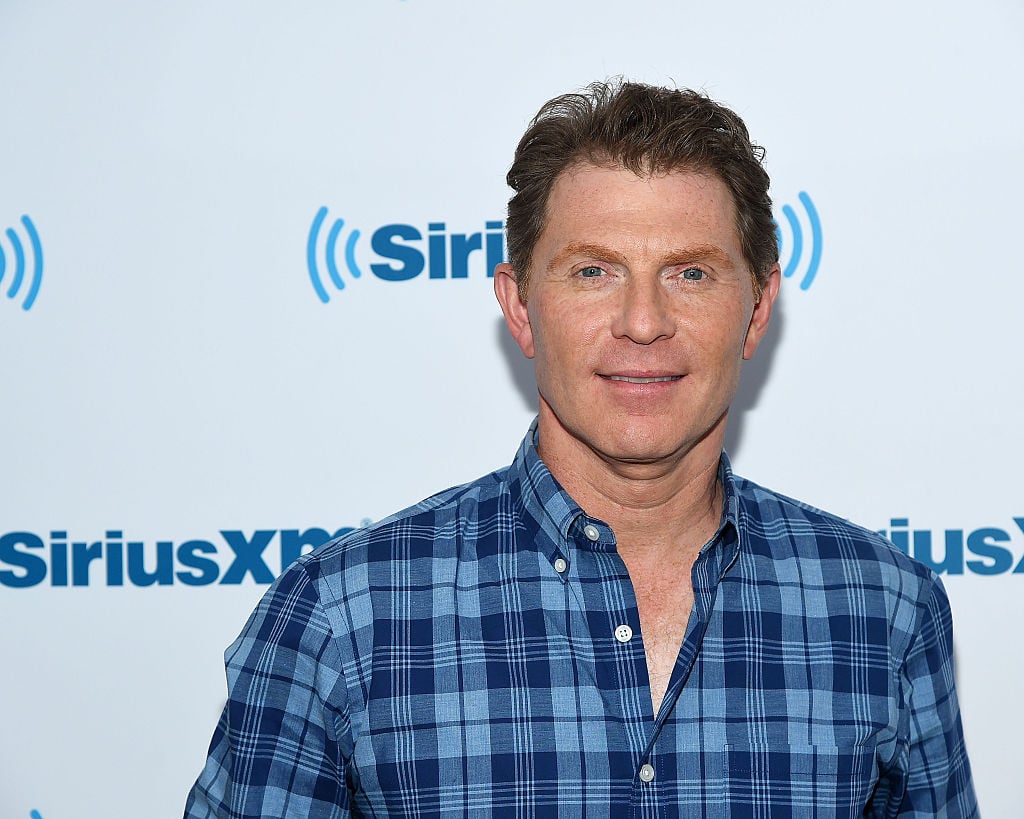 Bobby Flay and actress, Helen Yorke, met in 2016. Many weren't aware of the seriousness of the relationship until Flay spilled the beans on an episode of Beat Bobby Flay, where Yorke was a guest judge.
"So I'm going to let you in on a little secret. Last season I went to a [New York] Knicks game and I met Heléne. Now we kind of date," Flay said on his show. "We instantly hit it off. I was like who's this sweet guy? Who knew?"
The three-time divorcé, who is more than 20 years older than Yorke, broke up in early 2018. He later revealed on a different episode of Beat Bobby Flay that Yorke "kicked him to the curb," to which guest judge, Fran Drescher implied Flay should take her out.
Flay's relationship announcement sent fans to his social media pages asking him out. He hasn't mentioned his status since.
Who does Flay refer to in his videos?
The celebrity chef has become good at posting how-to videos on his Instagram page, helping at-home cooks replicate some of his favorite dishes. In a recent clip, Flay made "Red Chili Winter Salsa." Some noticed his mention of a "new" woman (and no, we don't mean his Maine Coon, Stella).
"Whose Christie? Girlfriend? He mentions her a lot but either way, she has great taste and Everything he makes is amazing!" one fan commented. "I wondered about her as well. Nosy person that I am LOL," another said. "I think we all hope he's single," someone added.
It only took one observant Flay fan to ease everyone's minds.
"I think she's his assistant," the viewer said. "But more importantly, where's Nacho Flay?! Love the big orange kitty!"
The woman everyone is talking about is, in fact, Flay's assistant, Christie Bok.
Who is Christie Bok?
According to LinkedIn, Christie Bok became Flay's personal assistant in November 2018. Before that, she worked at the Delish test kitchen and as an assistant to chef, Mario Batali.
The Vanderbilt University graduate attended the International Culinary Center where she maintained Dean's list grades and graduated with honors.
Bok then began her culinary career as a Pastry Chef Intern and Editorial Intern, launching her into the direction of Food Network Magazine. There, Bok combined her love of food and journalism to shape her career.
Aside from helping Flay with social media content, Bok contributes content to Flay's website blog, The B-Team. As far as her personal life, it's unclear. Her Twitter account hasn't been touched since 2014 and her Instagram page is private.
That said, Bok is employed by Flay meaning, he's likely still single, ladies.