Fans Have Questions After Aaron Carter Posts a 'Preview' With His Girlfriend
Aaron Carter is once again posting stuff on Instagram that has a lot of people talking. This latest image involves himself and his girlfriend, Melanie Martin. However, it's what he's saying in the post that really has people asking questions.
Aaron Carter posts an image with his girlfriend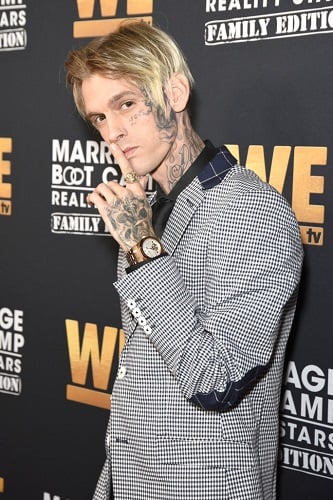 The new image could be considered risqué as Carter has his shirt off and Martin is wearing a shirt and underwear. The sheets aren't on the bed and the two are posing in the mirror. The first caption says, "Preview….."
Two hours later, Carter wrote in the comments: "Y'all better back the **** up. If it's attention your seeking once again. I'll literally roast you. But this year I'm taking the higher road. Continue being the degrading shameful human beings that you are. I'm sleeping next to the most beautiful woman inside and out. And y'all gonna start having some ******* respect. TRUST ME. or just leave. You're making yourself all look like my stalkers which you are."
Numerous people commented back on the post and Carter didn't just stop there. He then commented yet again for everyone to see: "Can y'all all stop your complaining and let me live. You're making yourselves look like a bunch of children. Which you likely are or just bored with your lives. Take your ****** elsewhere. Y'all know I don't tolerate the opinions of sheep."
Fans react to Aaron Carter's new post and comments
People had overwhelmingly negative things to say to Carter in the comments section. "What has been happening to u Aaron….not a good photo either…," one Instagram user said.
"Why don't you 2 start working on the street😉😂 broke *******," someone else wrote.
One person says they've lost respect for Carter now. "I'm sorry but all respect for you Aaron has gone out the window. It's heart breaking that you've hit a point where you're thinking this is the only way…. But it's your life xx good bye drama," the user said.
"How to ruin an already questionable music career in one picture," someone else wrote.
People have a lot of questions
With a post like this, people are bound to have a few questions as well as comments about what they're seeing. Numerous people want to know what the "preview" is all about.
"Who the hell would want to see you two? That person must be just as sick and disgusting if they want to pay to see you together 😷," an Instagram user said.
Others had questions about what's happening to Carter. "What have you done to yourself? Makes me sad," a fan wrote.
A lot of people had questions about where the sheets were. "Y'all don't even have sheets?" one fan hilariously asked.
What's the 'preview' thing about?
Many people want to know what the preview is all about and some speculate it has to do with OnlyFans. "Preview for what?" a curious user wanted to know.
Carter posted an image of himself and Martin a few weeks ago when he said: "Only for our fans…… #onlyfans coming soon ……..," Carter captioned the post.
OnlyFans is a social media service that people are known to use to make money. People subscribe to profiles for a fee. These profiles can feature a number of things, as you can probably imagine. Just do a quick Google search for it and you'll see what we mean.
Fans have a lot of questions and they especially want to know what Aaron Carter is previewing and whether or not it has to do with an OnlyFans account.