Fans Are Obsessed With Kylie Jenner's Colorful New Nails
Kylie Jenner loves to switch up her style, and her nails are just another way for her to express herself. Jenner often changes her look, whether she's rocking new hair, a never-before-seen outfit, or even being photographed in a different car (she has a massive car collection). Though she isn't exempt from criticism, fans were quick to obsess over her recent choice in nail design.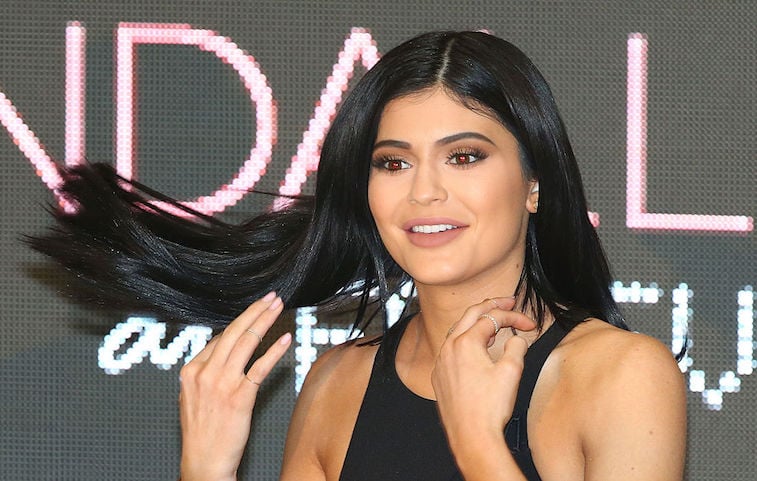 Kylie Jenner keeps fans on their toes with her ever-changing style
When you're worth more than a billion dollars, it makes sense that you'd occasionally want to change up your style. But Jenner has become the queen of changing her appearance. She's admitted in the past that she loves using wigs, and she jumps from neon to dark hair, long to short, in a matter of days.
Jenner recently posted several photos featuring bright yellow hair. The Kylie Cosmetics founder then swapped for a short, black bob only a few days later, which tends to be the look she rocks most often. She is also sure to show off her new nails to fans pretty much every week.
Her followers hated her last nail look
Whenever Jenner goes to the nail salon, she lets her followers know by snapping a nail pic and posting it to Instagram. However, fans didn't love her last nail style. Jenner went to the salon and came back with pink and purple nails, which fans said didn't fit well and looked poorly done. Jenner typically only goes about one week, maybe two, in between nail appointments, so fans knew it wouldn't be long before she changed out the nails and (hopefully) found something better.
Her recent change has everyone obsessing once more
In typical Jenner fashion, she quickly swapped out the boxy pink and purple nails for a softer style that seemed to fit her nail beds much better. On January 16, Jenner posted a photo of a brand new nail look: This time, she went for a nude nail with with colorful flowers. The flowers were complete with smiling faces, and fans (including Scott Disick's girlfriend, Sofia Richie) were obsessed.
"Obsessed with these nails. Fav ones yet," Sofia Richie wrote. "Those nails!" a fan wrote, complete with a heart emoji. "Love those nails!!" Paris Hilton added. However, some fans were still confused by how Jenner can do anything with nails like that. "How do you text with those? Get an eyelash out of your eye?" someone questioned. (We're wondering, too.)
She has seen criticism for some looks in the past  
Though many fans love Jenner's looks, she has come under fire for some Instagram photos in the past. Aside from people suggesting she can't possibly function with the length of her nails, Jenner has also taken more serious criticism. She was recently called out for cultural appropriation after posting a photo wearing her hair in twists. Though she claimed it was inspired by an early 2000s Gwen Stefani look, the hairstyle is often seen as a protective hairstyle among black women. Jenner immediately deleted the photo once the backlash poured in.
Jenner loves to show off for fans, and despite being a called out for some looks, she definitely keeps fans coming back for more with how often she changes things up.