Fans Are Obsessing Over Thomas Rhett's Recent Throwback Photo With His Wife, Laura
Most fans know by now that Thomas Rhett and his wife, Laura Akins, have been friends since they were little kids. Of course, they stayed close through the years, and now, they're married and have one of the cutest celebrity families.
Every once in a while, they grace us with a throwback photo from their pre-fame days — and Rhett recently posted one that has fans obsessing.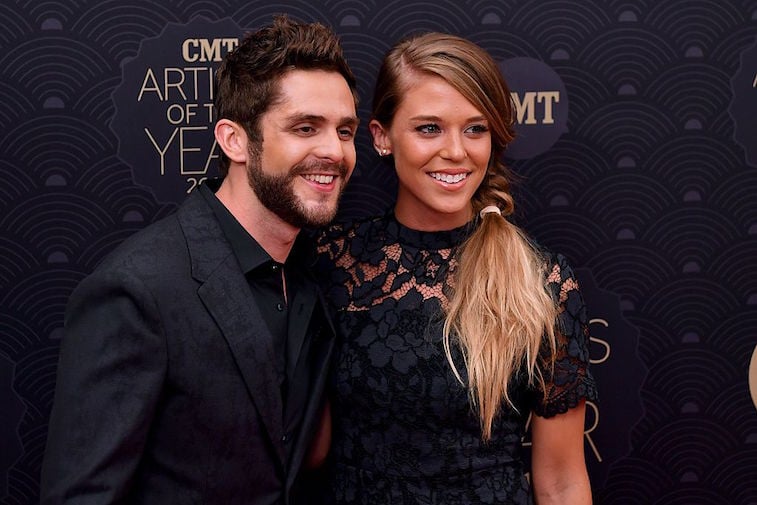 Thomas Rhett and Laura Akins have known each other for years
When Thomas Rhett first became famous, it didn't take long for people to learn that he had such a sweet wife. Rhett (whose real last name is Akins) married his wife, Laura Akins, when he was only 22. He and Akins were only engaged for about six months before Rhett proposed, but when you know, you know, right?
For those who listen to Rhett's songs, "Life Changes" tells the story of how he rose from a nobody to one of modern country's most popular artists. His line, "I've been waiting on her since the second grade," refers to the love he'd had for Akins during most of his childhood.
Their relationship almost never happened
Though Rhett and Akins ended up with their happily ever after, it almost didn't happen. The two actually briefly dated when they were teenagers, but the romance fizzled after about six months. Still, though, the two remained friends. Rhett even entered a serious relationship with someone else, and he was convinced at the time that it would end in marriage. But it didn't, and his relationship with Akins was one of which he could never completely let go.
Akins' father is the one who convinced Rhett to confess his love to her once more. And Rhett listened — the two shared a kiss at Akins' sister's graduation party in 2011, and the rest is history.
Rhett recently posted the cutest throwback of the two
Rhett has been looking for ways to entertain himself through quarantine, and he's clearly been going through some old photos. He posted a picture from his senior year of high school to Instagram, but then he followed it up with something even better: A throwback photo of him and Akins. "Ok one more… Wow," the caption read — and fans were loving the old picture.
"Omg love this!!! How old were y'all here?!" one user asked. "Dang y'all are literally growing up together and it's so cute," another user wrote. "Oh my goodness so much cuteness," someone else said. Rhett didn't specify how old he and Akins were in the photo, but they appear to be in early high school.
Rhett often features his family in his songs and music videos
Rhett's songs have become a big part of the country music sphere. His song "Die a Happy Man" was widely regarded as one of the best country songs of the year in 2015. It was written about Akins, and she played Rhett's love interest in the music video. Akins has also starred in other videos of Rhett's; his "Life Changes" video featured his entire family.
Rhett and Akins are what some might call "couple goals." The two recently welcomed their third daughter, Lennon, and maybe it's just us, but they seem to have one of the cutest families in the music industry.