Fans of Aaron Carter Are Divided on the New Woman in His Life
The last few months have been a whirlwind for Aaron Carter. His ex-girlfriend, Melanie Martin, got arrested, then they broke up, then they got back together and revealed they were expecting a child. Now it appears they've broken up again. This time, Aaron Carter has a new woman in his life and fans are divided about the situation.
Aaron Carter is dating a new woman named Viktoria Alexeeva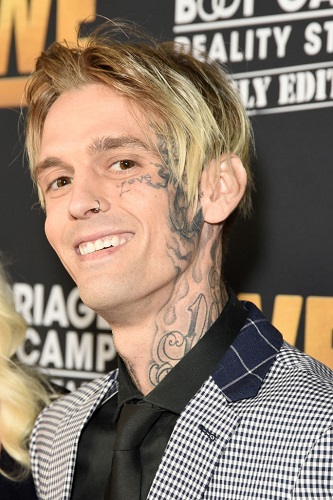 It's been hard for some fans to follow Carter's current love life situation. Just last month, E! News reported that Carter had announced on Instagram Live that he and Melanie Martin were expecting a child together. He even showed off a positive pregnancy test. But apparently there was trouble in paradise because Carter has a new girl on his arm now.
Carter poses in a new photo with the new woman in his life
According to The Daily Mail, Carter has been showing off his new girlfriend on Instagram. She's been popping up on his Instagram Stories and Carter even posted a new photo of the two together on a day out.
In the latest image, the two are laughing together while Carter holds her waist. He captioned the post with: "A hero is one who heals their own wounds and then shows others how to do the same."
Alexeeva commented on the post as well. "@aaroncarter Someone had me laughing hard 🥰," she wrote in the comments. She also made another comment on the post in regards to tattoo removal. "Tattoo removal is a process… Multiple step process. Stop being ignorant. I love that face regardless," she wrote.
RELATED: Aaron Carter and Melanie Martin Might Have Just Broken Up, Again
Fans weigh in on the situation
Fans seem to be divided when it comes to Carter's latest girlfriend. Some fans have questions about what's going on with Melanie Martin, who is reportedly pregnant.
One fan asked if Carter plans to get a face tattoo of this new woman's name. "Getting a face tat of her?" a fan asked.
Someone else thinks Carter could have waited a little while in-between girlfriends. "Least you could do is wait 24 hours incubation period for a new gf to enter," an Instagram user wrote.
Another fan asked about a pregnant Melanie. "Isn't Melanie pregnant?" said an Instagram user.
Some fans are happy for Aaron Carter
Other fans are genuinely happy for Carter and Alexeeva. One fan says Carter actually looks happy and It's nice to see.
"Aw Aaron looks so happy and healthy…I'm so glad," a fan commented.
Another fan says his new girlfriend looks like someone Carter could camp or hike with. "She looks better and she looks like a girl you can take camping and hiking and not need a huge purse of makeup and hair products," an Instagram user wrote.
One fan likes seeing Carter smiling so much. "It's nice to see you smile," said a supportive fan.
Fans of Aaron Carter are divided when it comes to the new woman in his life. We'll have to wait and see where things go.