Fans Petition for Wonho to Return to Monsta X
On Oct.31, news shocked K-pop fans around the world when Starship Entertainment announced Wonho decided to leave Monsta X. The company and Wonho both released statements about Wonho's decision to leave. Immediately following the announcement, Monsta X fans protested the decision and asked for the singer-songwriter to be reinstated in the group.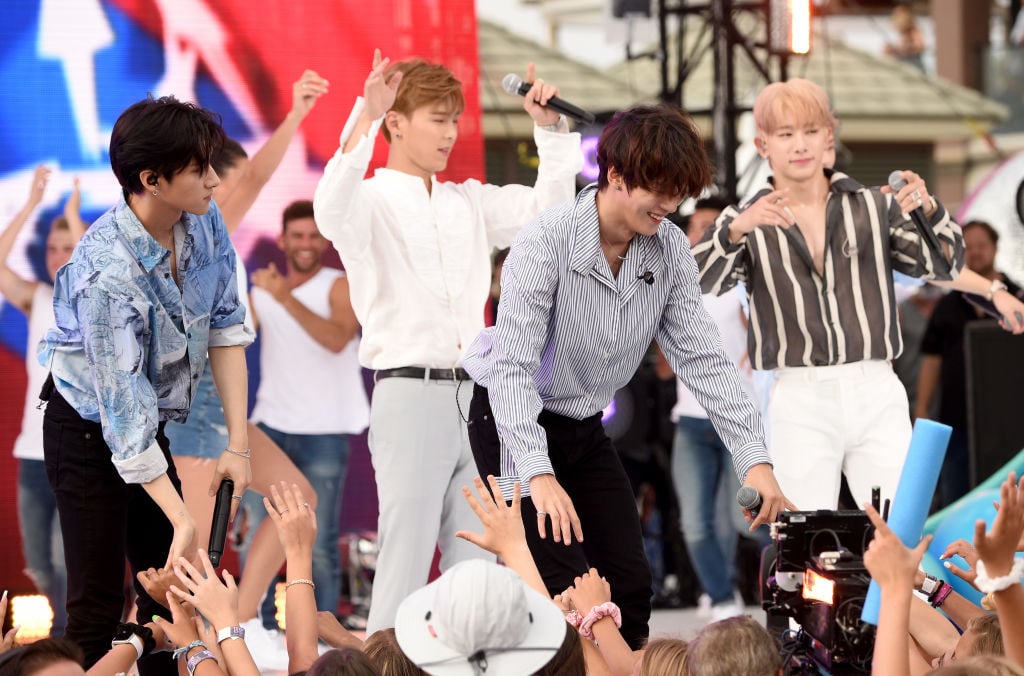 Fans gathered at Starship Entertainment
On Oct.31, Monbebe gathered at Starship Entertainment headquarters in Seoul. Fans put up post-it notes on the building. Monbebe filled the notes with messages to Monsta X and Wonho, and some fans asked for Starship Entertainment to let Wonho return to the group.
"the starship building is filled with post it notes from monbebe giving strength to monsta x and asking starship to bring back wonho, this is the most beautiful thing but also the most heartbreaking. everyone is desperate im devastated #원호탈퇴반대," a fan wrote on Twitter. 
Fans started a petition asking for Wonho to return to Monsta X
Following Wonho's departure from Monsta X, fans started a petition for him to be reinstated in the group. As of Nov. 2, the petition had over 300,000 signatures. Monsta X fans are hopeful the petition could help encourage Wonho to return to the group.
"fundraisers articles news petitions protests sweet messages and a times square ad all for one human being. that human is wonho. our wonho. we're doing everything in our power for his return because he deserves the world. monbebes are seriously the strongest fandom. i'm so proud," a Monsta X fan tweeted.
"Can you believe that one of his fansite that closed came back to support him, mnet didn't edit him out from their comeback show, he has 300k signatures on his petitions, there are mbbs outside of SS mass posting post-it on the building, his hashtags have over 1M, WE ARENT RESTING," another fan tweeted.
Monsta X fans also raised money for a billboard
To keep their campaign going, Monsta X fans also raised money for a billboard in Times Square. According to AllKpop, Monbebes raised money for the billboard in less than 40 minutes. Fans raised over $20,000 to rent a billboard spot in New York City's Times Square, exceeding the $10,000 goal.
"if the billboard for wonho doesn't look like the gary come home one from spongebob what's the point," one fan wrote on Twitter.
"monbebes: can we really raise enough money to get wonho an ad in times square…? monbebes, an hour later: lol we could just buy starship," tweeted a fan.
Monbebe have trended several hashtags about Wonho
Since Wonho's departure, Monsta X fans have trended several hashtags worldwide on Twitter. Fans trended #FightForWonho, #ShineForMonstaX, and #FightForMonstaX7. By continuously trending, Monbebe are showing how much they want Wonho to return to Monsta X.
"the thing is if wonho wants to leave monsta x bc he doesn't want to 'ruin their reputation' but right now literally every single human on earth (staff, media, other fandoms, celebrities) is speaking well about them and him then it's time to come back home #몬베베는_몬엑을_믿어요," wrote a Twitter user.
Only time will tell if fans' campaign will be successful in convincing both Wonho and Starship Entertainment. As of right now, it's unknown if Wonho will return to Monsta X. However, fans across the world have made it clear they want Wonho to come back and will continue to fight for the singer-songwriter.