Fans React to Miranda Lambert's Husband Brendan McLoughlin Singing Karaoke With the Country Star
It's safe to say that after two decades in country music, Miranda Lambert knows how to command a stage. The "Actin' Up" singer is currently in the middle of an eye-catching Las Vegas residency, with numerous more shows planned for 2023. Between performances, she'll also be preparing for the 2023 Grammy Awards, where she's nominated for another four statues to go with the three she's already won over her career so far. 
And though Lambert has 39 singles and countless country music awards to her name as well, she doesn't mind sharing the spotlight from time to time — especially when it comes to her husband, Brendan McLoughlin. In fact, when the star opened her Nashville restaurant, she joined her man for a karaoke duet on stage. Lambert impressed as always, but fans weren't as blown away by McLoughlin's vocals. 
Miranda Lambert and Brendan McLoughlin wed in 2019 after meeting in New York City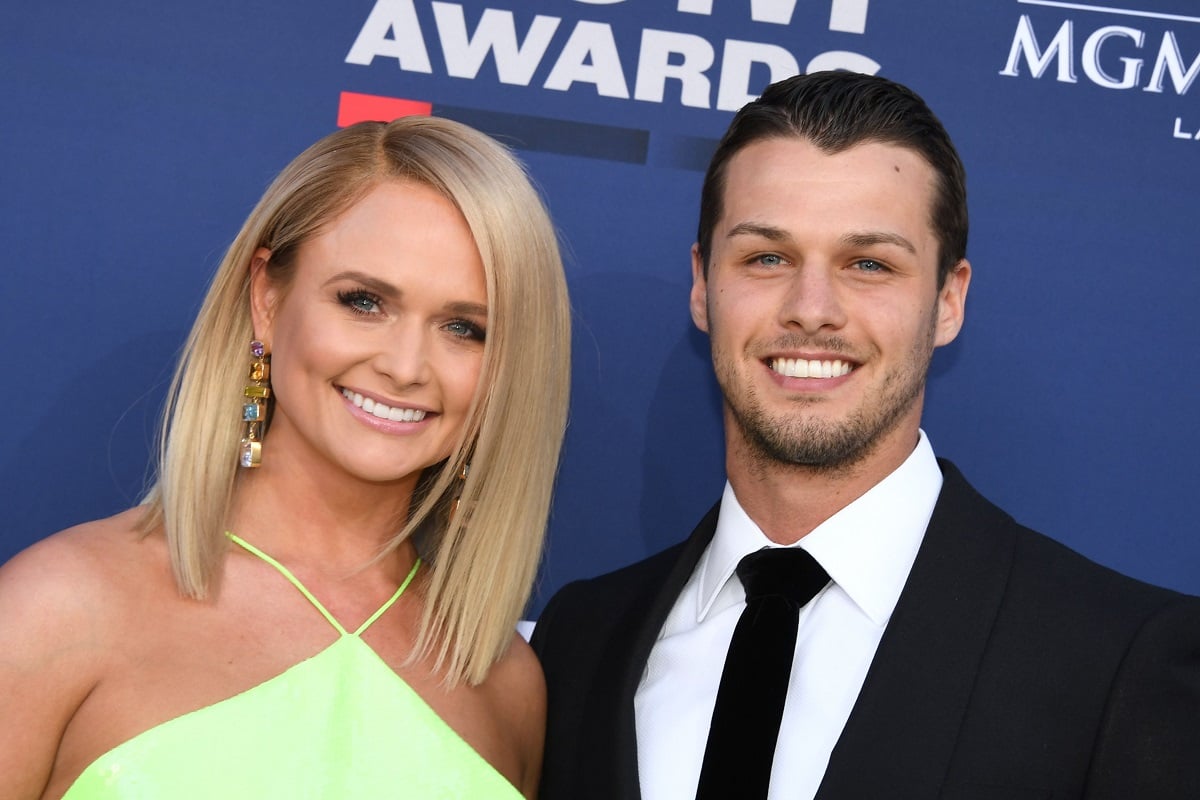 Lambert was first married to country star Blake Shelton from 2011 until 2015, but divorced in a high-profile split after nine years together. In 2018, Lambert met McLoughlin while performing on Good Morning America as part of the Pistol Annies. McLoughlin was a police officer for the NYPD at the time, and kept his role for years. However, he has since retired from the department and now serves as the head of Lambert's security detail. 
Less than three months after first meeting McLoughlin, Lambert married the "love of [her] life" in a private ceremony that she kept a secret for several weeks, according to People. Though Lambert initially kept details about the couple's relationship quiet, she's since become quite vocal about her appreciation for her man. Those include a series of "house husband" videos she's posted to social media that show McLoughlin doing chores around the house — often shirtless. 
McLoughlin sang karaoke with Lambert during an opening for Lambert's Casa Rosa restaurant
Lambert has parlayed her success in country music into other ventures, including houseware lines, wine labels, and apparel that she promotes on her social media pages. In 2021, she opened Miranda Lambert's Casa Rosa in Nashville, a Tex-Mex cantina with five bars and two stages. Taste of Country posted a video from the restaurant's soft opening, which included footage of Lambert and McLoughlin singing "Summer Nights" from Grease. 
Taste of Country's heading on the video is "Surprise! Miranda Lambert's Husband Can Sing," but it might be a tad generous to imply his part in the duet was skillful. The snippets are sparse, so it's hard to get a true sense of McLoughlin's singing talent, but it's clear Lambert carries the bulk of the talent in the singing department. 
Commenters weren't as much of a fan of McLoughlin's pipes, either. "Oh gosh, please don't let him sing," one follower wrote on the post. Another agreed: "I'm a Miranda fan but I really don't think her husband sings as well as "Taste of Country" thinks. He's way off key in this video. But hey, Miranda didn't marry him for his singing voice – he has much better assets that I'm sure she was attracted to."
Though some focused on his singing, many commenters paid more attention to his appearance. "Well, he looks good but I wouldn't go so far as to say he is a great singer. With that said, when ya look that good, you don't have to sing that good," one person wrote. "Miranda sure came out on top of her divorce! Her hubby is a hottie!" another said. 
The couple currently spends time in Las Vegas, Nashville, and New York
Though McLoughlin might stick more to security than on-stage performances, he and Lambert are rather inseparable these days. The duo spent the bulk of the fall of 2022 in Las Vegas, where Lambert performed for her Velvet Rodeo residency at Planet Hollywood Resort & Casino. The couple took several weeks this summer to travel together with friends in an Airstream to "reset" before the Vegas stint, and have taken in the sights Vegas has to offer while they're there. 
When they're not in Vegas, Lambert and McLoughlin split time between Nashville and New York, where McLoughlin has a young son from a previous relationship. Lambert said McLaughlin initially had an adjustment period to farm life in Nashville, but that it was a "big laugh."