Fans React to Ryan Reynolds' Response to Betty White Saying He 'Can't Get Over' Her After They Co-Starred in 'The Proposal'
Betty White, who is about to turn 100 years old, recently said that Ryan Reynolds "can't get over" her. The "Deadpool" star responded, and fans can't get enough of the hilarious banter between these two stars. Here's what White and Reynolds said about each other and how fans are reacting.
Betty White and Ryan Reynolds co-starred in the 2009 movie The Proposal. According to White, Reynolds hasn't gotten over her since then. Fans are loving the Just Friends actor's hilarious response to White. Here's what Reynolds said and how fans are reacting.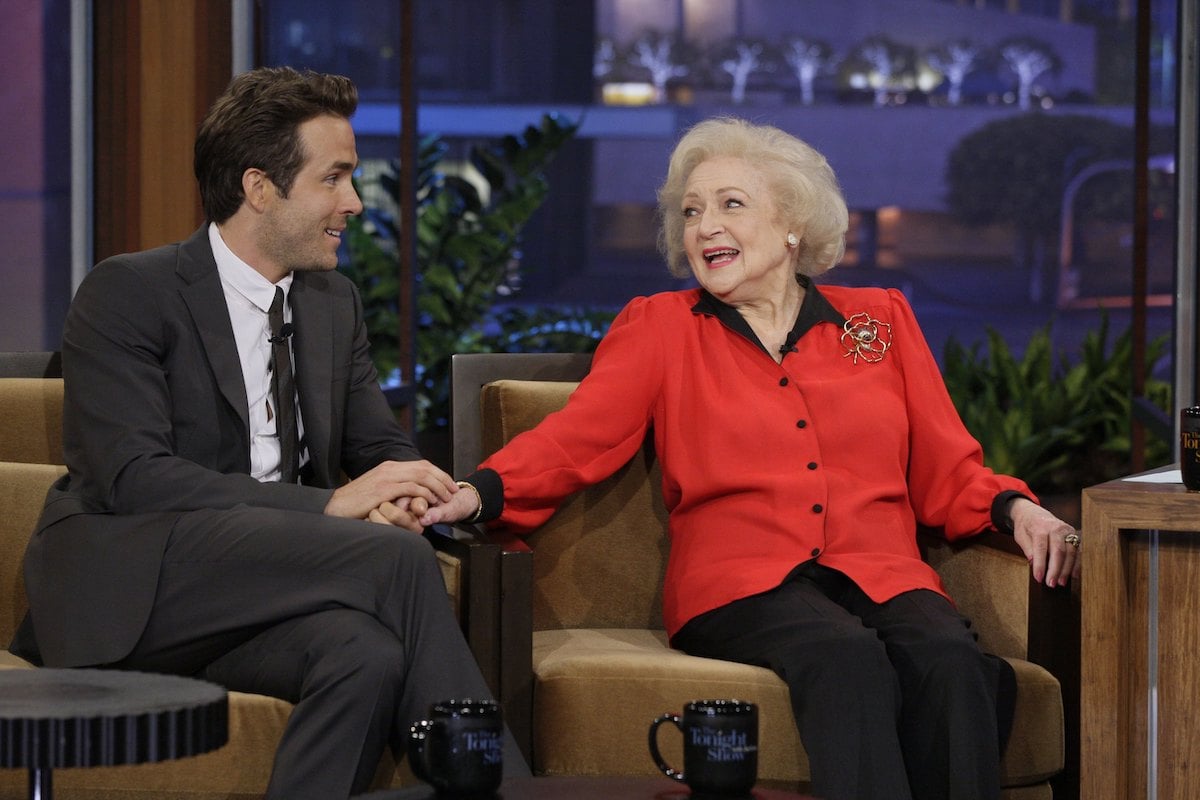 Betty White says Ryan Reynold 'can't get over her' after working together on 'The Proposal' 
Betty White is about to turn 100 years old on January 17, 2022. During a December 2021 interview with People celebrating her life, the Golden Girls star joked about her relationship with fellow actor Ryan Reynolds.
Reynolds and White co-starred with Sandra Bullock in The Proposal over a decade ago. But according to White, Reynolds still carries a torch for her after all these years.
"I've heard Ryan can't get over his thing for me," White told People. "But Robert Redford is The One."
Reynolds also participated in celebrating White's 100th birthday with the publication. He shared that he has been a fan of the iconic actor "for as long as [he] can remember."
He joked, "I heard that scripts for Golden Girls were only 35 pages, which makes sense because so many of the laughs come from Betty simply looking at her castmates." He also called White "a typical Capricorn" because she "sleeps all day. Out all night boozing and snacking on men."
Ryan Reynolds hilariously responded to Betty White's comments about him
The Deadpool star responded to White's remarks about him on Twitter in his typical comedic fashion. He replied to the headline "Betty White Jokes Ryan Reynolds Still 'Can't Get Over' Her, Despite Her Crush on Robert Redford."
The popular Instagram account Comments By Celebs highlighted Reynolds' response by sharing a screenshot of the headline and the Free Guy star's reply. 
"I'm absolutely sick of the media exploiting past relationships just to drive clicks," Reynolds wrote, jokingly implying that he once dated White. Reynolds has been married to Blake Lively since 2012, and they share three daughters. He was previously married to Scarlett Johansson from 2008-2011.
Fans are loving the two celebrities' banter
Fans can't get enough of the hilarious banter between White and Reynolds. They are reacting to Comments By Celebs' Instagram post highlighting their most recent interaction. 
One social media user commented, "And it was a better lovestory than twilight ♥️," comparing White and Reynolds' romance to the popular Twilight movies starring Kristen Stewart and Robert Pattinson. 
Another fan noted that one of Reynolds' daughters shares White's first name. "When you know one of his daughter's name is also Betty😂"
One social media user agreed that Reynolds should never stop pining after White. "Of course he won't ever get over it. It's BETTY WHITE ❤️😂"
And one fan demanded, "Would someone please just set Betty up on a date with Robert Redford already!"