Fans React to Aaron Carter Getting His Face Tattoo Touched up and They Didn't Hold Back
Most Aaron Carter fans know he has a rather large tattoo on his face, but he recently got a touch up on it and it's got people talking. In a new Instagram post, Carter shows off his new hair, but all fans seem to see is the tattoo. Read on to learn what they're saying about it.
Aaron Carter gets a touch up on his face tattoo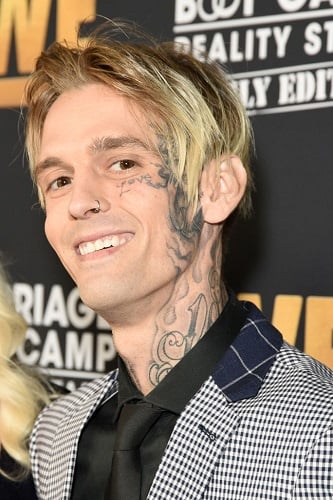 Carter posted on his Instagram Story showing off his tattoo getting touched up. Eventually fans were able to see the new work that was done on the tattoo in a recent photo upload on Carter's Instagram. He's technically showing off his new hair, but the large face tattoo seems to be all fans can see.
Fans react to Carter's new touch up on his tattoo
Fans seriously didn't hold back on Carter about the new touch up he had done. Although some fans are supportive of it, many think it was a bad idea and find it looking even worse now than it did when he first got it.
One Instagram user says they'd "sue" their tattoo artist if they were Carter. "Lmfao brah that tattoo Is JACKED 😂😂😂😂😂😂 I would sue my tattoo artist that is horrible," the user said.
Another just wanted to let Carter know there is something on his face. "There's something on your face," the Instagram user wrote.
Someone else thinks Carter will regret the tattoo when he gets older. "He will grow to hate and regret that tattoo when he's older," they said.
One Instagram user says the tattoo is "whack." "That tat is whack and not in a good way," the Instagram user commented.
A fan says it actually looks worse now than it used to. "Omg that thing looks worse, and darker. Starbucks please sponsor this fool," they said.
Another wanted Carter to know that the tattoo isn't going to look good when he's older. "That tattoo is gonna be rough when your like 65-75 years old my dude. Not gonna age well," the user said.
Aaron Carter talks about the meaning behind his face tattoo
Carter revealed some critical information about the new tattoo when he attended an event for the 100th episode of WE TV's Marriage Boot Camp. He and his mother were part of Marriage Boot Camp: Family Edition. During an interview with Brice Sander of ET, Aaron revealed the meaning behind his face tattoo.
He says that the tattoo has more than one meaning. "Medusa is my protector. If you want to come at me with some negativity, my Medusa will stare you in the eye and turn you into stone," Aaron said. He also said the new ink is for his mother Jane. "This is the love of my life right here," Aaron explained as he held his mother.
Fans have a lot of feelings when it comes to Aaron Carter's new face tattoo.