Fans React to Aaron Carter's Sweet Date Night Post With Girlfriend
Aaron Carter recently posted a video to his Instagram that has fans talking. It involves a sweet tribute to his girlfriend, Melanie Martin. She can also be seen in the video upload with Carter. Read on to learn what fans are saying about the date night the two shared.
Aaron Carter posts a video for date night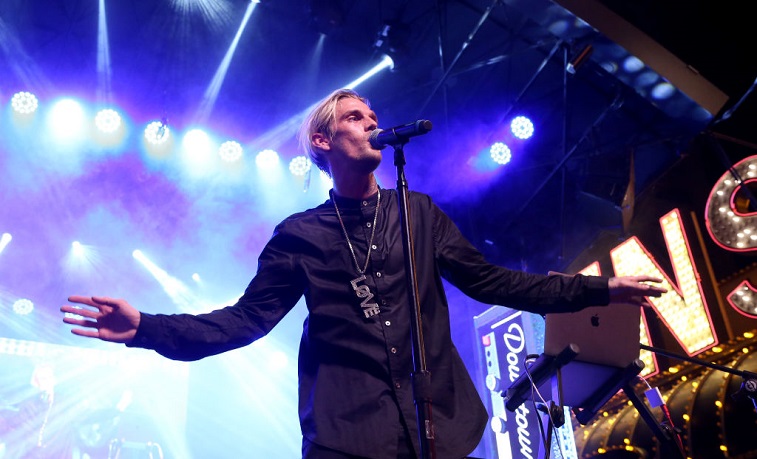 Carter posted an image of himself looking dressed up for a night out. He's seated next to his girlfriend, Melanie Martin. He's holding a glass and he says to Martin, "Cheers baby." Martin kisses him on the cheek in the sweet post that's also covered in hearts with a black and white background.
Carter captioned the post with: "I know that when you believe in someone and they believe in you they're willing to do whatever it takes to protect their honor. Boundries should start from the beginning of your relationships and healthy boundaries, for those, may seem to be intrusive, and my boundaries belong to the one I marry not strangers. I protect myself and always will and those I love. I know my worth. I value my life. I'm ready for the next chapter in my life. Whatever that may entail. #DateNight #learningtolovemyself."
Fans react to the newest post by Carter
Many fans commented on the new upload with mixed feelings. Some people are incredibly happy for Carter and his girlfriend, while others have questions about his sobriety.
Martin commented on the post with: " ❤️❤️." In a separate comment, she also wrote, "You treat me like a queen thank you ❤️❤️."
Some fans had problems with Carter's caption of the post. "This caption makes 0 sense. How can boundaries be intrusive? Boundaries are to prevent people from being intrusive. Man is fried," an Instagram user wrote.
Many are happy for Carter and his girlfriend
Some fans are really happy for Carter and his new girlfriend. "I'm so glad you guys got out," another Instagram user said. "This is you again and I like it. You deserve this you deserve the love to be reciprocated back finally! You are love enjoy life you guys."
The well-wishes keep pouring in for Carter and his girlfriend. "I wish you both all the best Everyone deserves love and a life full of happiness and joy. Happy for you ⭐️," another user said.
Another fans says Carter needs to love himself as much as he loves others. "So pleased to see you say you are learning to love yourself," another Instagram user commented on the post. "I wanted to tell you to love yourself more. You need to love yourself as much as you love other people. You so deserve to be happy. I wish you the best ❤️."
What's in the glass?
Some fans made comments about what was in Carter's glass in the video. "You've said you never drink alcohol and wine is considered alcohol lol," someone commented.
Many others had questions about what he was drinking. "Sobriety?" someone asked in the comments.
"Maybe lay off the booze Aaron," another wrote.
"Isn't Aaron supposed to be sober?" someone else inquired.
Aaron Carter continues to make headlines with his social media posts.