Fans React to Hulu's 'The Great' — 'It's a Blast'
Hulu has just released a comedy series unlike any other. It's called The Great and it follows the early days of Catherine the Great (Elle Fanning) in Russia. She's at the mercy of her new husband, Emperor Peter (Nicholas Hoult). Catherine quickly realizes that the love she thought she'd find is far from it and she needs to adapt or die.
What's 'The Great' about?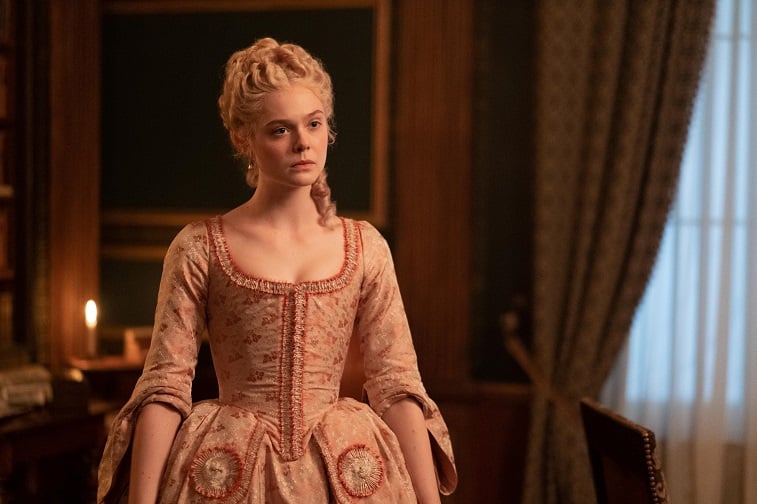 The Great is about a young Catherine who comes to St. Petersburg as a naïve girl on the brink of greatness. At first, she's devastated at the man she finds herself married to, but then she gets an idea that all she has to do is kill him.
"Season 1 is a fictionalized, fun and anachronistic story of an idealistic, romantic young girl, who arrives in Russia for an arranged marriage to the mercurial Emperor Peter," Hulu's press site describes the new season.
Fans react to Hulu's 'The Great'
Fans can't seem to get enough of the fictional version of what happened all those years ago. It's a smart, comedic look at a woman misunderstood through the lens of time. Twitter has exploded with fan comments about the witty new series that people can't stop talking about.
"Hulu's The Great is my jam," a Twitter user said.
One fan considers the new series their "new obsession." It's unlike anything else on television and it's a refreshing rewrite of what happened in history. Fans praise the cast for their brilliant work on the series.
"I have to say, @TheGreatHulu might be my new obsession. Dark and very funny. The whole cast is just fantastic," another Twitter user said.
RELATED: Is Hulu's 'The Great' Historically Accurate?
The series is 'brilliant'
Another fan acknowledges how difficult it is to "hit the mark on period piece satire," which is something this show does extremely well. It's a unique and very watchable take on the past that has fans hooked.
"Hats off to Elle Fanning and the entire cast of #TheGreat it's brilliant. It's hard to hit the mark on period piece satire while still evoking truthful emotion and it does it all so well," another Twitter user wrote.
Numerous fans admit to bingeing episodes of the show in a single sitting because that's how good the series really is.
"Just binged a bunch of episodes of @TheGreatHulu last night and I loved them! Not expecting accurate history here. I love alternate historical fiction! It's a blast! I highly recommend if you loved The Favourite, which I did! @hulu #TheGreat," a fan wrote.
Will there be a season 2 of 'The Great'?
Fans are already hoping for more of the show to come in the future. So, will there be a season 2 of The Great? Elle Fanning recently spoke with Entertainment Weekly about the new series and she was asked about the possibility of a second season.
"There is a possibility, and it is open to having a second season. We can't say that, we don't know, but I definitely know that Tony is for sure thinking beyond [season 1]. He has more stories," Fanning said about it. It sounds like a second season could really be on the horizon, which is something fans are hoping to see in the future.
Fans really seem to be enjoying Hulu's new hit series The Great.