Fans React to News of Barney the Dino Heading to the Big Screen
Pop culture figure Barney the dinosaur is getting the movie treatment.
Somewhere in the world, there are people who missed the purple reign of Barney the Dinosaur, either because of age, access, or nonchalance. Elsewhere in the world are people who couldn't wait for it to end. For more than 10 years, Barney was the king of preschool children's television, and he and his friends dominated not only the small screen, but store shelves, clothing, and households.
Millions of childhoods were influenced by Barney, Baby Bop, and the rest of the crew. Now, a Hollywood star is working to bring the PBS character to the big screen.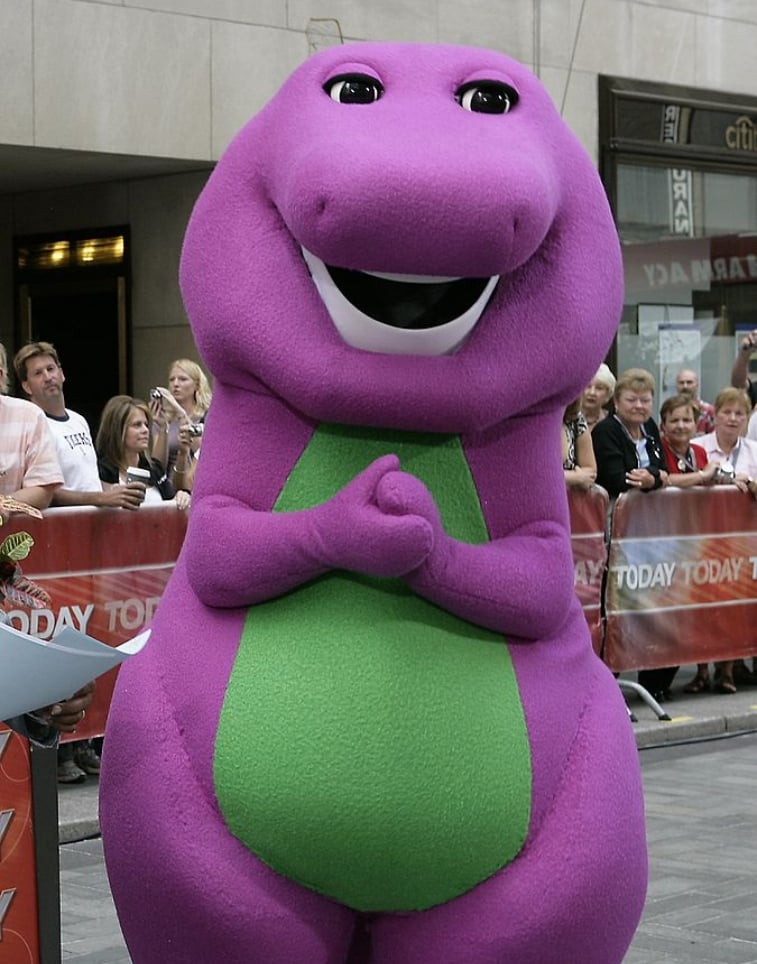 'Barney' is the latest to get a reboot
It seems like we're living in an era where nostalgia is in overdrive, and kids' shows are hot commodities too when it comes to entertainment. None other than Daniel Kaluuya is tackling the Barney project, and the actor is joining forces with Mattel to do it.
The Get Out star has his own production company, 59% Productions, and is working with Mattel Films and Valparaiso Pictures to create a "live-action" movie for the beloved dino. According to a press release from Mattel, Kaluuya is taking things in a fresh direction with the film which will be based on Barney.
Mattel Films boss Robbie Brenner stated:
"Working with Daniel Kaluuya will enable us to take a completely new approach to 'Barney' that will surprise audiences and subvert expectations. The project will speak to the nostalgia of the brand in a way that will resonate with adults, while entertaining today's kids."
Kaluuya spoke about why he he feels Barney deserves the feature film treatment:
"Barney was a ubiquitous figure in many of our childhoods, then he disappeared into the shadows, left misunderstood. We're excited to explore this compelling modern-day hero and see if his message of 'I love you, you love me' can stand the test of time."
What fans think about a 'Barney' movie
When word started to spread online, commenters quickly remembered singing the "Clean Up" song and the Barney theme in their youth. There was positive sentiment among these now-adults who wouldn't mind showing up to the theater to see what this movie will bring.
After Mattel shared the news on Twitter, some fans begged the company to do it right, with some pointing out that Mattel promised a TV show reboot back in 2015 but that never happened.
Other fans and Barney dissenters don't want a movie about him at all. The old hate and disgust for Barney is real. Their sentiment is simply "Noooooo" and many have fears the story will take a dark turn. The idea of an entire Barney film also sparked memories of the show's critics who often referred to the preschool series as pointless.
What happened to 'Barney & Friends' anyway?
Barney first made his debut in 1992 on PBS, and along with his puppet friends, there was a group of children who would appear in the episodes. Some of you might remember seeing kids such as Demi Lovato, Debby Ryan, and Selena Gomez singing and dancing on the series during its run.
No one is quite sure why the show was cancelled back in 2009, but rumors about unsavory behind-the-scenes behavior plagued the show for years. Mattel bought the rights to Barney back in 2012.
Kaluuya and the team at Mattel want to lift the veil on the mystery, but it will remain to be seen how they do it. Former Barney suit-wearer David Joyner hopped on Reddit a couple of years ago to answer fan questions.
He shared that he loved playing the character for 10 years and it was a fun job making children happy and spreading joy. Fans will have to see if this movie will do the same.