Fans React to Tyler Cameron's Acting Debut in 'Single Parents'–'More Exciting Than This Entire Season of The Bachelor'
Tyler Cameron became a household-hot-guy-name when he starred in Hannah Brown's season of The Bachelorette. He was her runner-up, second only to Jed Wyatt. When Brown broke off her engagement to Wyatt after learning he'd come on the show with a girlfriend, she asked Cameron out for a drink. Shortly after, though, the runner-up began pursuing supermodel Gigi Hadid. Right now, the Bachelorette alums are both single, but that ship has seemingly sailed.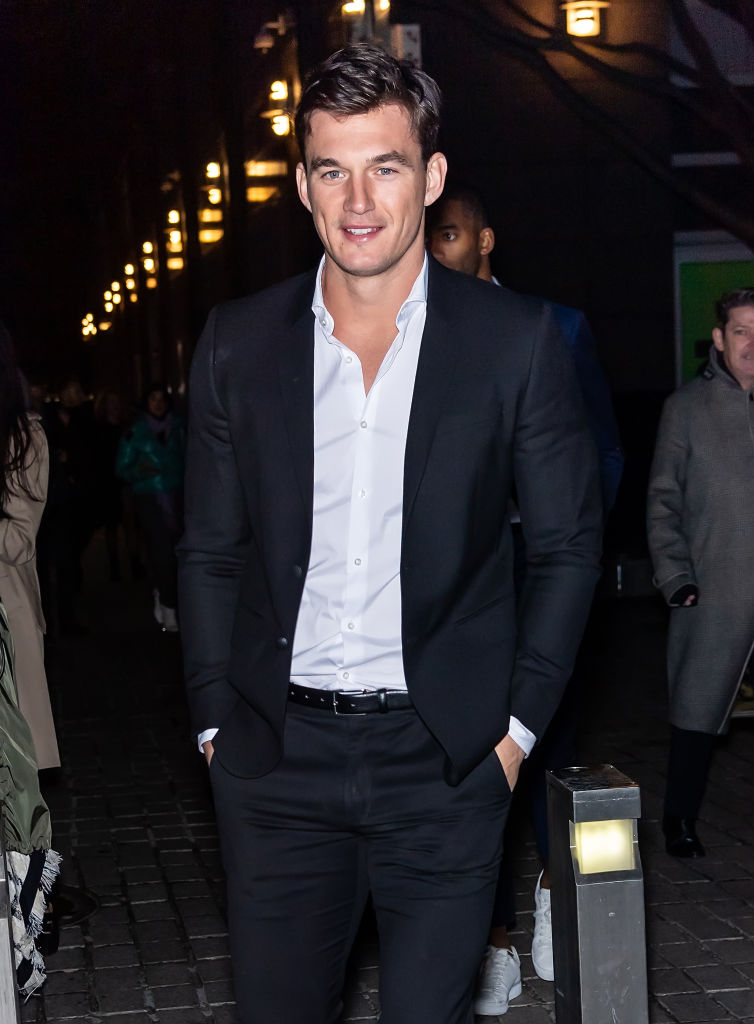 Cameron's been doing pretty well for himself since the end of The Bachelorette. His modeling career's picked up, and he even has a new show coming out. He also scored his first acting role in Single Parents.
Before the episode, there was some confusion and fans thought Cameron was going to be on a new dating show for single parents.
"Lol at everyone who thinks Single Parents is a dating show…. it's a sitcom. Tune in tonight!," tweeted Cameron.
Tyler Cameron on 'Single Parents'
Cameron was on the Valentine's Day episode, playing Danny opposite Gossip Girl's Leighton Meester, who plays Angie D'Amato.
In the episode, Meester's character has a crush on Danny.
"Oh! Danny!" says Angie answering her door to find Cameron. "Looks like we're both early birds, hmm? Thanks."
"Now you seem so handy. Any chance you know how to fix a broken bedside table lamp? Because I have a broken bedside table lamp," she continues. "It's by my bed."
"Sorry, I'm not very good with that stuff" Cameron's character replies.
It's a quick part, but it left a huge impression on Cameron fans.
What fans thought of Tyler Cameron's guest star on 'Single Parents'
There was, of course, lots of excitement to see The Bachelorette favorite back on our screens.
"@TylerJCameron3 ON SINGLE PARENTS??!!?!!? This news is genuinely better than this whole season of the bachelor has been," tweeted one fan.
"@TylerJCameron3 IS ON SINGLE PARENTS. THIS IS NOT A GODD*MN DRILL," wrote another.
"seeing @TylerJCameron3 in last weeks episode of Single Parents was the BEST SURPRISE," tweeted another fan.
It seems fans largely thought the reality star did a great job.
"@TylerJCameron3 was on the newest episode of Single Parents!!! He killed it," wrote one fan on Twitter.
Some fans even thought Cameron's brief guest star was better than the entirety of Peter Weber's Bachelor season.
"Tyler Cameron's five minutes of screen time on this week's episode of Single Parents was 10000000x more exciting than this entire season of The Bachelor," tweeted one fan.
Cameron, however, didn't catch the episode in real-time. He was playing basketball.
"Y'all got to let me know how I'm doing tonight on single parents. I'm just getting back from my basketball game. Ball is life!" he tweeted.
But his supporters let him know he was "doing amazing sweetie."
"How do we get you back on our TV screens on the reg?? We missed you," responded one fan.
"Working on it!!" replied Cameron.
So it looks like we could be seeing Cameron again on our TV screens sooner rather than later.
Read more: Dylan Barbour Calls out Fans Who Are Saying Madison Prewett Shouldn't Have Gone on 'The Bachelor'