Fans Reminisce Over the 1 Kobe Bryant Moment That Proved He Was Ahead of His Time
It's only been a day and the loss of NBA star, Kobe Bryant, has weighed heavily on the hearts and minds of many. While friends and family are posting their remembrances all over social media, fans are doing the same. There's one pivotal moment in Bryant's life that many are reminiscing over proving Bryant was a legend long before his career took off.
Many are still in shock over Kobe Bryant's sudden death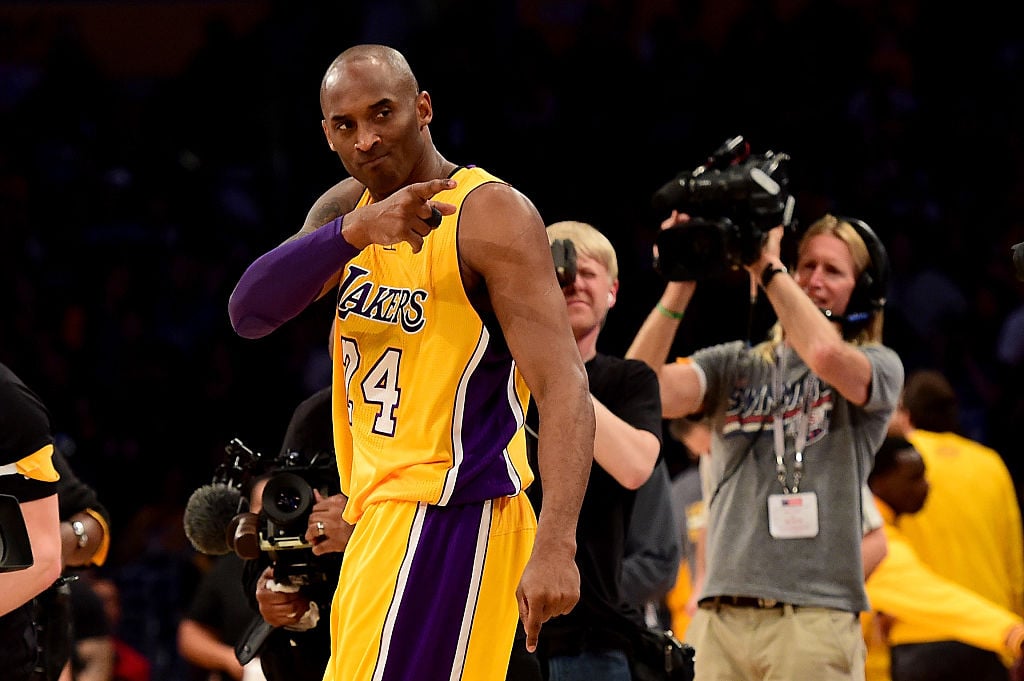 By now, the news of Kobe Bryant's tragic death, along with 8 others, has sent shockwaves across the globe. The superstar and his 13-year-old daughter, Gianna, died in a helicopter crash in Calabasas, California on its way to Mamba Sports Academy in Thousand Oaks on Jan. 26.
Details about the crash are still developing, but early reports claim dense fog could've been a factor. To say the losses have affected many is an understatement.
A moment of silence — 24 seconds to honor the basketball hero — took place at the start of all games Sunday night, while the 2020 Grammy Awards spent the first portion of the show honoring Bryant. The awards ceremony took place at the Staples Center, which is where Bryant built his 20-season career.
Host of the Grammys, Alicia Keys, paid an emotional tribute with the help of fellow Philadelphians, Boyz II Men, with their heartbreaking rendition of "It's So Hard to Say Goodbye."
The other crash victims include Gianna's basketball teammate, Alyssa Altobelli, Alyssa's mother and father, John and Keri Altobelli, basketball coach, Christina Mauser, Payton Chester and her mother, Sarah, and pilot, Ara Zobayan.
Bryant is survived by his wife, Vanessa, whom he'd been married since 2001, and his three daughters, Natalia, Bianka, and Capri.
Fans reminisce over this iconic moment
While you can't speak of Bryant without referencing his incredible career or the devotion he had for his wife and children, one particular memory is popping up all over social media.
Before Bryant became one of the NBA's greatest players of all-time, he was just a "normal" teen taking R&B sensation and star of Moesha, Brandy Norwood, to prom. Moesha co-producer, Felecia D. Henderson, tweeted an early memory of Bryant.
"1st met #Kobe when he was 18, visiting Brandy on #Moesha's set. 1 day I said, "KB, hook me up w/season tix." He laughed: "I can't do that." I asked: "Why?" "'Cause I'm not Kobe Bryant yet." That stayed w/me. He KNEW he'd b great, was already committed 2 the work of becoming "Kobe." Henderson posted.
Here's what other fans are saying about that epic prom picture?
So far, Brandy has yet to comment on Bryant's death. Her last Twitter post was Jan. 20, but some fans have commented beneath that post asking for her thoughts on the loss.
Meanwhile, others continue remembering that epic prom, the trajectory of Bryant's life, and how his presence impacted others.
"My favorite Kobe Bryant moment from my teen years… it's sealed in my mind as 'black girls deserve the whole prince in shining armor thing' too. Brandy looked so pretty + Kobe was a stand-up guy with the most beautiful smile, who spoke Italian + could ball his ass off," one fan tweeted.
"The first I ever heard of Kobe Bryant was him going to prom with Brandy. I grew up with Kobe playing ball. My mock trial coach would remind me of how hard he worked whenever I wanted to give less than my all. RIP to the man who helped me keep pushing. (yes I'm @ the office now)," another echoed.
The same sentiment from thousands of others goes on and on.
"This one hit a little different, a little harder. He was the symbol of my senior year in high school. We attended rival high schools, we knew he was going to the draft, he shut everything down when he took Brandy to the prom. He literally was a big deal. #KobeBryant," another heartbroken fan added.
It's clear Bryant and the others have left a hole in the earth but the emotional tributes honoring them serve as a reminder to all that life is short; do all you can, when you can. Bryant is proof of that legacy. It'll live on through those he inspired, his wife, and his children, forever.