Fans Say Doja Cat Is 'Canceled' Over Tweets About Nicki Minaj's Fanbase
If there's anything we know about Doja Cat it's that she's not one to mince her words. She says exactly what she feels and has no problem addressing topics that most people would shy away from. But that doesn't always go over too well with the public. For example, her recent tweets about Nicki Minaj's fans have caused an uproar on social media and have led to her being "canceled" by many.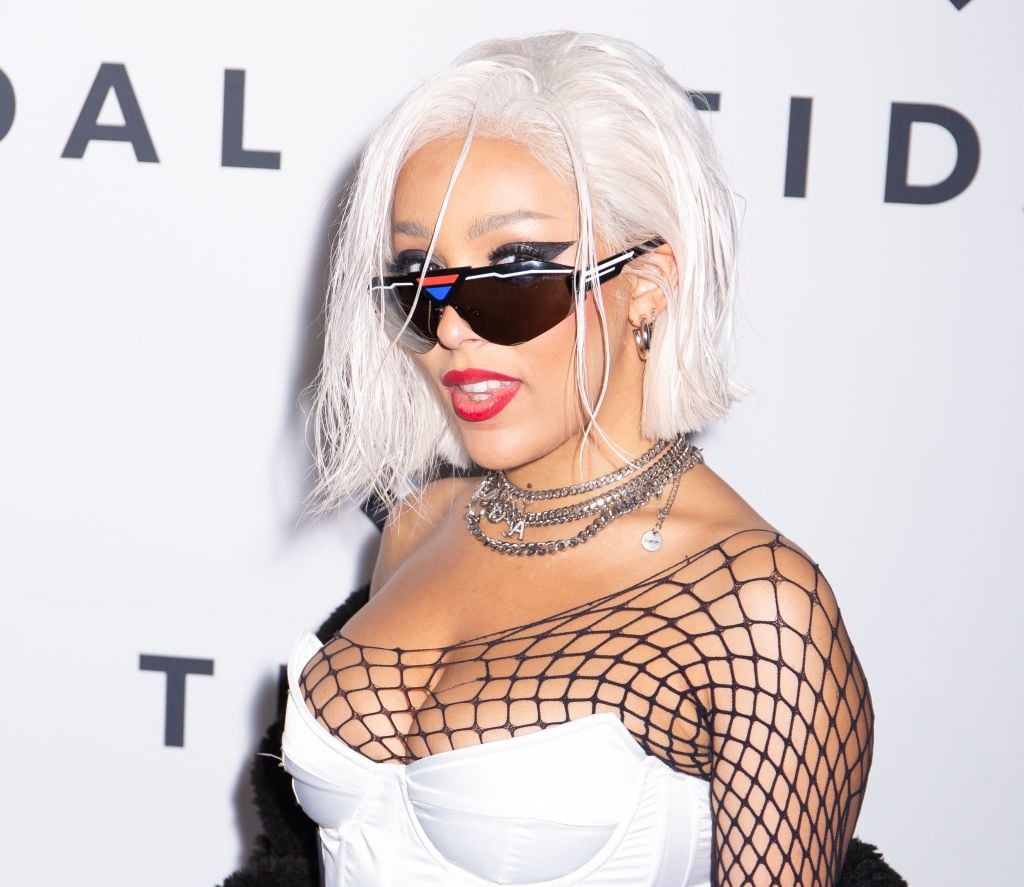 What Doja Cat said on Twitter
All of this started over a mock magazine cover that someone tweeted featuring Doja Cat, Nicki Minaj, and Megan Thee Stallion, from left to right.
When a Twitter user wrote that they wished Doja Cat was in the middle, they were criticized by some of Nicki Minaj's fans, who are known as the Barbz and are fiercely protective of the Pink Friday rapper. Amid the back-and-forth, Doja Cat sent a message to the person on April 12 telling them to block the fans because "they're f*ckin stupid."
"theyre literally scum they mean nothing. dont explain yourself," she wrote in a follow-up tweet.
As the person continued to defend themselves from the Barbz, Doja Cat tweeted: "Stop responding to them they're twitter gangsters and they have nothing kind to say about you or anyone. they live and breathe being f*ckin immature."
The remarks triggered a firestorm on Twitter
As you can imagine, the Barbz were not happy with Doja Cat's remarks and began to slam her on Twitter. They shared some of the most incendiary and unforgiving tweets through the hashtag #DojaCatIsOverParty.
"She should've just kept her mouth shut her comments were unnecessary," read one tweet.
"she mid tier anyways and she look like she smell weird #dojacatisoverparty," read another.
"All I'm saying is f*ck Doja cat," a third tweet said in part.
But other people came to her defense and said it really was not that serious.
One person tweeted: "i'm a barb but i will not let y'all do doja like this. especially not over tweets her fans made about their OPINIONS. ppl are allowed to have different opinions thank u. PLS STFU AND LEAVE DOJA ALONE. she's just defending her fans. nicki would do the same!"
"Idc what anyone says I am not following the #dojacatisoverparty man. Y'all wanna cancel people over ANYTHING. Stfu b*tches too bored, let the queen talk," tweeted someone else.
Neither of the artists has addressed the drama, at the time of this writing.
It's not the first time Doja Cat has made headlines over her behavior
In February, Doja Cat had the world talking over a video she posted on Instagram. She was seen rambling and repeatedly touching her nose, leading fans to believe that she was allegedly high, possibly on cocaine. But Doja Cat denied the rumors. According to The International Business Times, she said in a later Instagram Live that she was simply drunk and had only been touching her nose because she was cold.
"I understand touching the nose thing is like a super telltale sign of like someone who does coke, but if I'm going to be 100 percent it's f*cking freezing in this house," she reportedly said. "Also, I'm pretty f*cking eccentric and weird. So right off the back even when I'm not drunk people think I'm on f*cking drugs."
"I know that I seem a little strange and I'm kind of out there, but for all the people who think I really do it and are worried about me, I don't do that," she continued. "I don't do coke. I don't even smoke weed anymore…The only reason I do the nose thing is because it's freezing and I don't wear clothes."
She concluded that she might start to agree with the rumors about her to confuse people, which probably isn't the best idea. But hey, this is Doja Cat's world. We're just living in it.
Read more: Chris Brown Flirted with Doja Cat and Fans Are Not Here for It