Fans Slam Kim Kardashian West For Not Letting Her Children Be 'Normal Kids'
Kim Kardashian West's kids are definitely being raised with a different lifestyle than most American kids are used to. Kardashian West loves to spoil her little ones, and she definitely has a lot of love for each of them. But her recent Instagram post had fans suggesting she's not allowing her kids to live a "normal" life, and it had some people angry.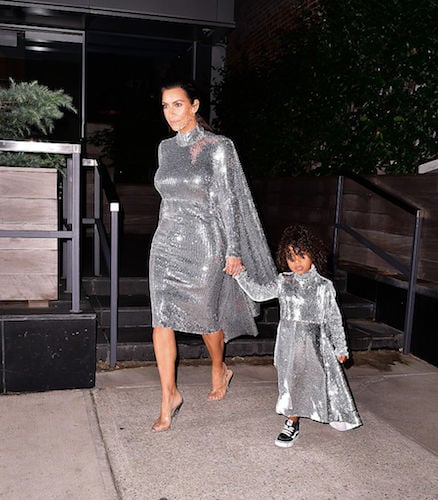 Kardashian West loves posting her kids to social media
Kardashian West has four adorable children, so it's no surprise she loves showing off her little ones on social media. She's always posting photos of her kids, whether it's North in a sleek outfit or Saint's big smile. And fans love to see the way her family lives. The photos also give us hints about her children's personalities; Saint appears to have a huge heart, and fans have noticed that North is a bit more of a diva (and clearly following in her mother's footsteps). Chicago has a quiet demeanor, and Psalm seems like a sweet, well-behaved little boy.
North West was recently spotted with a Birkin bag
It's no secret that Kardashian West and her husband, rapper Kanye West, have plenty of money. According to Business Insider, the two are worth a combined $510 million, but that was as of June 2019 — before the release of Kardashian West's extremely popular shapewear line, Skims. It wouldn't surprise us if they're worth even more than that just a few months later.
Kardashian West loves to spoil her children. North, who is only six, was recently spotted toting around a $10,000 white Birkin bag on a night out in New York City. It's hard to imagine spending $10,000 on a bag as an adult, let alone allowing a six-year-old to carry something so expensive (and so easy to stain).
Kardashian West's post about North's illness had some speaking out
Though Kardashian West's kids probably love their luxurious goodies, some fans recently called the reality star out for not allowing her children to live a more normal life. Kardashian West posted Christmas photos of her kids to Instagram and said the North was sick with a stomach bug for the family's Christmas party. But fans thought that Kardashian West should stop forcing her kids to take photos — especially when they aren't feeling well. 
"So she wasn't feeling good but you still forced her to do a photo shoot?" one fan wrote; the comment received hundreds of likes. "Maybe they are tired of playing dress-up and doing photo shoots and just want to play like normal kids," someone else added. "If North wasn't feeling good and had a stomach bug you should have stepped up as a parent and kept her home," another person wrote.
Some think Kardashian West will announce another pregnancy soon 
Though Kardashian West's fans weren't thrilled with her taking North out while sick, many still expect that she will become a mother to even more children. She and Kanye West have been using surrogates for their children for health reasons, but some expect that the two will announce another baby sometime soon. The two have previously said they want a total of seven children. However, they seem to definitely have their hands full right now with four.