Fans Slam Kylie Jenner's Insanely Long Nails: 'They Look Like Marker Caps'
Kylie Jenner's looks sometimes receive mixed reviews from fans. The Kylie Cosmetics founder is worth more than $1 billion, so she probably doesn't care what the general public has to say. But since Jenner has nearly 160 million Instagram followers, it's natural that there would be people who vocalize their negative opinions. Jenner recently posted a photo of her brand new, super long, different colored nails, and fans didn't have great things to say.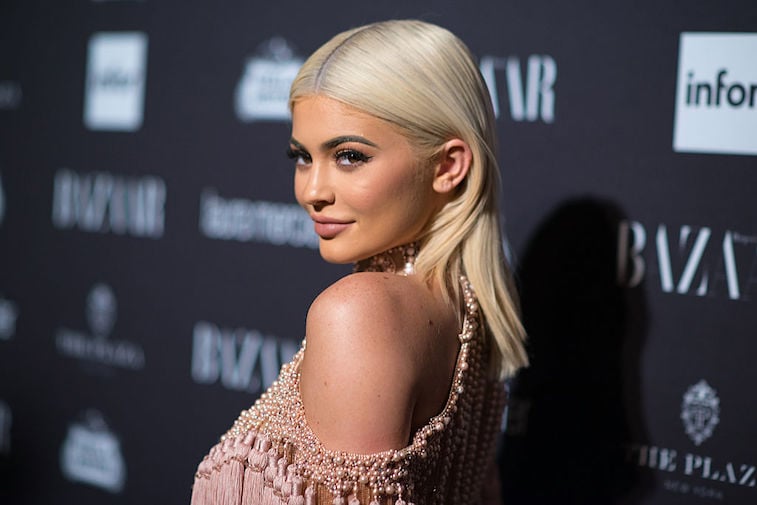 Jenner loves to try new trends
Ever since Jenner started to become a social media mogul, she's been obsessed with posting her ever-changing look to Instagram. Fans love to see photos of the billionaire, and Jenner isn't shy about trying new looks. She recently surprised fans with yellow hair, and she's tried several other hair colors, from green to purple to black.
Jenner's outfits also turn heads on social media; she recently posted a photo from Kourtney Kardashian's Christmas party, where she wore a jaw-dropping emerald green dress. She also showed off plenty of Chanel outfits on a recent ski trip, and though most of what she wears is way out of her followers' price range, fans still love to see it.
Some of her looks are loved while others receive backlash
Jenner's different outfits, hairstyles, etc. tend to draw mixed reviews from fans. Some styles, such as the new yellow hair and the emerald green dress, are adored by fans. But other styles aren't met with the same positivity. Jenner recently received backlash for posting a photo of her hair in twists. People called the beauty mogul out on cultural appropriation, since twists are seen as a protective hairstyle among black women. Jenner quickly deleted the post.
Fans have also made comments about Jenner's face, since she continues to alter her appearance with fillers. Though she has remained adamant that she's never actually gone under the knife, some still joke that she looks far too plastic. Jenner has received fillers in her face and lips; facial fillers smooth lines and create a natural-looking contour, though some think she has gone overboard.
Fans didn't have great things to say about Jenner's nails
Jenner recently posted a photo of her new nails to Instagram; her left hand features long, squared-off purple nails while her right features the same style in pink. "Couldn't decide," Jenner wrote, with a pink and purple heart. But it wasn't the colors that bothered fans — it was everything else.
"That doesn't look good. The size and shape is not proportioned well," one user wrote. "Kylie you are so rich and your nails look like Stormi's blocks," another person commented. "All that [money] and you picked squared nails," another user wrote, complete with a vomiting emoji. "They look like marker caps," someone else said. Most of the top comments were negative, though Khloé Kardashian's BFF Malika Haqq commented that "every girl" is now going to want nails of different colors. Though Kylie probably doesn't let her fans' comments phase her, she has more than enough money to simply return to the nail salon and ask for a different look, should she wish.