Why Some Fans Think Ariana Grande's 2020 Grammy Performance Will Pay Tribute to Mac Miller
Singer-songwriter Ariana Grande will be performing at this year's Grammy Awards. And there are rumors that she'll be paying tribute to her late-ex, rapper Mac Miller, with her act. Why do fans think this? Here's what we know.
Ariana Grande and Mac Miller dated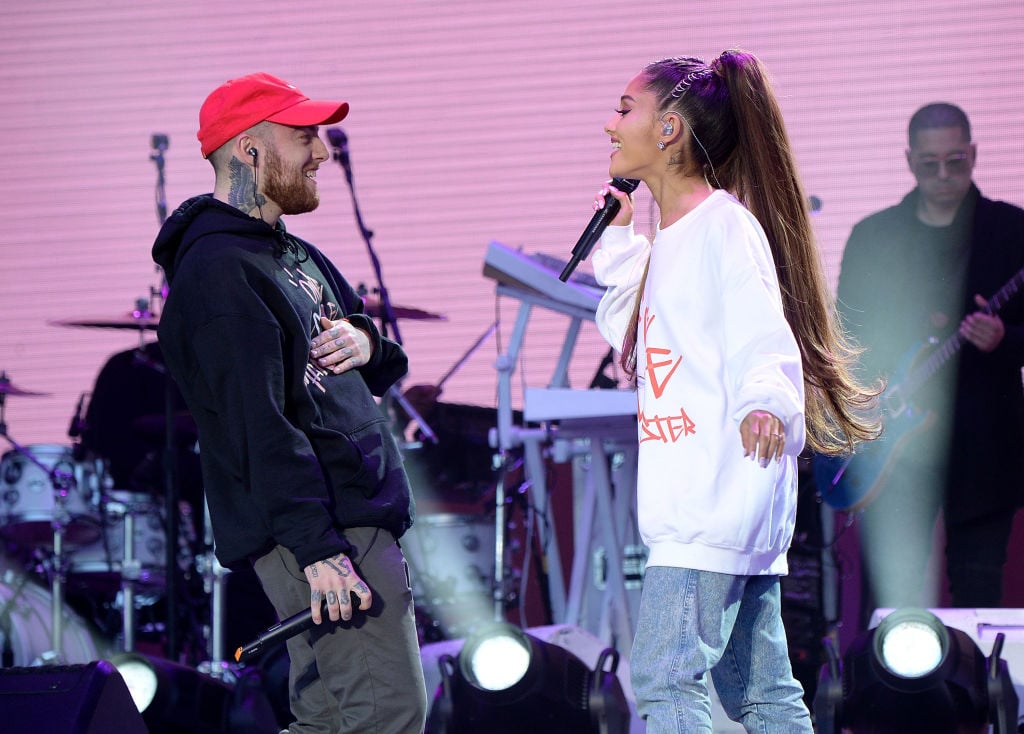 Grande and Miller were a couple for over a year, from sometime in 2016 through early 2018. They were seen together on numerous occasions, attending the MTV VMAs as well as The Meadows Music & Arts Festival in New York during the year they began dating. Grande and Miller were also seen out and about in New York, and looked very much in love.
The next year, both were a bit busier, and didn't spend as much time together. However, Miller performed with his girlfriend at her One Love Manchester Benefit Concert in 2017, which came after a tragic event at Grande's show in the UK city earlier that year.
Miller passed away in 2018
Many fans were sad to learn that Miller and Grande broke up. She wished him all the best, though, before beginning her short-lived relationship with comedian Pete Davidson. Not long before she broke off that engagement, Miller tragically passed away in Sept. 2018.
Grande took to social media to express her sadness and pain at the loss of her friend and ex-boyfriend. Some believe that her strong emotions surrounding Miller's death may have led to her breakup with Davidson, given the timeline. She then included his name (along with those of her other exes) in her hit single "Thank U, Next."
Grande is performing at the 2020 Grammy Awards
Though it's been less than a year and a half since Miller's passing, Grande has kept very busy. She released her second album in less than two years, Thank U, Next, and began her Sweetener World Tour. She also notably skipped the Grammy Awards in 2019, where she was awarded her first Grammy, while Miller did not win for his first-ever nomination.
It appears that Grande was able to put aside her disagreements with the Recording Academy, as she was announced as a performer for the 2020 ceremony. This year, Grande is up for an impressive five awards. She's taken to social media to express her excitement about performing and her nominations.
Is Grande featured on Miller's posthumous album, 'Circles?
In the weeks leading up to the Grammys, it was announced that Miller's family would be releasing his first posthumous album, titled Circles. Apparently, he "was well into the process of recording" the "companion album" at the time of his death.
Circles was released on Jan. 17. Less than a week before that, Grande announced that she would be performing at the Grammys. She then shared the above Instagram post about Circles' release on her own Instagram Story. Could this just be a kind gesture, or something more?
Here's how Grande could pay tribute to Miller at the awards show
Fans who have listened to Circles believe that Grande's vocals are heard in the background of the track "I Can See." And a producer of the record seemingly confirmed this to the New York Times. So when a new ad for the Grammys (as seen above) called Grande's upcoming appearance "a special performance," some began to wonder if it would include a nod to Miller.
There are a few ways in which she could do this. Grande could sing one of her tracks that's believed to be about Miller, like "Ghostin." She could sing "The Way," the song from her debut album that features Miller. Or, she could even possibly sing one of his songs, were his family to ask her to. We can't wait to find out which one of these (if any) she does.