Fans Think Kim Kardashian West's Daughter Chicago Will Be a 'Problem' When She's Older
Kim Kardashian West loves showing off photos of her kids on social media. The Skims founder is a mother of four, and she's been staying at home with her children more than ever now that the coronavirus has made its way around the world.
Kardashian West recently posted a photo of North and Chicago alongside their father, Kanye West, and fans are convinced that North is going to be a "problem" when she's older.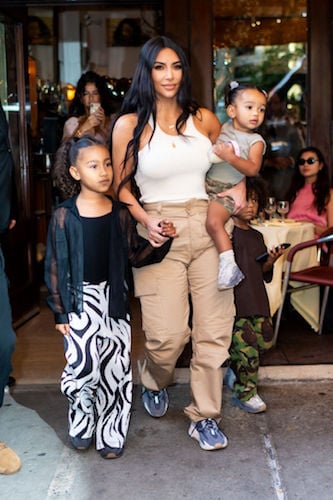 Kim Kardashian West shares four kids with Kanye West
Kardashian West has known rapper Kanye West for years, but things weren't always romantic between the two. They were only friends at first, but when Kardashian West was going through her second divorce with NBA player Kris Humphries, things transitioned from friendship to romance. Kardashian West started dating her now-husband before her divorce was even finalized, and the two welcomed their first child, North West, in 2013.
Since then, the West family has expanded to four kids, two of whom were delivered via surrogate after Kardashian West dealt with complications during her first two pregnancies.
Kardashian West loves showing off her kids on social media
The Kardashian-Jenner family is compiled of some of the most-followed women in the world. And Kardashian West has a whopping 169 million Instagram followers. She loves showing off her little kids, and she often captures some of the hilarious moments her toddlers have. Fans love to see the photos and videos she posts, though some have recently accused her of using her kids to seem more relatable.
People love all of Kardashian West's children, but fans seem to have a soft spot for Saint and Chicago, who are Kardashian West's middle kids.
Fans think Chicago West will be a 'problem' because of her looks
Kardashian West recently posted an adorable photo of Kanye West sitting in between his two daughters, North and Chicago. And fans couldn't help but notice what a "gorgeous baby" Chicago is.
"Chicago is the new supreme," someone wrote. "It's Chicago for me… So pretty," someone else added. "Chi is going to be a problem when she's older," another person wrote, suggesting Chicago would only continue to grow into her looks. "Whenever I see a pic of her I gotta [sic] stare bc she is just a gorgeous baby!" another comment read. Fans often dote on Chicago, suggesting that she looks just like her mother and that she's Kardashian West's cutest child.
Kardashian West said she might not have any more kids
Despite the adorable photo ops, Kardashian West has said that she might not have any more children. She recently opened up about her family on Laura Wasser's "All's Fair" podcast, where she said that she thinks she's too busy to handle any more children. "I could do two more, but I just don't think I should," she said, according to People. "I just can't do more 'cause I really want to go to school and I really want to do all this stuff."
Kardashian West currently runs several businesses, cares for four children, and is taking law classes — and it might be too much to have even more children. But the beauty mogul hasn't totally ruled it out.