Fans Think Kim Kardashian West's Daughter North Looks So Different in New Instagram Pic of the Kids
Kim Kardashian West posted a new photo of her children on social media and fans can't get over how different North West looks in the pic. Kardashian West and Kanye West's oldest daughter is now six and looking more mature than usual. Fans also weighed in on which kids look like which parent, with many agreeing that North looks just like her dad.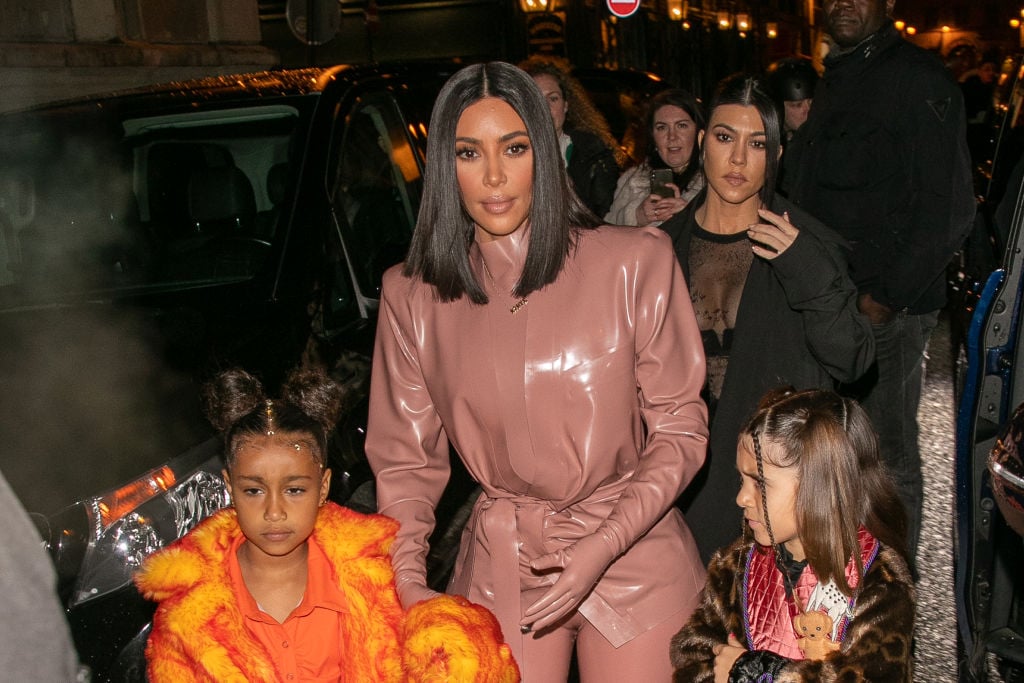 Kardashian West posted a new photo of the kids
Kardashian West posted the sweetest new photo of her kids on June 10, captioning it simply, "My whole heart." North, Saint, Chicago, and Psalm pose in the pic with happy expressions — and Saint flashing a big grin and a peace sign. North has her arms around baby Psalm and Chicago gives a cute smile.
The photo comes a couple of days after Kardashian West shared a photo with husband West, noting on her Instagram Story, "Fun fact about his pic. I just found out I was pregnant with North and made Kanye fly to London for my Kardashian Kollection appearance bc I was freaking out! He took me out to Hakassan and then Hagen Daz to make me feel better."
Fans can't believe how big North is
The photo has been winning over fans and some can't get over how much older North suddenly looks. On Reddit, a discussion about the pic had people weighing in with why North seems a lot older. "North looks really different," one Redditor commented, while another said, "Is that North? She looks a little bit different to me."
"She does look different but she's a growing child so it's expected. She looks just like Kanye to me," another Reddit user responded.
"Northie is getting so big!," another person commented. "I almost feel like I can get an idea of what North will look like as an adult in this pic. She is growing up!"
Another fan added, "North looks so big! They're all the cutest kids and look really happy," with another person pointing out, "North looks like Pocahontas! or Alicia Keys… Chicago is still Chi and still mini Kim… Saint is adorable, he just radiates this happy baby… Well Psalm, he's been a baby for like 3 yrs now."
For those who thought North looked quite different than how she usually does, one Redditor offered this explanation, "I'm wondering if it's because her hair is straighter here too!"
Fans analyzed the kids' personalities
In addition to fans chatting about how much North has changed, there were plenty of comments about the kids in general and one theme emerged — Saint's personality is so fun.
"I CANNOT handle how cute Saint is. He always kills me. All of her children are so adorable," one Redditor noted. Others said, "Saint is such a cutie!," "Saint's personality is always so playful lol loves the attention," and "Saint's personality is just amazing. I can see him becoming a comedian one day."
Many agreed that it seemed like Psalm has been a baby for so long and suddenly looks more grown. Another fan shared, "I can't wait to see them all grown up."
Who do the kids look most like?
On Twitter, there was discussion about the photo as well and fans weighed in with their thoughts on who each kid resembles the most —mom or dad. While some commented how North is a "mini Kim," most fans were in agreement that North and Saint look like West and Chicago and Psalm look more like Kardashian West.
"North looks sooooo much like her dad as she gets older. Saint always has lol. But Chi and Psalm are 10000% Kim," on Twitter user noted.
"Gorgeous children! North and Saint are the perfect blend of Kim and Ye, but Chi and Psalm are all Kim," another fan tweeted.