Fans Think Megan Thee Stallion Should Give This Rapper a Chance After He Hit on Her
Can you see Megan Thee Stallion dating this rapper?
Megan Thee Stallion is one of the hottest new rappers out, known for her empowering lyrics, raw sex appeal, and expert-level twerking abilities. Ever since she rose to fame in 2019, a bunch of celebrities have admitted to having crushes on her. But not everyone received such a positive response as Slim Thug did after recently shooting his shot at the "Cash Sh*t" star.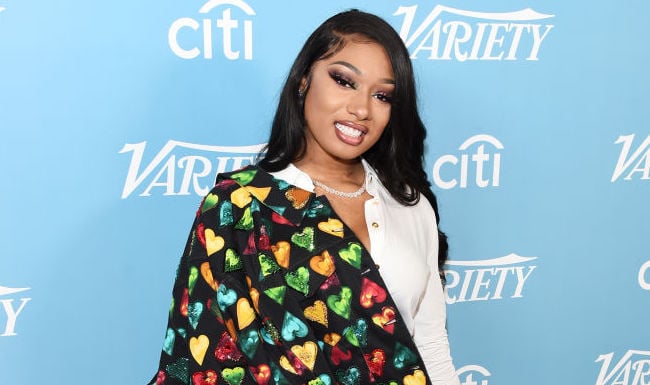 Who is Slim Thug and what did he say about Megan Thee Stallion?
Slim Thug is a fellow Texas rapper who achieved fame after the release of his 2004 song "Like A Boss." He has also gained recognition for his collaborations with other artists including his work on Gwen Stefani's 2004 song "Luxurious" and Beyoncé's 2005 hit "Check On It." But in recent years, he hasn't made many headlines.
In May, however, Slim Thug got fans talking after he appeared to hit on Megan Thee Stallion on Instagram. His comment came after she posted an Instagram video wearing a body-hugging, gold bikini and dancing to her song "Savage Remix."
Underneath the post, he wrote: "She need a Texas n***a that's taller [than] her that can handle dat a**. Get you a OG like B." He ended the post with a string of flirty emojis, including a heart-eyed icon. His comment can be seen at the video link above.
Fan reactions to Slim Thug's comment about Megan Thee Stallion
A lot of fans said under the video that they thought the rappers would be cute together, citing their Texas backgrounds and shared interest in rap.
"That would be a 🔥🔥🔥couple," said one fan.
"I'm definitely for slim and Megan," commented another.
Echoing that, a third fan said, "I could see them together."
But there were also some who felt otherwise.
"Slim Thug is 15 years older than Megan. No sir," said a fourth fan.
Someone else added, "At this point slim, if you're not off the market by now…wtf would she want with you?"
Previously, Slim Thug was linked to LeToya Luckett, an R&B singer who also used to be in Destiny's Child. They were together for 10 years before breaking up in 2011 after he reportedly impregnated another woman, per Hello Beautiful. But despite how things turned out, Luckett said in a 2017 interview that she still considers him as family.
Megan Thee Stallion's dating history
Megan Thee Stallion, on the other hand, dated Memphis rapper Moneybagg Yo for a few months in 2019. He confirmed their split in December of that year, attributing it to their conflicting personalities on Ebro Darden's Rap Life podcast.
In March, Megan Thee Stallion went on Ebro in the Morning and said she was enjoying being single. She noted that she wanted to keep it that way, but that clearly hasn't stopped stars from shooting their shots. Before Slim Thug, California rapper Sage the Gemini appeared interested in the "Hot Girl Summer" rapper, but her fans weren't having it. Read more here.
And don't miss other music-related coverage like: Makeup Artist Suggests Aaliyah Checked Isaiah Washington on the Set of 'Romeo Must Die' for Allegedly Being Homophobic