Fans Think Nicki Minaj Shaded Beyoncé On the 'Say So' Remix
Just when you thought "Say So" couldn't get any better, Nicki Minaj blessed it with her vocals. After teasing it for days, she and Doja Cat dropped their highly anticipated remix to the song on Friday, May 1 and did not disappoint. The single instantly took over the Internet not just because of their collaboration but because of some shady lines by Nicki Minaj.
At one point in the song, she appears to throw shade at an unnamed woman who Internet users have alleged is her former collaborator Beyoncé. While we wait for Nicki Minaj to address the speculation, here's a closer look at the remix and what fans have to say about it.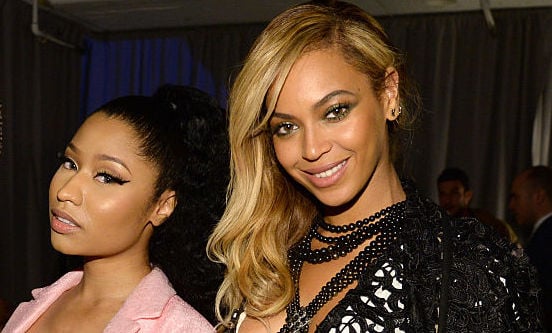 The "Say So" remix lyrics in question
Around the 3:12 mark, Nicki Minaj raps: "Why you talkin' bout who body fake? With all the fillers in your face, you just full of hate. That real a** ain't keep your n*gga home. Now you lookin' silly, that's word to silicone."
It was immediately suspected that the lines were aimed at Wendy Williams, as she and Nicki Minaj have been feuding for months.
The drama began in October 2019 when Williams criticized Nicki Minaj for marrying controversial commoner Kenneth Petty. Responding to the jab on an episode of Queen Radio, Nicki Minaj called Williams "demonic" and made fun of her divorce from her longtime husband Kevin Hunter, from whom Williams split in April 2019.
The drama continued as recently as March when Williams said on her eponymous talk show that Nicki Minaj had ruined her brand by dating Petty, who is allegedly a convicted felon.
But despite their history, Nicki Minaj insisted in an Instagram Story captured by The Shade Room that the lyrics are not about Williams.
Now, fans are alleging the lyrics are about Beyoncé
After Nicki Minaj denied she was talking about Williams, Internet users floated Beyoncé's name. They suggested the lyrics were in response to Beyoncé's words on the "Savage" remix, which came out two days earlier, where she raps about being natural and having a "real a**."
A Twitter user posted screenshots of lyrics from both songs and asked the artists for clarity. But neither of them has addressed anything at the time of this writing.
What we know about Nicki Minaj's relationship with Beyoncé
It previously appeared that Nicki Minaj and Beyoncé had a good working relationship. They collaborated on songs such as Nicki Minaj's 2014 hit "Feeling Myself" and even performed at shows together. Although neither of them has said much about the other in recent years, there hasn't been any indication that they have fallen out.
In 2018, there were even rumors that Bey had allegedly sided with Nicki Minaj in her feud with Cardi B. About two years later, Nicki Minaj publicly praised Beyoncé's song "Sorry," a track from her Grammy-winning album, Lemonade, which was largely about infidelity.
With all that in mind, we don't see a reason why Nicki Minaj would diss Beyoncé. Perhaps we'll learn in time who the lyrics are really about.