Fans Think the Kardashians Should Be Nicer to Kourtney for Carrying 'KUWTK' Over the Years
Fans think Kourtney Kardashian deserves a little more respect after 'carrying' her family's show 'KUWTK' over the years.
Kourtney Kardashian has regularly appeared on Keeping Up with the Kardashians ever since its 2007 debut. But after more than a decade of being on the show, she has grown tired of showing so much of her life on camera.
Viewers saw the Poosh founder express her disinterest in filming certain things in multiple episodes of the show, only to face pushback from her sisters Khloé Kardashian and Kim Kardashian West.
The pair felt she had a responsibility to viewers to show all aspects of her life. But some say she should be allowed the right to choose what she wants people to see after "carrying" the show in its earlier seasons.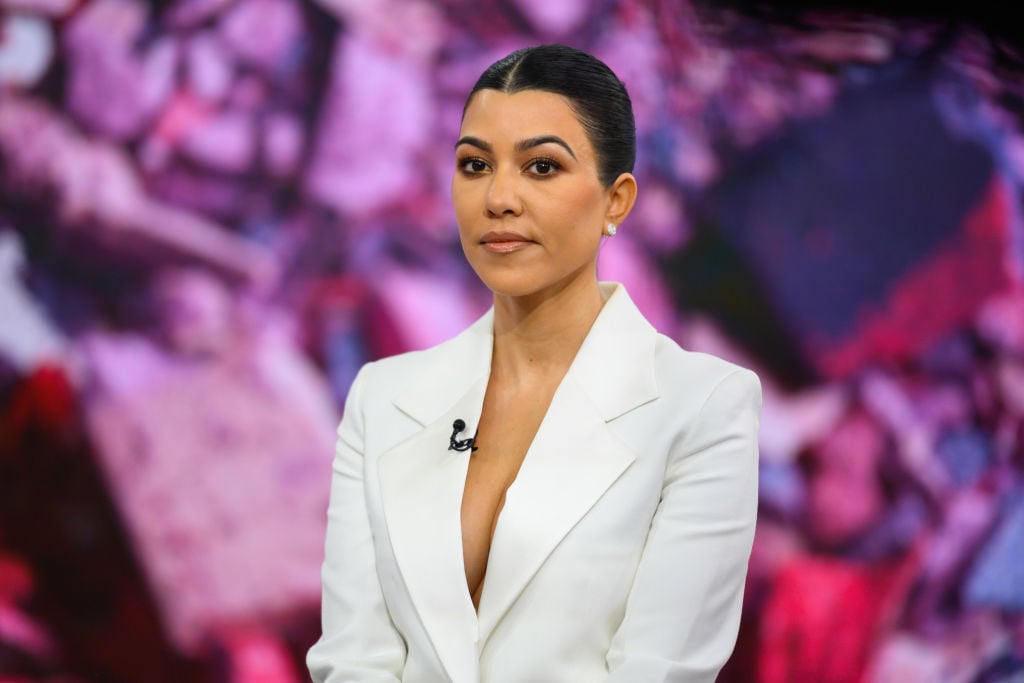 Kourtney's life on 'Keeping Up with the Kardashians'
If you've kept up with the Kardashians, you remember how the reality star basically had no limits when it came to what viewers could see.
She gave fans a front-row seat to her life, notably her turbulent relationship with Scott Disick. This included plenty of breakups, cheating rumors, and fights over Disick's addictions.
Their romance played out on the show for nearly a decade and became one of its biggest talking points. But this came at a cost, as Kardashian admitted in a 2019 episode that it was "horrible" for their relationship. The couple ultimately broke up in 2015 when paparazzi caught Disick with an ex-girlfriend.
Cameras also watched as she gave birth to three of Disick's children and even captured the reality star literally pulling one of her babies out during labor. While West and Khloé offered up many entertaining moments during this time themselves, fans have argued that Kourtney stole the show at many points throughout its run.
Kourtney Kardashian imposed limits on what she showed in 2019
Kardashian started making it clear in season 15 (2018) that she didn't care to dedicate so much time to the show anymore.
She notably got into an argument with West that year over scheduling a photoshoot that culminated in West calling her sister "the least exciting to look at" anyways. The remark left Kardashian in tears and "disgusted" with the fact that she belonged to a family who would say such things.
By season 17 (2019), Kardashian seemed to come around. She had a running storyline that focused on her life and career efforts. However, she refused to let cameras in on her new romance. (She was linked to model Younes Bendjima around that time.)
Her refusal to film such a big thing left West and Khloé feeling like they had to pick up the slack and film more of their lives as filler for the show.
"All of the days that Kourtney isn't filming, Khloe and I are picking up the slack. If we're not sharing our lives, then, what is the show?" West said in an episode.
"Kourtney spends a lot of time off camera. She won't talk about her relationship, but you'll see paparazzi photos of her and her guy that I can't say his name on the show because Kourtney doesn't want to," she continued.
But despite the complaints, Kardashian refused to budge.
"I, of course, am grateful for all the years of filming our show. But, you know, I've spent so many years on camera and I'm just in a different headspace," she explained in an episode. "It just was a lot of pressure on an everyday life and I've just outgrown that. I think the private moments are so special and I just need more of them."
"My well-being is more important than the show," she continued. "I'm not giving in and I'm not going to change my boundaries. That's not gonna happen."
Kourtney Kardashian is now stepping back from the show
She made the announcement in a November 2019 interview with Entertainment Tonight, saying she wanted to focus on other things.
"I've just decided to spend more time as a mom and put more of my energy there, but I'm not saying goodbye," Kardashian explained. "But I think you'll have to see more of it on the new season, Season 18, which isn't airing yet, but it's being filmed, currently, in this room."
Season 18 debuted March and focused on the rising tension between the sisters. Kardashian and West even got into a fistfight after the KKW Beauty star made another dig at her sister's work ethic. It was so serious that it left West bleeding and scratched.
Their relationship grew even tenser after the altercation, but it appears that things might be taking a turn for the better. Back in April, West and Khloé celebrated their sister on social media in honor of Kardashian's 41st birthday.
Subtly referencing the drama between them, West wrote that she loves Kardashian's "strong will" to do what she wants and teased that she packs "a mean punch."
We hope to see this trend continue when the rest of season 18 airs in the fall.