Fans Think This 'Teen Mom' Couple May Be in Trouble
Fans think 'Teen Mom' couple Catelyn Lowell and Tyler Baltierra may be in trouble after this tweet.
Over the years, we have seen many Teen Mom couples go through their ups and downs. The same goes for the spin-off shows, with Kailyn Lowry and Javi Marroquin of Teen Mom 2 publicly going through Twitter battles after ending their marriage.
There are very few couples from the show still holding on, so viewers are very invested in those who are. So it's no surprise that fans are currently worried about Tyler and Catelyyn Baltierra. The married couple has been having a very rough time lately, and their recent tweets have people worried.
So what exactly is going on between them? Here are seven things we know about the Teen Mom couple and how they are handling their rough patch.
1. Tyler Baltierra writes a cryptic tweet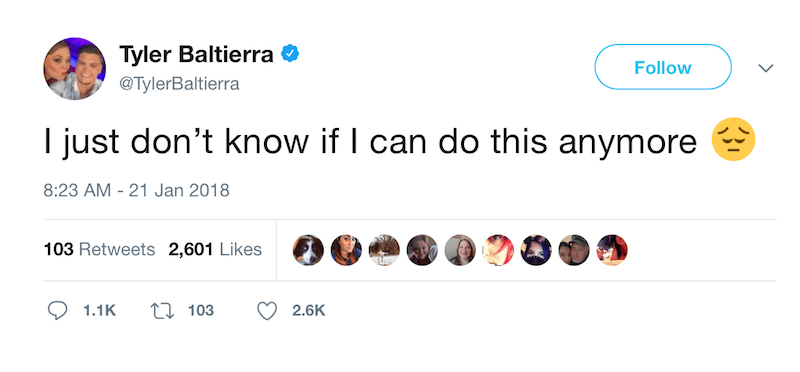 It's no secret that Tyler Baltierra and his wife, Catelynn, have been having a rough time. She has been away, getting treatment for mental issues. So some were worried when Tyler tweeted, "I just don't know if I can do this anymore

," on Jan. 21, 2018.
Not too long after that, he went on to post a video on Instagram. "Well, I made it to my therapist appointment so doing a little self-care today. You know what I mean?" he said. "Sometimes you gotta put yourself ahead of some other people sometimes in life but it doesn't mean you don't love them."
The video also featured him saying thank you to his fans for being supportive after he said he was having trouble. In the caption of the video, he wrote "I can't thank all of my supporters enough for how incredibly loving all of you are. You guys really inspire me & impact me more than you think."
Next: Tyler is also working on himself in another way.