Fans Think This 'Teen Mom' Couple May Be in Trouble
Over the years, we have seen many Teen Mom couples go through their ups and downs. The same goes for the spin-off shows, with Kailyn Lowry and Javi Marroquin of Teen Mom 2 publicly going through Twitter battles after ending their marriage.
There are very few couples from the show still holding on, so viewers are very invested in those who are. So it's no surprise that fans are currently worried about Tyler and Catelyyn Baltierra. The married couple has been having a very rough time lately, and their recent tweets have people worried.
So what exactly is going on between them? Here are seven things we know about the Teen Mom couple and how they are handling their rough patch.
1. Tyler Baltierra writes a cryptic tweet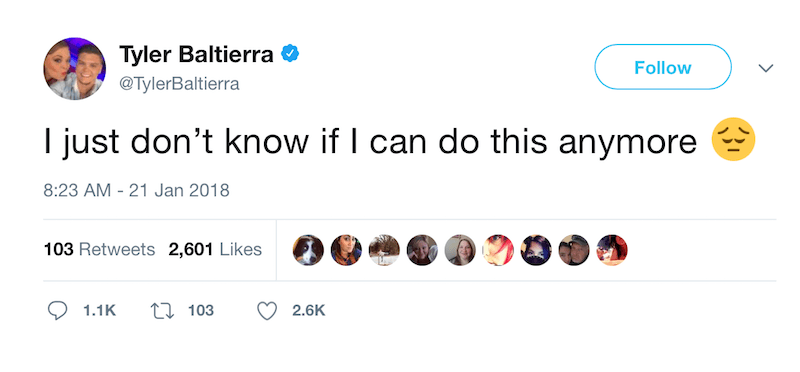 It's no secret that Tyler Baltierra and his wife, Catelynn, have been having a rough time. She has been away, getting treatment for mental issues. So some were worried when Tyler tweeted, "I just don't know if I can do this anymore

," on Jan. 21, 2018.
Not too long after that, he went on to post a video on Instagram. "Well, I made it to my therapist appointment so doing a little self-care today. You know what I mean?" he said. "Sometimes you gotta put yourself ahead of some other people sometimes in life but it doesn't mean you don't love them."
The video also featured him saying thank you to his fans for being supportive after he said he was having trouble. In the caption of the video, he wrote "I can't thank all of my supporters enough for how incredibly loving all of you are. You guys really inspire me & impact me more than you think."
Next: Tyler is also working on himself in another way.

2. Tyler has been open about getting physically healthier
The reality star isn't just talking about going to therapy, he is also talking about getting physically healthier. Three days before he posted a side by side photo of himself to show his progress.
He wrote in the caption, "26lbs DOWN!!! To be honest I didn't even want to take a before picture, because I was already thinking of me not sticking with it & then having the evidence of failure to look back on. But DAYYUMM dude!"
Next: Catelynn announced why she is returning for treatment.

3. Catelynn went back for treatment for the third time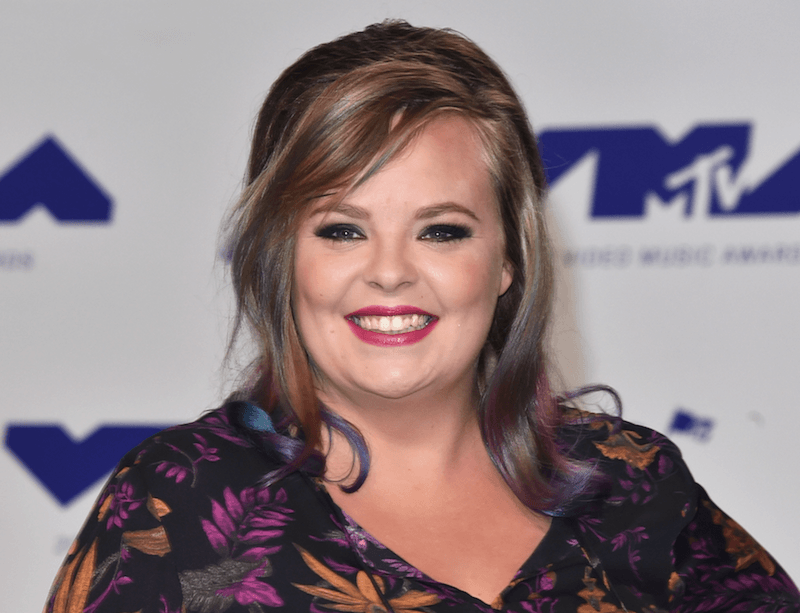 Recently, Catelynn returned from treatment, but two and a half weeks later, she returned. She announced the news on Twitter by tweeting:
Well they say third times a charm… I'm going back to treatment people for 6 weeks to work on my trauma and getting on different meds. THANK YOU @TylerBaltierra I LOVE YOU SO MUCH!!!!! You are my light!! And nova you are my sunshine #KeepTalkingMH.
Next: What she means when she says "her trauma"

4. She later explained her trauma stems from childhood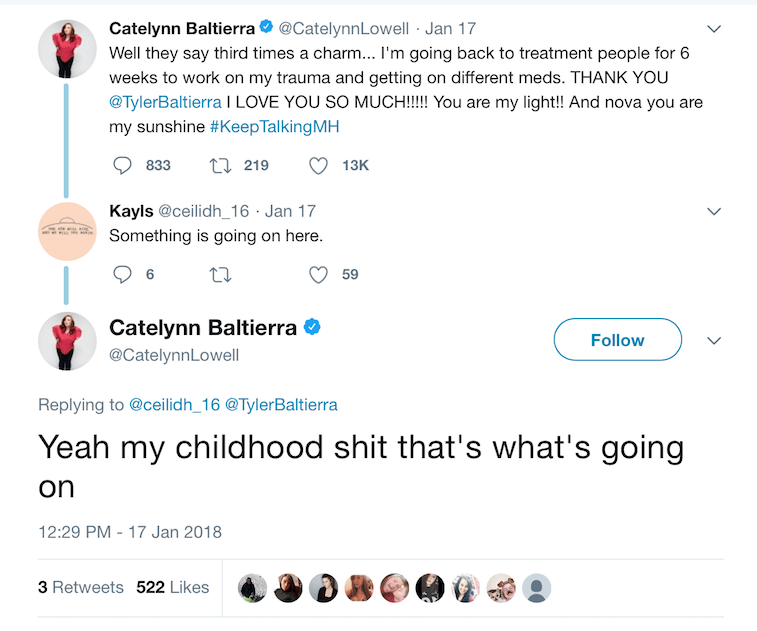 Many fans were confused by her announcement, especially when she mentioned trauma.
One fan tweeted "something is going on here," and she replied, "yeah my childhood sh*t that's what's going on."
Next: The reality star defends herself from critics.

5. Catelynn defended herself from haters before treatment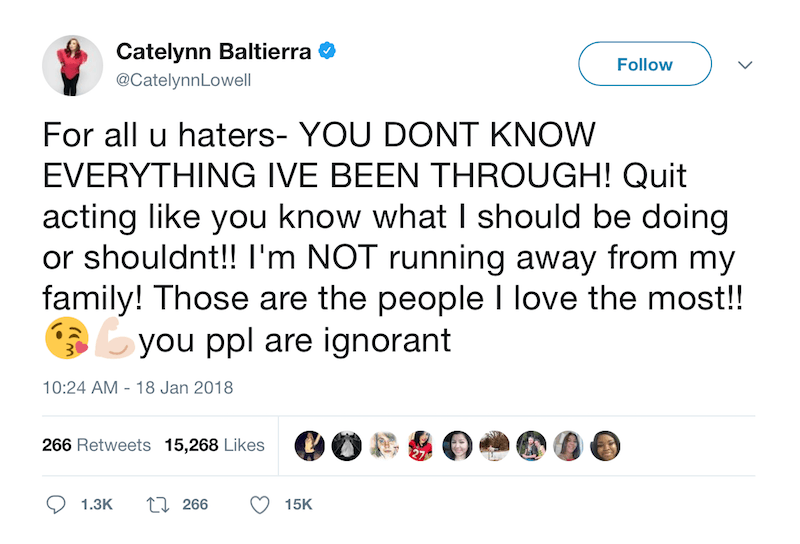 Sadly, the reality star had to deal with more people questioning her situation.
She shut down the critics by tweeting "For all u haters– YOU DONT KNOW EVERYTHING IVE BEEN THROUGH! Quit acting like you know what I should be doing or shouldnt!! I'm NOT running away from my family! Those are the people I love the most!!


you ppl are ignorant."
Next: This is why Catelynn went away for treatment.

6. Catelynn sought treatment after having suicidal thoughts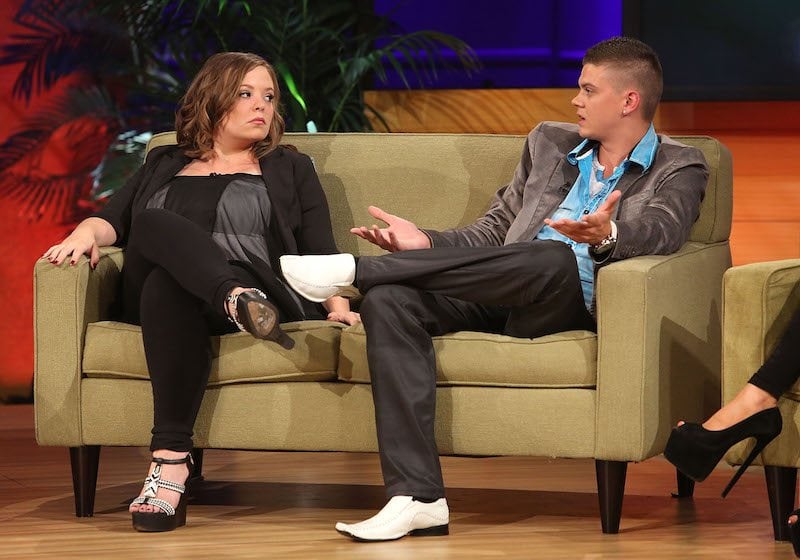 Lowell openly tweeted about having suicidal thoughts, but she has felt positive about getting better with treatment.
"I'm seeking treatment and I WILL get better," she said in her statement to Us Weekly. "… Anyone feeling alone you ARE NOT ALONE! This world needs all of us! We are all here for a reason… Thank you for your support during this tough time…. Much Love, Catelynn Baltierra."
Next: Tyler reveals how her depression affected their relationship.

7. She previously had postpartum depression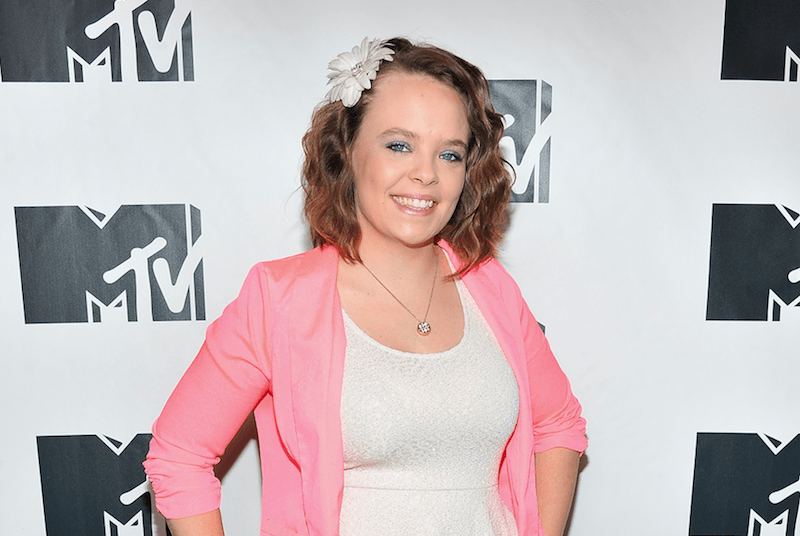 This isn't the first time has Catelynn openly struggled with depression. She and Tyler previously talked about her postpartum depression on The Doctors and how it affected their relationship.
"It affected [our marriage] as far as our communication goes," explained Tyler. "For the first time, we didn't know how to communicate because we never went through it before and we didn't know anything about postpartum. It's definitely created a little bit of tension."
Follow Nicole Weaver on Twitter @nikkibernice.
Check out The Cheat Sheet on Facebook!