Fans Think Travis Scott Raps About Kylie Jenner In New NSFW Song 'Solitaires'
Travis Scott dropped a song with steamy lyrics that fans say are about Kylie Jenner.
There's been a giant question mark surrounding the status of Kylie Jenner's relationship with Travis Scott ever since they split in September 2019. While they often look like a couple, sources have repeatedly denied that they are back together.
Neither of them has directly commented on the nature of their relationship in a while. But Scott just released a song over the weekend of May 15 that fans think contains lyrics about the Kylie Cosmetics star.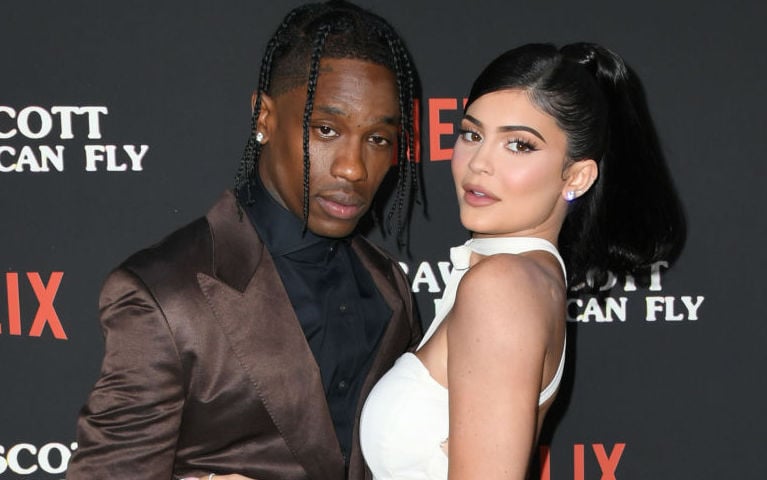 The lyrics to 'Solitaires'
The song is called "Solitaires" and appears on Future's new album, High Off Life. In it, Scott raps about going through the coronavirus quarantine with an unnamed woman and the, um, activities they've done while stuck inside.
Around the 2:24 mark, he raps: "When they let us off of lock', man, we gon' make that sh*t pop/Been humpin' wifey for so long, she got a limp when she walk."
Fans know that Scott has been quarantining at points with Jenner and that he called her "wifey" throughout their relationship. Putting two and two together, they took to websites such as Twitter and shared their thoughts on what the song could mean.
"Wait.. On Solitares By #future and #TravisScott on #highofflife. Travis says 'Been humpin' wifey for so long, she got a limp when she walk' did him and kylie get back together?" asked one fan.
Another person mused, "Travis Scott just said something about humping his wifey and all I can picture is Kylie Jenner shaking a chihuahua off her leg."
Kylie Jenner has been fueling romance rumors
Jenner first sparked reconciliation rumors around Valentine's Day after posting flowers from a mystery person. Shortly after reports claimed that it was Scott who had sent the bouquets, Jenner gave the ASTROWORLD rapper a shoutout on Instagram. She shared photos of them in the early stages of their relationship along with the caption, "It's a mood."
Despite all of that, sources claimed that they were not back together, insisting the two were just trying to be as friendly as possible while raising their daughter, Stormi Webster, 2.
"Kylie and Travis are still in the same space they have been in for the last few months. Trying to figure out co-parenting and trying to see if there is anything more there for them both romantically," said a HollywoodLife source back in April.
"It is a slippery slope to say the least, and every day provides a different turn in the story. It seems some days they want to be friends and parents and the next day they want to be more. They don't know really how much they want to take things and are dealing with the process day in and day out."
What caused their split?
Multiple outlets have reported that the two split over their conflicting lifestyles. While Jenner allegedly wanted to settle down and have another baby, Scott reportedly had other things in mind, namely his music career.
"They are very, very in love, but she's 22, and her whole life is Stormi and her business and her family. She's not wanting to be a normal rapper's wife. He's still young and at the recording studio late. She usually goes to bed early. They have different lifestyles," said an Us Weekly source.
The pair had been together for about two and a half years before their breakup, having sparked a romance in April 2017.
Regardless of what happens, Scott admitted to XXL in December 2019 that he will "always" love Jenner while she said in a February interview that she still considers Scott as her best friend.
Read more: Kylie Jenner's BFF Stassie Gives Tour of Jenner's New $36 Million Home and Massive Car Collection