'RuPaul's Drag Race' Fans Call for Season 12 Cancellation Following Sherry Pie Controversy
This has to be the biggest controversy to ever happen in Drag Race herstory.
After being accused of catfishing several young men, RuPaul's Drag Race contestant Sherry Pie quickly found herself in hot water and ultimately disqualified from the show.
With this news leaving a dark cloud over part-two of the season premiere, many are now calling for the show officials to cancel the remainder of Season 12.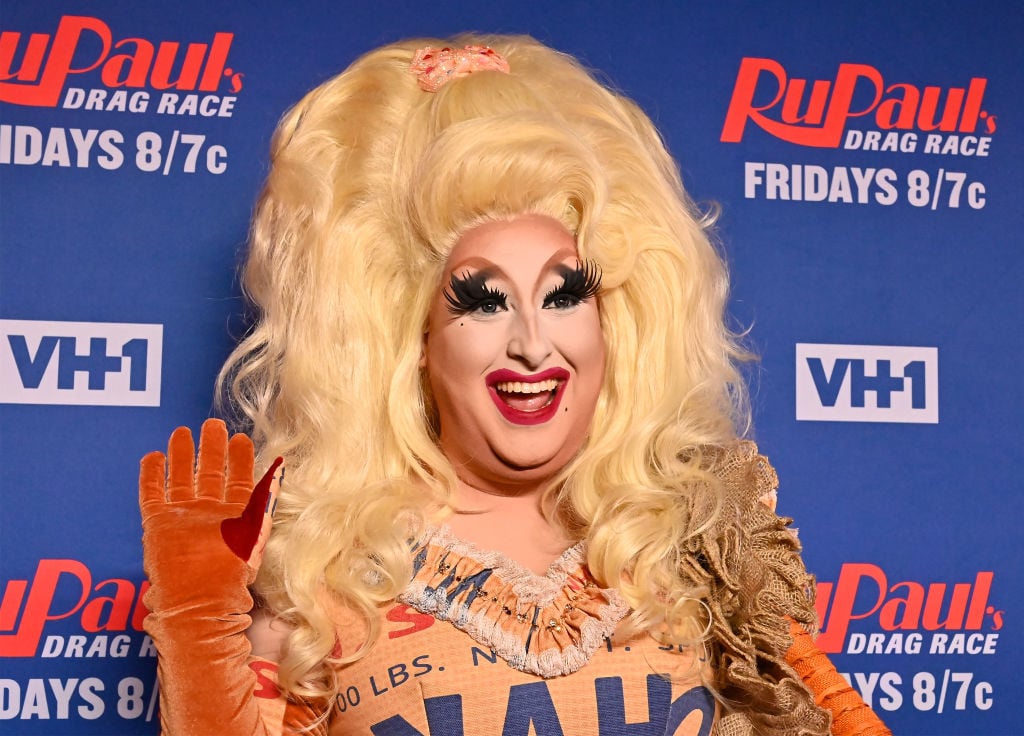 Sherry Pie coaxed young men into filming degrading videos of themselves
RuPaul's Drag Race has had its fair share of drama over the years, but we've never witnessed anything like this Sherry Pie controversy.
On Mar. 6, allegations of the Drag Race Season 12 contestant catfishing young actors made headlines, shocking fans all around the world.
These surprising revelations came two days after aspiring actor Ben Shimkus accused Sherry Pie — who's real name is Joey Gugliemelli — of catfishing him in a lengthy statement posted to his Facebook.
Shimkus alleged that after forming a friendship with the New York City drag performer when they attended Cortland State University's Musical Theatre program, Sherry Pie created a fake persona posing as an NYC casting director named "Allison Mossey."
"Allison and I went through an email thread that lasted over 150 emails in about three weeks. We covered topics of pay, living situations in the city, when I would have to leave school for rehearsals, and conversations about acting choices for the character," Shimkus wrote. "I had to film scenes that felt particularly sexual and awkward, but the opportunity seemed too good to let the overt sexual nature or my inhibitions get in the way. I simply told myself that my parents wouldn't be allowed to see the show, but I wanted the professional experience and the bright and shiny object on my resume."
After Shimkus came forward with his allegations, four other men admitted to being deceived by Allison Mossey, who would encourage them to film degrading — sometimes sexually explicit — videos of themselves.
Though Gugliemelli has since issued an apology to the five victims soon after these stories went viral, his luck went from bad to worse the second word of this controversy got out.
RuPaul disqualified Sherry Pie from the show
A few hours after news outlets got ahold of this story, many were taken back by Sherry Pie's past actions.
As fans began calling her out on Twitter for her disgraceful ways, Drag Race's production company World of Wonder and its network VH1 made it clear that they were not supporting this type of behavior and disqualified Sherry from the show.
"In light of recent developments and Sherry Pie's statement, Sherry Pie has been disqualified from RuPaul's Drag Race," a spokesperson wrote on social media. "Out of respect for the hard work of the other queens, VH1 will air the season as planned. Sherry will not appear in the grand finale scheduled to be filmed later this spring."
Later that evening, Sherry appeared on RuPaul's Drag Race for the first time. Though she proved to be fierce competition right out of the gate, her presence on the show didn't sit too well with viewers.
Fans are calling for the show to edit Sherry Pie out of the season
Even though Sherry Pie will not appear in the live Drag Race finale, fans aren't too thrilled that they still have to watch her compete on the show.
Now that they know of this contestant's shocking past, many have officially canceled Sherry and are calling for VH1 to edit this season entirely so that she gets the least amount screentime.
"It truly feels like we're watching Sherry Pie's Drag Race and it's soooo cringeworthy. Hopefully the next episodes have a major edit of removing her confessionals/comments because this sh*t is UNCOMFORTABLE," one fan tweeted.
Some people even want VH1 and World of Wonder to cancel this season and re-film it so that there are no traces of Sherry Pie at all.
However, doing so wouldn't be fair to the other 12 queens who spent months vying to keep their spots in the competition.
Re-filming this season would just be a huge burden and not to mention a tremendous financial cost for all parties involved.
Though fans want to see this happen, VH1 and World of Wonder already said that they have no plans to so as it would be entirely unfair to the other contestants.