'Fast & Furious' Star Sung Kang Says Co-Star Tyrese Gibson Has a Strange Hack For Remembering His Dialogue — 'He Tapes His Lines on Our Shoulders'
Fast & Furious has grown into one of the most successful film franchises of all time. The film series, known for its massive budgets and billion-dollar box office hauls, has helped establish the careers of several of its lead actors and continues to bring audiences to theaters in droves.
Fast & Furious movies have never shied away from bringing on new actors such as Dwayne Johnson, Jason Statham, and John Cena, but viewers can always expect to see franchise regulars such as Tyrese Gibson and Chris "Ludacris" Bridges, as well. However, despite Gibson's long tenure in Fast & Furious productions, he still struggles to get his lines down.
Gibson's co-star Sung Kang, who plays fan favorite, Han, recently revealed that Gibson can never remember his lines during early-morning shoots and that he uses a weird strategy to help keep them in mind while working.
'Fast & Furious' star Sung Kang says Tyrese Gibson struggles with morning shoots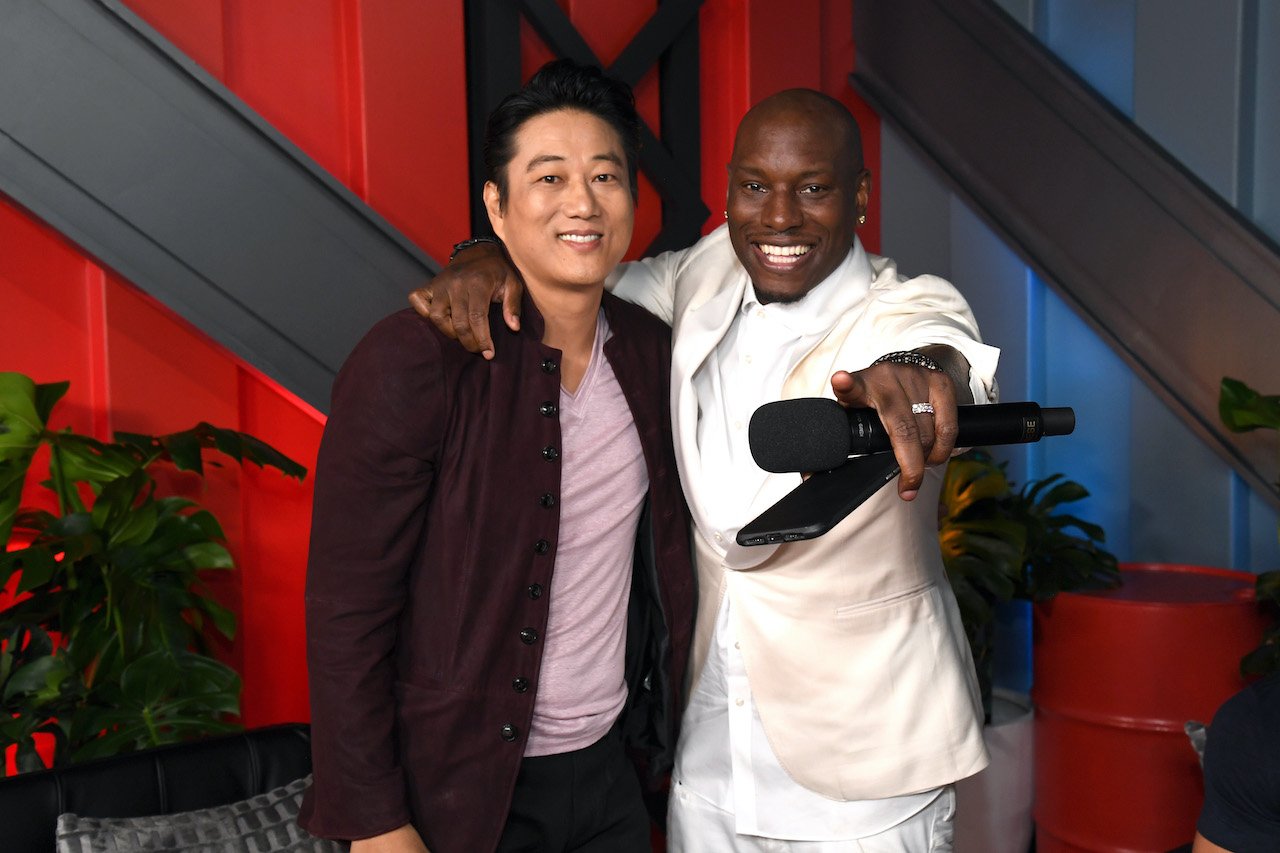 RELATED: 'Fast & Furious': Vin Diesel and Paul Walker Used To Play 'World of Warcraft' Together To Unwind After Shoots
Kang discussed Gibson's challenges with working on-set in the morning during a recent interview with E! Red Carpet & Award Shows, noting that the actor has a hard time getting up early. 
"Ok, so there are times where — he's not an early person, right?" Kang said. "He's not an early bird, and he'll tell you that. And so, when we have these early calls, he can barely stay awake."
Tyrese Gibson sticks Post-It notes to his scene partners' shoulders to remember his lines
Unfortunately, Gibson's early-morning struggles translate to more than just difficulties getting up. Gibson often fails to remember his lines during morning shoots, so he has to rely on an unusual technique with his scene partners to help recall them.
"And so he starts to tape his lines on our shoulders," Kang said. "So everyone has all these little Post-Its on their shoulder, every time, in the mornings. So beware, when you work with Tyrese, you're gonna have a bunch of Post-Its on your shoulder."
Sung Kang says Tyrese Gibson is the most fun person in the 'Fast & Furious' cast
Despite his strange on-set quirks, Gibson is still one of the most beloved members of the Fast & Furious cast. Later in the interview, Kang acknowledged that Gibson's personality makes the long, repetitive days of working on set much more enjoyable.
"It's always Tyrese. Tyrese, he's the sriracha to every dish," he said. "He adds the spice 'cause people think shooting a Fast & Furious movie is fun and glitz and glamour, everything. But it's mundane. It's a process, it's filmmaking."
Kang emphasized that Gibson's outgoing personality and odd sense of humor allow the rest of the Fast & Furious team to take things less seriously.
"But every time Tyrese shows up, he just adds fuel to the fire, he makes it fun. It reminds you that … it's a play for a reason. We're out here to play pretend, and we're not curing cancer. Have a great time, and he's just amazing. So, yeah."
F9, the latest film in the franchise, is now playing in theaters everywhere.