'Fast & Furious': Will There Be a 'Hobbs and Shaw' 2?
The Fast and Furious have dominated the box office for nearly twenty years. The franchise has become a who's who for celebrities across all fields. However, when it comes to two of its biggest actors, Dwayne 'The Rock' Johnson and Vin Diesel, a family feud arose. With The Rock nowhere to be found in Fast and Furious 9 and news that he won't return, many wonder about his future in Hobbs and Shaw.
A family feud puts 'Fast and Furious' franchise in jeopardy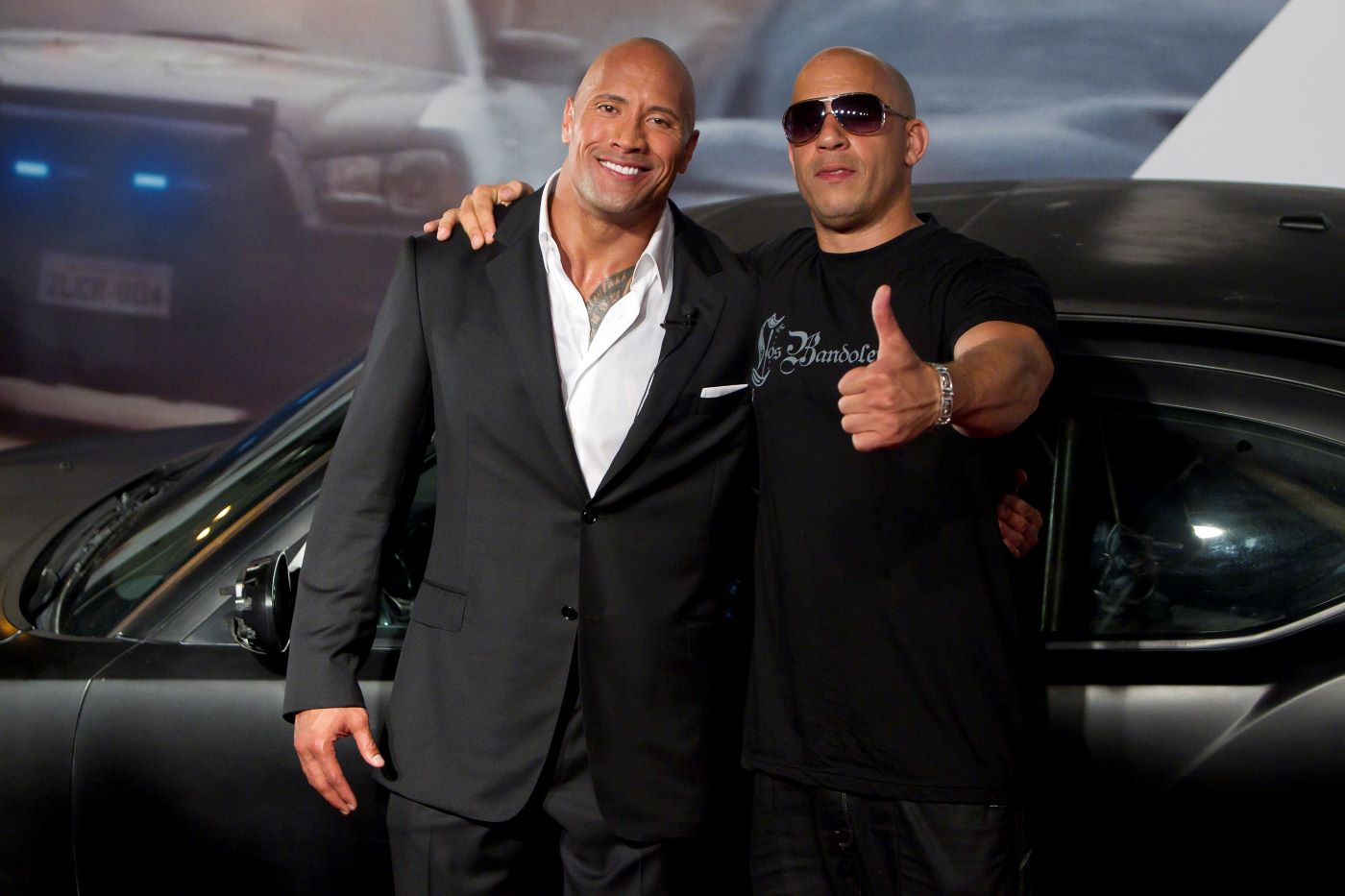 According to Vanity Fair, the Rock and Diesel feud can go back to the set of Fate of the Furious, if not sooner. While the wrestler-turned-actor has only been there for half the journey, his addition marked a shift in the franchise from racecar movies with a side of action movies with occasional racecars in them. The Rock's Hobbs and Diesel's Dom have butted heads since the beginning, and that may have stretched off-camera, too. 
In 2016, as shooting on the eighth film settled down, The Rock posted a not-so-subtle jab at Diesel's expense. Showing the 'family' at the table, Rock was cryptic yet pointed.
"Some [male co-stars] conduct themselves as stand-up men and true professionals, while others don't. The ones that don't are too chicken shit to do anything about it anyway. Candy asses," the Skyscraper star said on Instagram, adding that, "When you watch this movie next April, and it seems like I'm not acting in some of these scenes and my blood is legit boiling—you're right," 
 Diesel put the feud behind him on the film's red carpet, stating that the issues were strictly professional. 
"We still love each other. That's my boy. When I was making that difficult decision, should there be an 8 or not, I called [Johnson], and he said, 'Brother, I will be there shoulder to shoulder with you to make sure it's the best movie in history.' And he delivered," Diesel said. 
However, it wasn't long before the two went separate ways. 
Why wasn't The Rock in 'Fast and Furious 9'?
When Fast and Furious 9 hit theaters, a wildly successful wrestler-turned-actor with a larger-than-life screen presence took to the screen, but it wasn't who the fans expected. Cena is well on his way to joining The Rock on wrestling's Hollywood pantheon, but it still came as a shock when the latter was not involved in the movie. However, after Hobbs and Shaw was a smash hit in 2019, many chopped it up to that. 
With Fast and Furious 9 preceding Jungle Cruise by weeks, their media rounds included several potshots, including Diesel's claims that he was trying to summon Fellini by getting the most out of The Rock and the rest of the cast. When The Rock heard about this, he was equally amused and unamused, claiming that he was done with the Fast Saga while getting another shot in. 
"I wish them the best of luck on Fast 10 and Fast 11 and the rest of the Fast & Furious movies they do that will be without me," he told The Hollywood Reporter, laughing as he reiterated the Fellini comparison. 
It appears that The Rock's days next to Diesel are done, but many fans are worried about the way that this affects his Hobbs and Show franchise, too. 
Will there still be a Hobbs and Shaw 2? 
Hobbs and Shaw showed that the Fast saga didn't need to be part of the ever-changing world they've built through eight other movies. Instead of focusing on the family, it focused on the titular FBI agent and his terrorist-turned teammate, Shaw. The film was equally in line with the main saga and something unique. 
However, despite the first film's success, its makers have played coy about its future since it opened. While a sequel is planned, producers told Collider that it could be a long time before it happens in February. Since then, nothing official has been announced. Statham fueled similar fires with his comments to Newsweek, stating that he'd love to return if the script is right.
Whether this is all a marketing ploy or a hiccup in the road of the Fast Saga, Diesel and Rock's feud remains the talk of the town. 
For those who cannot wait for a sequel, The Rock's Jungle Cruise movie was released on July 30, while Statham's Wrath of Man is currently available to rent on several platforms. With Statham's character cameoing in the last film while Rock was nowhere to be seen, perhaps it might be Shaw and Shaw alone who takes its story to another level.