'Father of the Bride': Franck Eggelhoffer Was Based on a Real-Life Celebrity Wedding Planner
Father of the Bride is up next for a virtual semi-reunion and fans of the '90s films can't wait to see the cast bring the Banks family back to their screens.
Steve Martin played George Banks in the warmhearted comedy about a dad struggling with his daughter's trip down the aisle. Diane Keaton, Kimberly Williams-Paisley, Kieran Culkin, and Martin Short starred alongside Martin in the 1991 film and its 1995 sequel.
While the Banks family charmed audiences, Short stole his scenes as Franck Eggelhoffer, the quirky, expressive wedding planner. The character wasn't entirely a figment of the writers' (or Short's) imaginations, as he was based on an actual extravagant event-planning mastermind.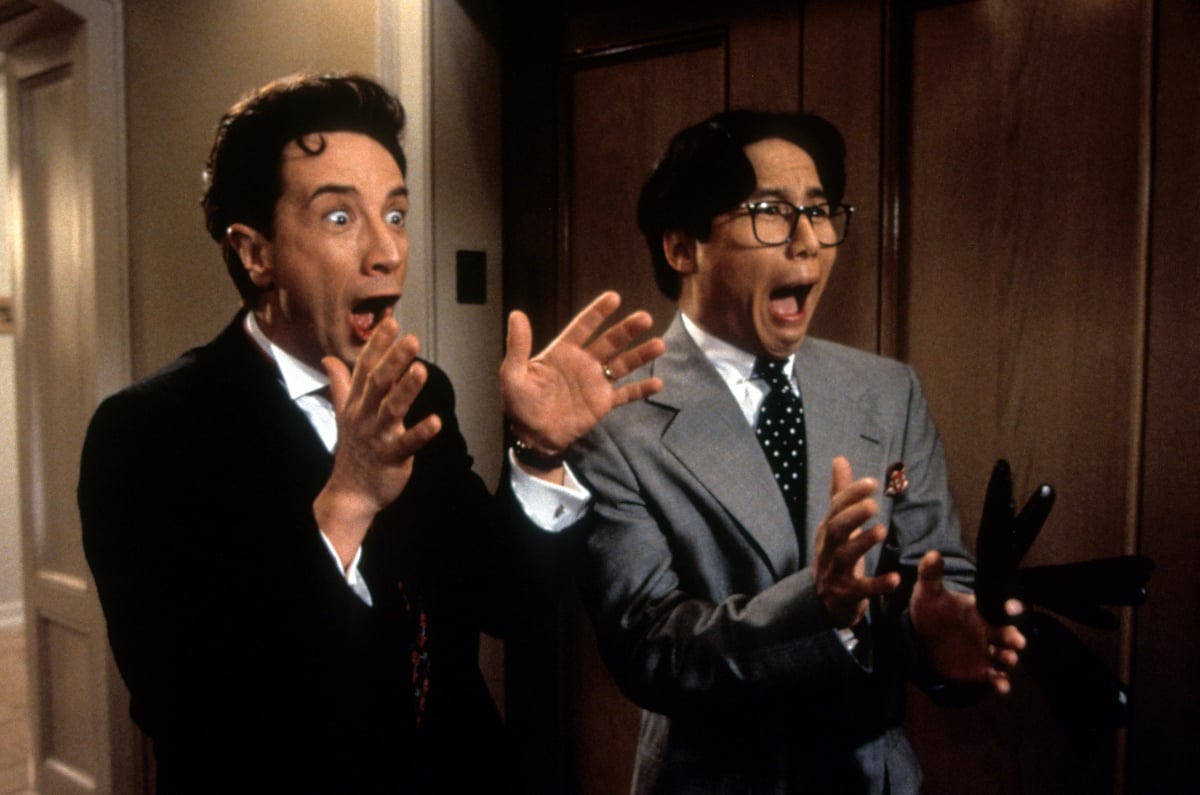 Martin Short cracked everyone up as Franck Eggelhoffer
Step back to 1991 when Annie, George, and Nina first met Franck Eggelhoffer and his assistant Howard Weinstein (played by B.D. Wong). His opulent showroom and office matched his personality, and he promised to make the January 6 event spec-tac-ular.
Much to George's chagrin, Franck persuaded everyone to select a $1,200 cake, took over the wedding, and reminded dear old dad that it was a modern wedding. "Welcome to the '90s, Mr. Banks."
And then he showed up in part 2 to help with the baby shower. Who didn't love Franck?
RELATED: 'Father of the Bride' Reunion: Will Steve Martin Be In It?
Franck was inspired by a real-life grand event planner
Although Short definitely put his own spin on the beloved character, Franck is loosely based on renowned event planner Kevin Lee. Lee is known for his talents as a wedding coordinator and has appeared on a number of reality shows including The Real Housewives of Beverly Hills and Million Dollar Listing: NY.
Lee confirmed the Franck tale to Bravo's Daily Dish back in 2016 and said that a producer on Father of the Bride told him the news. He was floored. "Well it was totally me, it's me," Lee said. "He captured my character so well and I was overwhelmed. Officially, I am the Franck."
According to Lee's website, he's worked on events for high-profile clients such as Barack Obama, Brad Pitt, Oprah, Kim Kardashian West, Tom Cruise, and Kate Hudson. He has also handled projects for the Grammys, Emmys, and the Oscars.
How to watch the 'Father of the Bride' reunion special on Netflix
Netflix teased a special Father of the Bride cast reunion on its Twitter account on Sept. 22. Thanks to one of the film's producers — Nancy Meyers — the event is becoming a reality. Fans can tune in for the show on Netflix's YouTube channel and Facebook page on Sept 25.
Viewers can begin streaming the reunion at 6 p.m. EST and it's set to feature Martin, Keaton, Short, Culkin, George Newbern, and Williams-Paisley. It's all for a good cause. In addition to nostalgia, the the broadcast is bringing awareness to World Central Kitchen, an organization that provides assistance in a time of crisis.
While the status of a part 3 hasn't been officially confirmed by Warner Bros. fans can stream Father of the Bride and its sequel on Amazon Video, YouTube, or iTunes.