'FBoy Island': Garrett Morosky Implies He Still Has a Shot at Dating Sarah Emig
'FBoy Island' star Garrett Morosky has implied that he still has a chance with Sarah Emig, the contestant he dumped on the season finale. TMZ ran into Morosky and fellow cast mate Casey Johnson outside of a coffee shop. He said he was still speaking to Emig.
When fans caught the finale of HBOMax's reality TV dating show FBoy Island, they saw Garrett Morosky live up to his status of "FBoy." Sarah Emig, one of the female contestants, chose Morosky to continue a relationship with, but things didn't go as planned. 
Morosky instead chose to break things off with Emig and keep the $100,000 cash prize for himself. He said he didn't see a life with Emig outside of the show. At the last minute, host Nikki Glaser stepped in to say, actually, all of that money would be going to Emig's charity of choice. Now fans are hearing the two might be going on a date.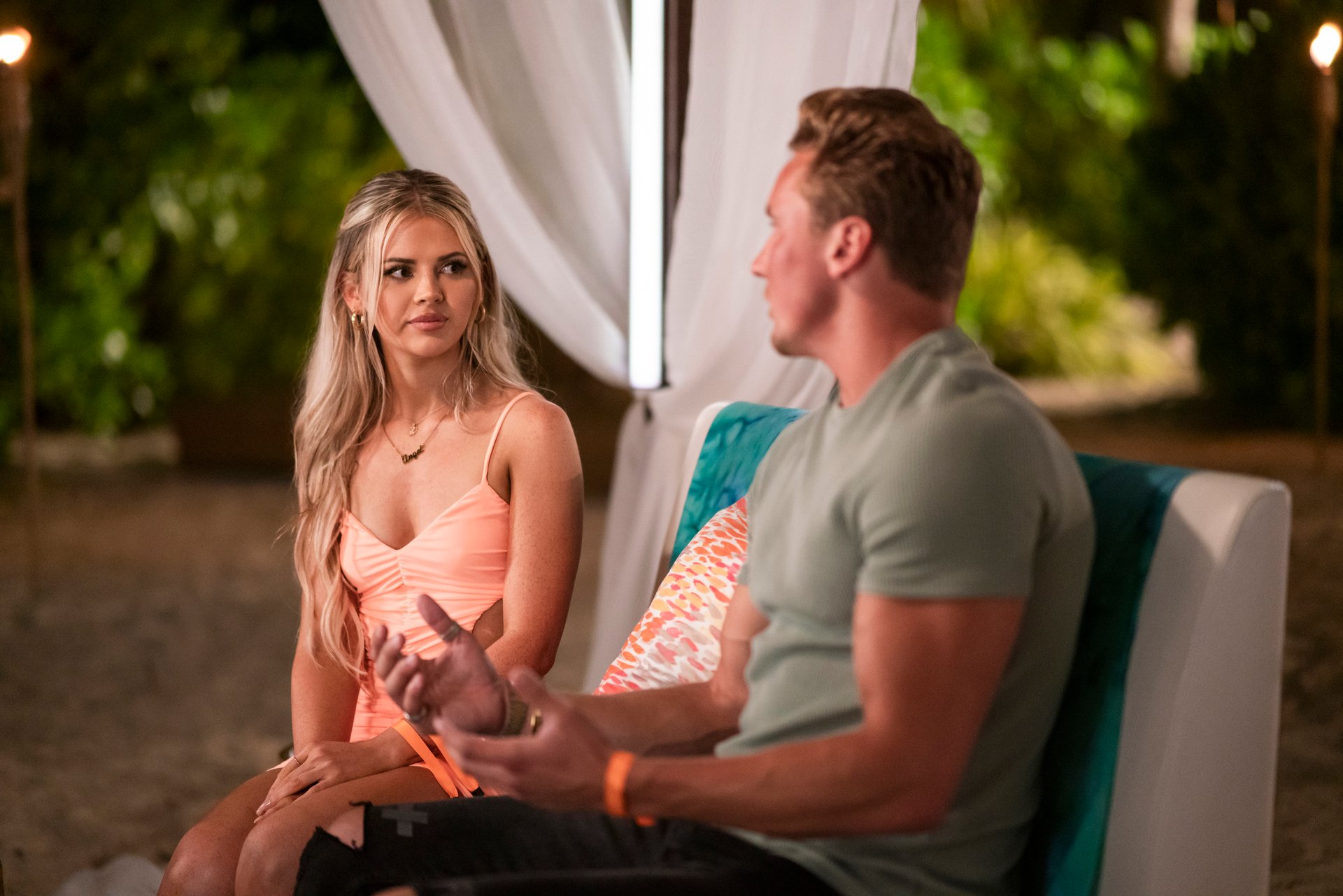 The 'FBoy Island' finale blow-up
Morosky made it clear in his private interviews that he would choose money over love every time. The women even heard rumors of him being in a relationship with a woman back home. After scanning his social media, Emig spoke to the alleged girlfriend, Lauren Coogan, but was assured the two had split.
Emig chose Morosky to continue a relationship with instead of "nice guy" Josh McDonald despite several red flags. When Morosky broke the news to Emig about breaking off their relationship, the entire cast seemed shocked. Emig, along with CJ Franco and Nakia Renee, all blasted him for his choice. Renee told Morosky that "it's embarrassing for Sarah, but it's even more embarrassing for you." 
Emig looked upset with Morosky's decision, and most of the audience assumed the two would not be on good terms with one another after the show. Now fans are hearing that might not be the case.
Are Garrett Morosky and Sarah Emig dating?
TMZ ran into Morosky and fellow FBoy Island cast member Casey Johnson outside a coffee shop in Los Angeles. "Surprisingly, Garrett says the lines of communication between Sarah and him are very much open — and they even crossed paths this week at a party in Los Angeles. Garrett hints at a forthcoming apology, and seems to think he still has a shot at getting Sarah out on a date … telling us he wants to get some alone time with her so he can explain himself."
Whether or not Emig knows about these plans remains to be seen. She has been seen defending him on Twitter which some fans aren't happy about. In one tweet, Emig stated, "The bottom line is I chose to see the good in someone bc he proved he wanted to change, which is the experience of many girls I know, and many could probably relate to."
Spending time with castmates after the show
Since the finale aired, the cast of FBoy Island's social media profiles have shown various groups from the show hanging out. The ladies seem to have developed quite a close bond and have kept in touch. Franco and Emig live-streamed their viewing of the season finale.
The men from the show have also created some lasting friendships, as seen with Johnson and Morosky. All episodes of FBoy Island Season 1 are available to watch with a subscription on HBOMax.