'FBoy Island's' Peter Park Says He Misses Limbro and Nikki Glaser's Therapy Sessions
Peter Park from HBO Max's latest reality TV dating show FBoy Island might have been the first FBoy sent to Limbro, but that doesn't mean he didn't leave his mark. Park sat down with us to talk about his time on the show, his job as a "childcare influencer" (more on that later), and who he's stayed close with since filming ended.
Here's what the 30-year-old male model had to say about life since FBoy Island's conclusion.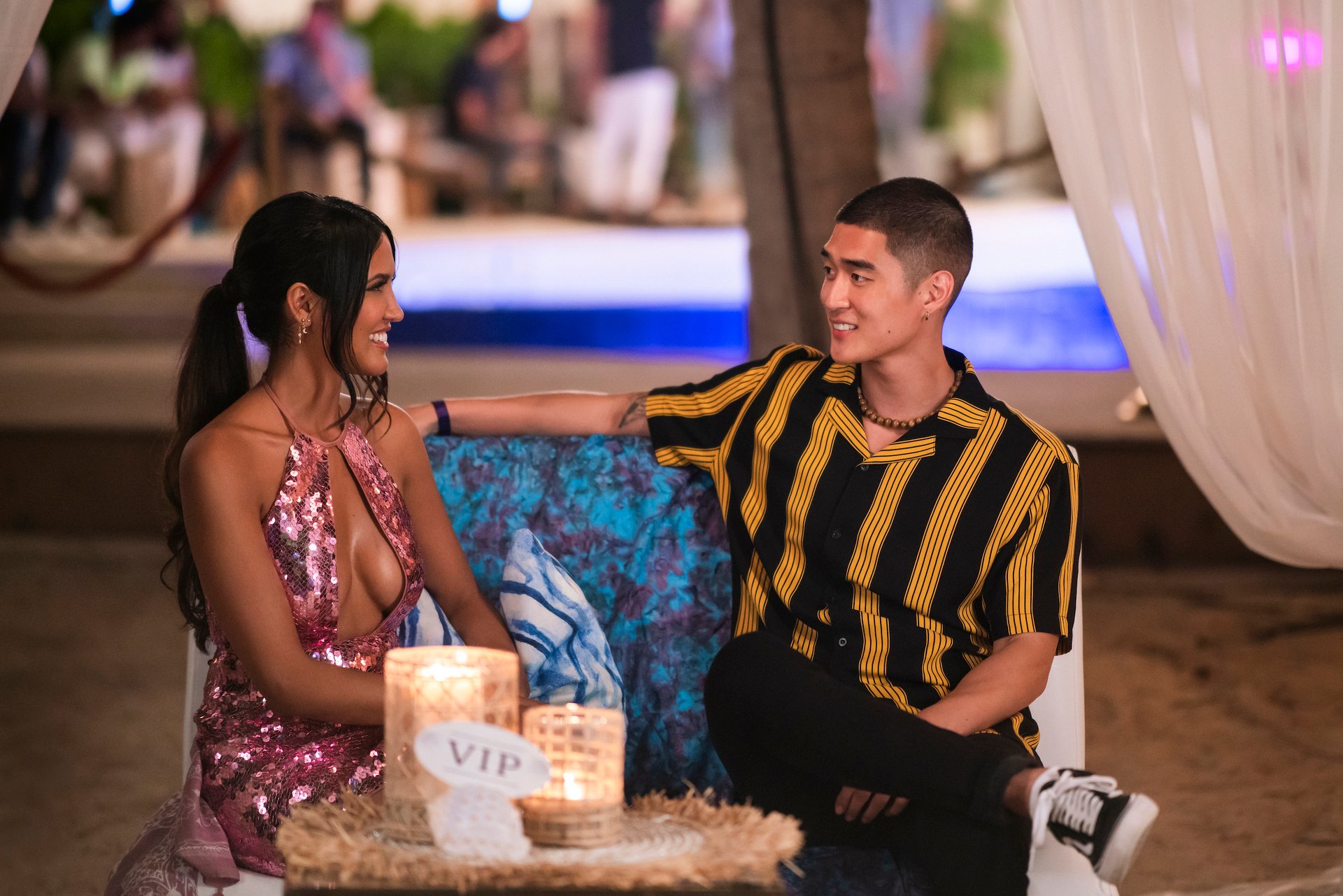 Limbro wasn't all that bad
One of the first shocks viewers received while watching FBoy Island was what happened to those who were voted off. Park wasn't able to connect with any of the three ladies before one of them thought he showed signs of being an FBoy. CJ Franco, one of the female contestants, didn't like his joke about how they should take a nap together and immediately decided he needed to go.
At the ceremony that night, Franco voted Park off the show, and the audience thought the shot of him sadly boarding the "FBus" would be the last we ever saw of him. FBoy Island is anything but typical, though. Park, instead, headed for a place called Limbro.
Limbro was where FBoys were banished to work on their unflattering behavior and learn, from host Nikki Glaser, how they should all treat women. The show never took itself too seriously, and Park told us so. "I will say that I do miss Limbro, because Limbro was fun. I miss the therapy sessions with Nikki Glaser, and the female anatomy class." 
Park also said that being in Limbro gave him time to bond with other male contestants on the show. Since the show ended, he still keeps in touch with Jamie Wood, Collin Carter, Josh McDonald, Fernando Titus, Charley Santos, and Divij Vaswani.
"A lot of the show emphasizes, like the bromance, and the bromance is really real. So, yeah, it's really, really solid. Like most of the guys are really cool. We still stay in contact with one another and it truly is one thing that I got out of the show, that's the brotherhood."
RELATED: 'FBoy Island': Sarah Emig Says the Girls Predicted the Men's Statuses by Day 5
No, Park isn't a childcare influencer
One of the funnier points social media picked up on was the listing of Park's job as a "childcare/influencer," but he wants to set the record straight.
"Let's get this straight. Right. I was a daycare teacher for three and a half years teaching kids from kindergarten through sixth grade. That's what I did in the past. So I just told them hey, I was a daycare teacher too, a licensed massage therapist, and a model. Now, I don't know where they got the influencer from because I never told them that. Maybe they went on my Tiktok, or my Instagram, and said, 'You know what? We're going to go ahead and put childcare/influencer for Peter.'"
RELATED: 'FBoy Island' Stars Sarah Emig and Garrett Morosky Busted Hanging Out
Park's plans for after 'FBoy Island'
FBoy Island finished filming back around April of this year, but Park has been laying low and focusing on his modeling since then. He's done work on modeling campaigns for Lululemon, Nike, J. Crew, and more in the past. When asked what his plans are for the future, he mentioned some acting in his future.
"Before the show I was modeling. I'm still a model and I've been working between LA and New York, Chicago, Milwaukee, and across the states. That's pretty much it. I want to get into TV and film. It's just a matter of taking an acting class, which I've had before. Then finding a commercial agent that will help me get those auditions and jobs like that. Other than that I'm just staying busy."
Park might have been the first voted off the show, but he made an impression on viewers and host Nikki Glaser. He said the two were still cool after the show ended.
Now, fans just need to convince creator Elan Gale to give Park a recurring role on upcoming seasons of FBoy Island. Who wouldn't want to watch that?
All episodes of FBoy Island Season 1 are currently streaming on HBO Max.