Rapper Hints at Involvement in 'P-Valley' Season 2
There seems to be a major revamp happening at The Pynk, the strip club featured in Starz's hit series P-Valley. Closed for a time due to financial issues, the club is under new management with Hailey and Uncle Clifford both at the helm. New dancers are also involved. However, that might not be all. It also appears that the show will include a special guest star in P-Valley Season 2.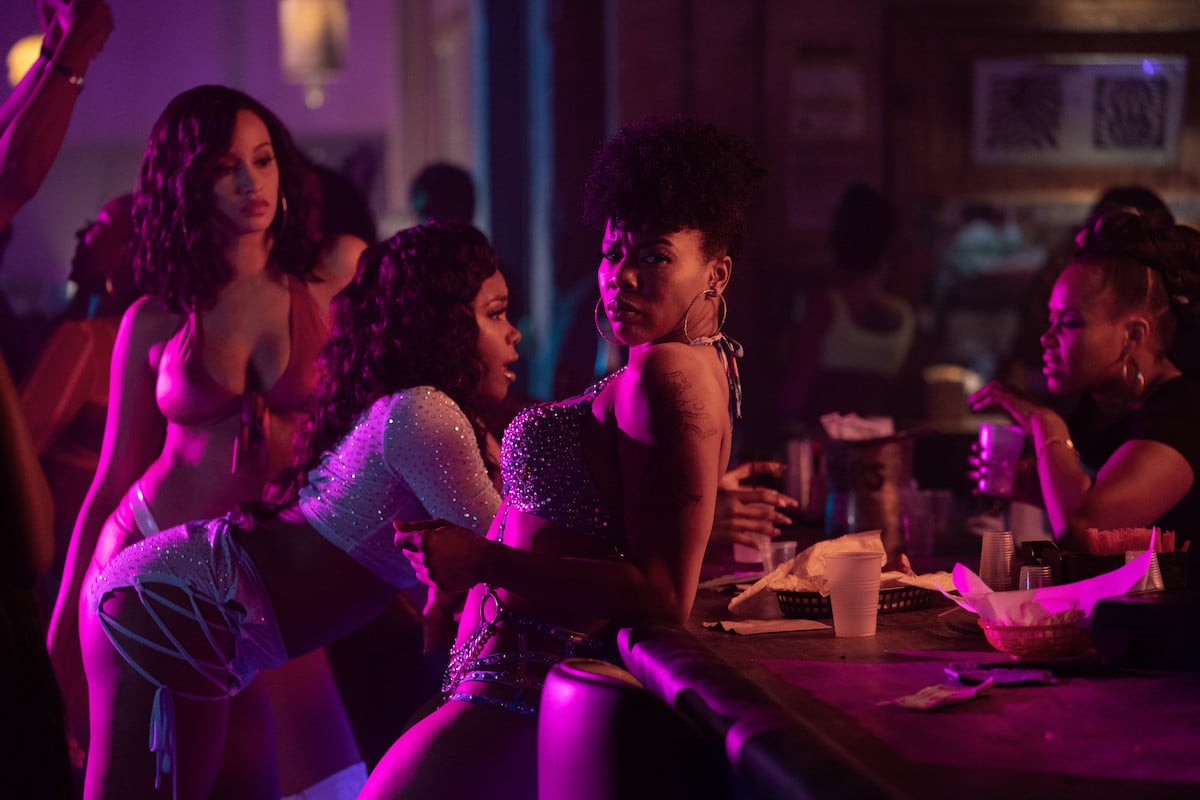 What to expect in 'P-Valley' Season 2
Starz will release the first episode of P-Valley Season 2 on Friday, June 3, picking up on the characters' lives five months later. The club is slowly coming back together, but it's still under pressure due to the coronavirus (COVID-19) pandemic.
"When darkness descends upon Chucalissa, errybody and they mama must fight tooth and talon to survive," reads the synopsis, which was shared in a press release to Showbiz Cheat Sheet. "While some take flight to perilous new heights, others dig in their stilettos and stand their ground no matter the cost. Back at The Pynk, Autumn and Uncle Clifford grapple for the throne as new blood shakes up the locker room. Meanwhile, with the casino's fate hanging in the balance, the local political machine kicks into overdrive. In these unprecedented times, death and danger lurk around every corner."
The cast brings back Elarica Johnson (Autumn Night), Nicco Annan (Uncle Clifford), Brandee Evans (Mercedes Woodbine), Shannon Thornton (Miss Mississippi), Tyler Lepley (Diamond), and J. Alphonse Nicholson (Lil Murda). There are also new actors, including Gail Bean, Psalms Salazar, and Miracle Watts, among others.
A rapper has also hinted at her involvement in the show
In addition to that, it seems that rapper Erica Banks might be involved in the show. Speculation began after she shared a tweet reacting to a promotional poster depicting the cast of P-Valley Season 2. "I love this for me 😭 Iykyk," she captioned the image.
It's unclear whether that means she's actually in the show or it's just her music. Banks, a Texas rapper and self-professed "flow queen," had a viral hit in 2020 with the Nelly-sampled song "Buss It." She has also released singles, including "Toot That" with Dream Doll and BeatKing and more recently "Pop Out." Interestingly, "Pop Out" has a video that features Pynk-esque lights and a room called "The Pink Champagne Room." But it's unclear whether there's any correlation.
In the comment section, fans questioned whether the tweet meant she would appear in P-Valley. But Banks did not appear to respond.
Where the show left everyone
In the meantime, fans have a lot of other things to look forward to, including answers to the questions left hanging in the P-Valley Season 1 finale. Viewers especially want to know what happened to Montavius after the fight at the club. Blood could be seen seeping out from under the door to the Paradise Room. However, the show did not explicitly reveal his fate.
"You will definitely get those answers," show creator Katori Hall told Entertainment Weekly. "Further to that idea of darkness descending upon Chucalissa, every single character is dealing with being haunted — haunted by the past, haunted by their mistakes. And I think we're all going to see how there is a literal and figurative haunting that occurs inside and outside the Pynk."
"Those characters that went into that room — Hailey, Mercedes, and Uncle Clifford — they're going to be haunted by what happened in that room," she added.
Remember, the show will be back on June 3. Find it on Starz.
RELATED: 'P-Valley' Season 2: Will Uncle Clifford and Lil Murda Get Back Together? Show Creator Weighs In