'Fifty Shades of Grey': Charlie Hunnam 'Wasn't What Most Readers Pictured'
Why did Charlie Hunnam drop out of 'Fifty Shades of Grey'? Did fans' reactions have anything to do with the decision?
When many people picture Christian Grey, Jamie Dornan quickly comes to mind. The Irish actor first portrayed the troubled billionaire in Fifty Shades of Grey. He then reprised his role in the film's two sequels: Fifty Shades Darker and Fifty Shades Freed. However, fans will recall that Dornan wasn't the first choice for Christian. Originally, the role belonged to Charlie Hunnam.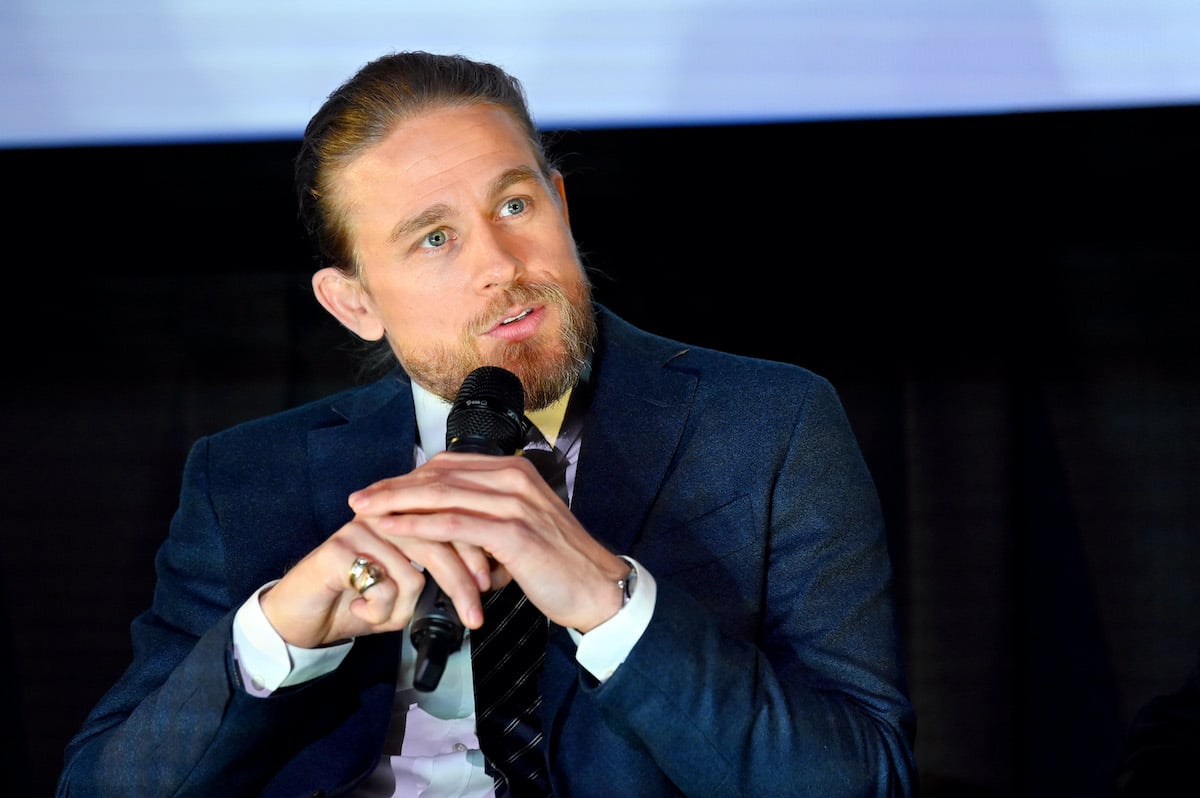 Hunnam, of course, is best known for his role on the FX series, Sons of Anarchy. The English actor managed to beat out scores of other actors and was cast in Fifty Shades of Grey. Hunnam was excited to bring Christian to life, but fans had mixed feelings about the casting choice. Because of the eponymous book series, Fifty Shades of Grey already had a massive built-in audience. And readers were all too eager to weigh in on who they felt should play the billionaire.
'Fifty Shades of Grey' fans were surprised when Charlie Hunnam was cast as Christian Grey
In an interview with The Hollywood Reporter, Michael De Luca (who produced Fifty Shades of Grey) reflected on casting Hunnam as Christian. While he and the casting directors felt confident about their choice, fans of the books were a bit taken aback by Hunnam. Naturally, fans weren't shy about voicing their opinions about the casting decisions on social media.
"I am on Twitter constantly," the Fifty Shades of Grey producer shared. "I am a masochist. I'm into the fandom, so I was aware of what was coming the first time around, when Charlie Hunnam wasn't what most readers pictured. But he was so awesome in this audition that he did with Dakota Johnson, and he really wanted to play that character, and we're not making the movie based on Twitter. We thought we'd get there with him."
Jamie Dornan looked more like what fans had in mind according to the film's producer
Unfortunately, those who were excited about Hunnam as Christian never got to see him in action. Due to scheduling conflicts, the Triple Frontier star had to drop out of Fifty Shades of Grey. Thanks to De Luca's preparation, Dornan was already on board as a possible replacement. So, when Hunnam exited the film, Dornan stepped into the spotlight. And, according to De Luca, the Endings, Beginnings star felt like a more accurate depiction of Christian.
"We anticipated that the new guy, Jamie Dornan, was going to be more of what the fans conjured in their imaginations," De Luca added. Of course, in retrospect, fans who were initially wary of Hunnam being cast may have changed their tune. The three films weren't received very well. And many cite the lack of chemistry between Dornan and Dakota Johnson as one of the franchise's main flaws. We're sure fans question what Fifty Shades of Grey could've been if the film stuck to its original casting.
Does Hunnam regret dropping out of 'Fifty Shades of Grey'?
But does Hunnam ever regret exiting Fifty Shades of Grey? In an interview with This Morning, the actor got candid about his choice. Though he shaded that the decision was particularly difficult and caused him anxiety, he tries not to dwell on his decision retroactively.
"Once I've made the decision I'm very disciplined about never looking back," Hunnam shared about giving up his part in Fifty Shades of Grey. Continuing on, he shared that the opportunity was, ultimately, meant for Dornan. "I'm sure that, you know, Jamie Dornan was the – was the man who was supposed to do that. So that was his – part of you know his destiny or whatever so everything happens the way it's supposed to."