How Did Filmmaker Lynn Shelton Meet Marc Maron? He Says 'My Connection With Her Was Almost Seamless'
Director Lynn Shelton passed away on May 16, 2020. In the wake of her sudden death is her partner, Marc Maron. On a new episode of his podcast, he reveals details about the first time they met.
Lynn Shelton is known as a writer, director, and producer
Shelton got her start as an editor. She then moved into writing and directing, as well as producing her own work. Shelton often worked with actors like Mark Duplass and Rosemarie DeWitt. Her films were often partly improvised. She also made small appearances in some of them.
Shelton may be better known for her directing work on the small screen. Her first TV directorial credit is for the episode of Mad Men when Joan gets an abortion. From there, she went on to direct on shows such as New Girl, Fresh Off the Boat, and the miniseries Little Fires Everywhere.
She was in a relationship with actor Marc Maron at the time of her death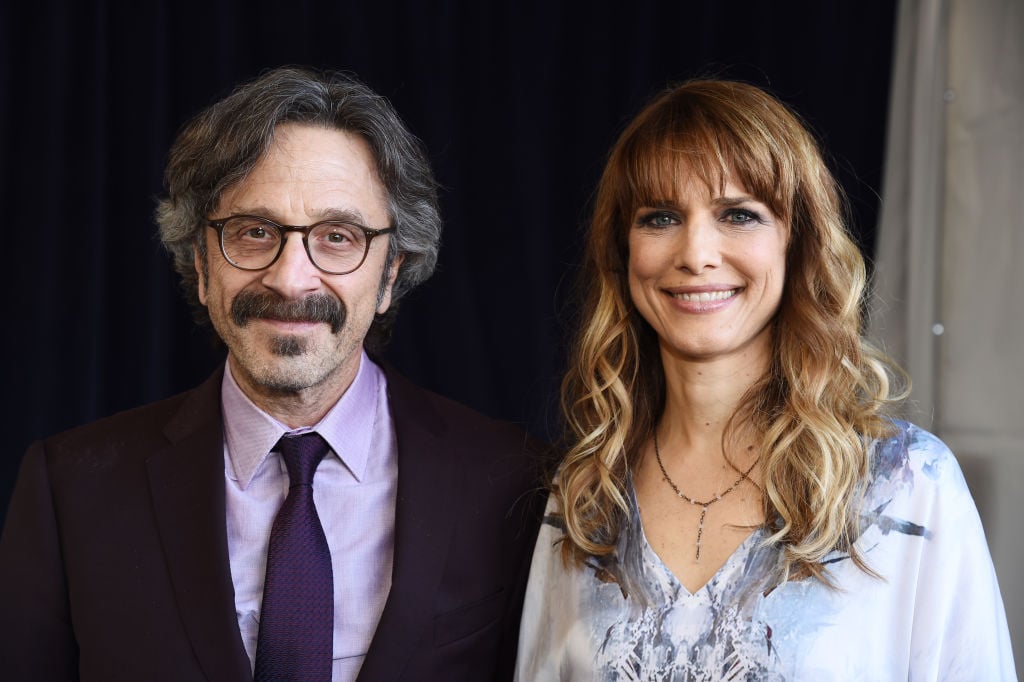 RELATED: When Does 'GLOW' Season 3 Come Out On Netflix?
Shelton was married to former actor Kevin Seal. Together, they have a son, Milo. The couple divorced, and for the year or so prior to her death, she was in a relationship with Maron, and actor and comedian.
Before they became partners, Maron and Shelton worked together numerous times. She directed the two episodes of his comedy series, Maron. She then directed his 2017 standup special, Marc Maron: Too Real, and several episodes of GLOW. Prior to her death, he starred in her last film, Swords of Trust, and she directed another standup special for him, Marc Maron: End Times Fun.
Maron pays tribute to her on his podcast 'WTF with Marc Maron'
In addition to his acting and comedy special, Maron is also known for hosting a podcast. WTF with Marc Maron. He has diligently released episodes (more than 1000 of them to date) every few days since Sept. 1, 2009. Nearly every famous person you can think of, from Brad Pitt to Barack Obama, has been on the podcast.
Maron opened up the latest episode of his podcast speaking about Shelton, calling her his "partner," "girlfriend," and "friend," and telling listeners how much he loved her. "I'm not really that comfortable, emotionally or otherwise, but I was — I was able to exist in a state of self-acceptance, because of her love for me," he said.
They first met on the podcast
The tribute acted as an intro to the 2015 episode in which Shelton was his guest. This is something Maron does when anyone who has been on the show dies, as "a portrait of the person." "This is the first time I met her," he said, adding, "I needed to talk to her… I was curious about her."
Though both were in relationships at the time, Maron says it was "undeniable that we connected. My connection with her was almost seamless." He added, "I was definitely a better person when I was engaged with her. As a comic, as a guitar player, as a human, as a lover, as everything. I was better in Lynn Shelton's gaze."