'Fixer Upper' Host Joanna Gaines and 'Home Town' Star Erin Napier Made the Same Unexpected Kitchen Update
HGTV hosts have different tastes and styles, which is a big part of what makes the network so exciting to watch.
But now two of the most popular home renovation experts, Fixer Upper's Joanna Gaines and Home Town's Erin Napier, just made the same decision in the kitchen. Could they be both be debuting a new trend?
They say the kitchen is the heart of the home and one of the most important selling features. HGTV fans adore seeing how the pros transform this important space, and now they're paying close attention as Napier and Gaines show off this 1 genius idea.
'Fixer Upper: Welcome Home' is back and better than ever
Gaines' fans were devastated to find out Fixer Upper was ending in 2018. The popular HGTV host explained that she was quitting to spend more time with her family, which expanded by one later that year. The Gaineses also had a lot of work to do on their retail empire and other business ventures. 
But thankfully their hiatus from fixing up "the best houses in the worst neighborhoods" was short-lived. The Fixer Upper hosts announced they'd be launching a new network, Magnolia, and planned to reboot their hit reality renovation show, too.
New episodes of Fixer Upper: Welcome Home became available on the discovery+ streaming app in early 2021.
Erin Napier is taking HGTV by storm with 'Home Town'
RELATED: The 5 Best Home Renovation Shows for 'Fixer Upper' Fans to Watch Right Now
Gaines left a shiplap-sized hole on HGTV that plenty of other talented hosts stepped in to fill. One new show called Home Town filled that void for many viewers. 
Hosts Ben and Erin Napier are a Southern couple who also renovates old homes for happy clients, but instead of Texas, they do it in Laurel, Mississippi. 
The Napiers aren't exactly like the Gaineses. The one thing Home Town has in common with Fixer Upper, however, is that HGTV fans love watching it.
Joanna Gaines picked green kitchen cabinets for her Waco farmhouse
White kitchen cabinets have been trending on home renovation shows and in real life for quite a while now. But designers are starting to notice a shift away from this mainstream tradition and a bit more experimenting with color.
Gaines did it on a recent episode of Fixer Upper: Welcome Home while showing off the renovation in her Waco farmhouse. The mother of five built a much-needed addition to her home to gain square footage. But then in a surprise move, she painted the white kitchen cabinets hunter green also. 
In the episode, the Fixer Upper star explains how she, "decided a little late in the game I wanted to go ahead and repaint our cabinets."
"I just wanted the space to really evolve with the new addition and I just thought it was time for a change," Gaines said.
Erin Napier chose green cabinets for a client on 'Home Town'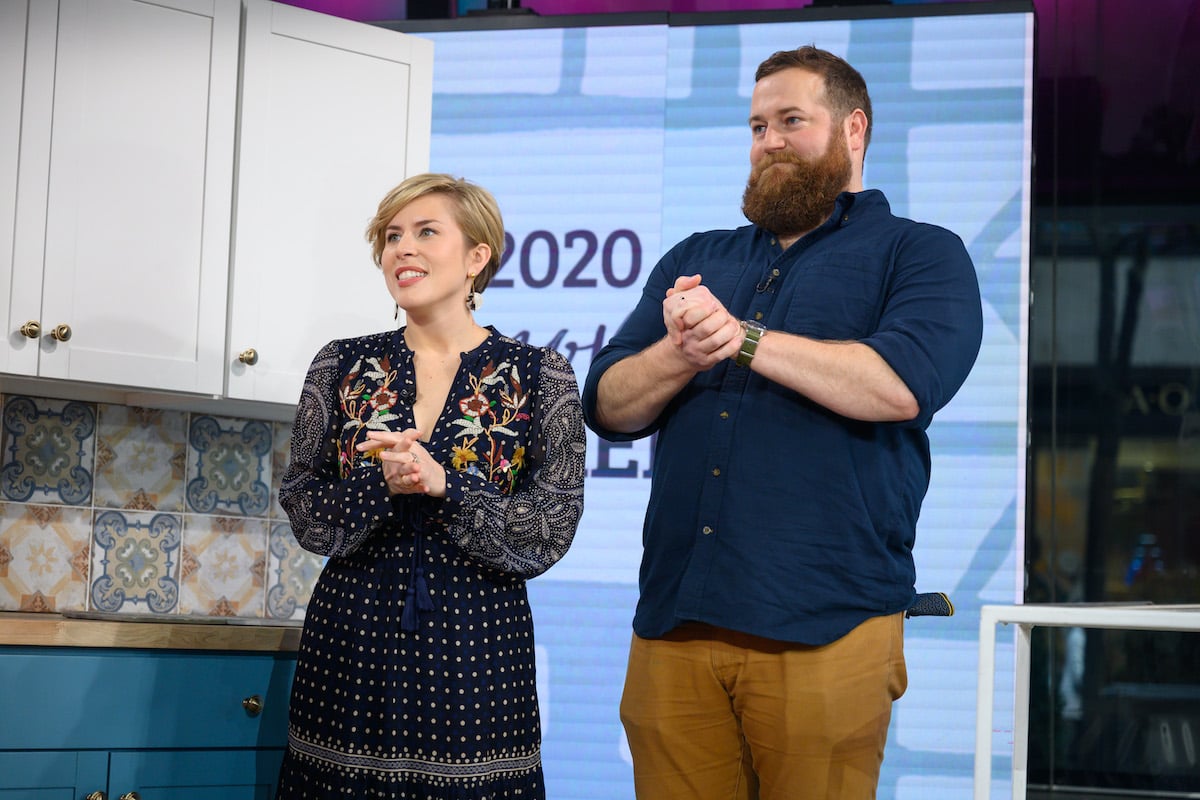 Napier is known for her unique design sensibility that fans call "grandmillennial," a sort of modern take on the retro look. She also rejected typical white kitchen cabinets in favor of a more exciting hue during a recent project. And like her design contemporary Gaines, she opted for a saturated green hue.
It was a special project Napier took on for her uncle Danny, especially because it was her cousin's house that has been in the family for years. The Home Town host refinished the dark and dated cabinets in a neutral shade of green.
Is this a new HGTV trend that's here to stay? Green kitchen cabinets could be the new white.